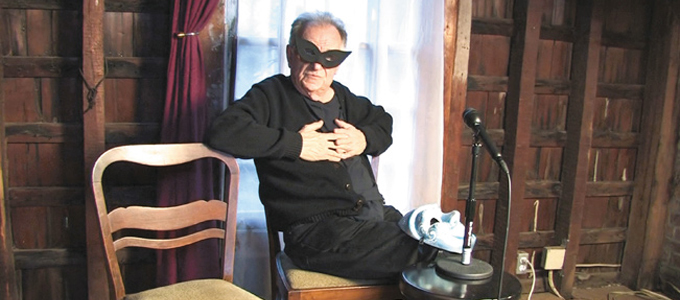 If the plaudits are to be believed, Bert Stern is the man who, amongst other things, revolutionised American advertising in the 1950s; initiated the relationship between Richard Burton and Elizabeth Taylor and inspired America to become a nation of vodka drinkers.
He also found time to father three children, have a string of marriages and divorces and photograph just about anybody who was anybody. His extensive career and personal life are portrayed in BERT STERN: ORIGINAL MADMAN through a combination of interviews, home-movies, still photographs and stock footage.
Bert Stern is effectively two men. Firstly, he is the celebrated and much revered photographer, most notably famous for being the last person to photograph Marilyn Monroe. However, as with much of celebrity culture, there is also the man that is actually Bert Stern, the troubled, romantically fickle depressive not regularly viewed by the mass public. BERT STERN: ORIGINAL MADMAN is unusually created by Stern's former/current partner, Shannah Laumeister (the exact details of their unorthodox relationship are difficult to grasp), which allows for incredibly personal access to his current life. Whether you have prior knowledge of Stern or not is irrelevant, ORIGINAL MADMAN is an interesting and personable insight into the countless 'rise-and-fall' chapters of his life and career.
ORIGINAL MADMAN is an interesting and personable insight into the countless 'rise-and-fall' chapters of his life and career.
Although admirable to allow such a personal film to be released, the closeness with which we are allowed to view Stern can make for awkward viewing. One particularly uncomfortable element of Laumeister's film is the extended sequences of home-movie type footage of Stern simply musing aloud. His admissions of unhappiness and distance from his children somewhat mar the elegant photo montages that the film equally depicts. He seems to contradict himself frequently, one minute asserting that his photos capture moments that would be otherwise tragically lost, whilst the next he laments the extent of his work. He comments that Laumeister's film will ruin their relationship, making public things he would rather remain private. Although compelling to view, there is a sense that we are breaching his privacy in a way he would rather we didn't.
ORIGINAL MADMAN is humorous, compelling, tragic and elegant in equal measures. Whilst the extent to which the film is personal can be construed as unnerving, it is also undeniably fascinating to gain a closer insight to such an enthralling man. In the end, the film's subtitle seems suitably appropriate.
httpvh://www.youtube.com/watch?v=qzHvtQadZnw