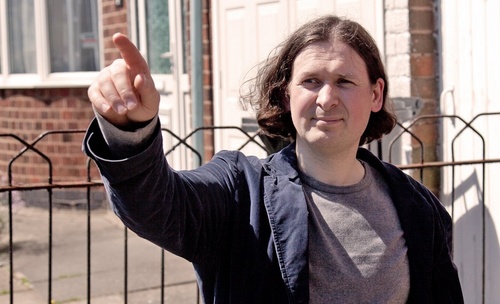 "All you need to make a movie is a girl and a gun"  – Jean-Luc Godard
The Godard quote is used playfully here, but writer Leilani Holmes' "candy from a baby" story touches on Godardian hobby horses such as the alienation of the modern woman, and Marxist commodity fetishism, and subverts them with much mischief. Ben Jacobson's slick, elegant treatment of this witty fable, shot in Spinney Hills, won the One Minute Movie Competition at this year's Norwich Film Festival. 
RH: Was it difficult to find a decent child actor?
BJ: Child actors this good are very hard to come by! However in this case, she is my daughter, and the entire film only exists because I was looking for a short film script I could make with her. I attended Chris Jones' Guerrilla Filmmakers Masterclass last year in London and asked everyone I met whether they had a script or idea that had a small girl as a lead character. Luckily, one of these was Leilani Holmes, who wrote this some years ago with the intention of making it herself. I connected with it immediately as it has so much to say in an extremely efficient way, whilst also hopefully being enjoyable to watch.
What other projects do you have in the pipeline?
I guess I have to trot out the super clichéd "multiple projects at various stages of development" clack-trap, although it is actually essentially true. Determined to make a feature film before I'm 40 (2 and a bit years to go), so working on a number of ideas for that. My favourite one at the moment would star Holly in the lead role and would be shot with an extremely small crew (me plus a sound person), like CANDY CRIME was.
Who are your artistic influences?
Many and varied. Especially in my student days, I was a cinema obsessive. In fact, I saw over 500 films in my 3 years at Cambridge – in the previous incarnation of Cambridge Arts Picturehouse when it only had one screen. As such I find it very hard to pinpoint influences – but I know I respond best to honest, emotional storytelling. Watching Godard is a much more detached intellectual pursuit, and I often wonder when he is laughing at us – the "girl and a gun" quote is certainly not a serious one.
---
CANDY CRIME was abridged to fit the "One Minute" limit for Norwich Film Festival. Click here to view the slightly longer version, complete with funky credit sequence. 
CANDY CRIME will be screened on Friday night, 30th March at Hollywood Cinema, Norwich.