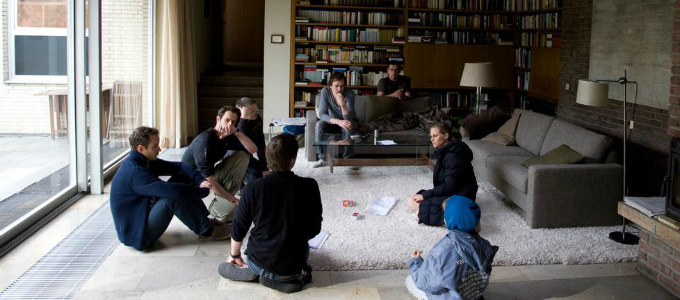 HOME FOR THE WEEKEND, a melancholy domestic drama directed by Hans-Christian Schmid, is a sensitive, realistic portrayal of a family walking on eggshells, and the tragedy that awaits when they begin to crack.
Marko (Lars Eidinger) is the eldest son, who has a young child and a broken marriage which he has yet to admit to his family or himself. The younger brother, Jakob, is a dentist facing bankruptcy, whose reliance on his father's investment has led to guilt and resentment. The father himself is no more content, preparing to sell off his company, and burying his head in the sand. On reuniting, the family hide their various troubles under a routine masquerade for the fragile mother who, in light of the 'firm ground' she perceives each family member to rest upon, decides to drop a bombshell of her own: after thirty years of mental illness, she has come off her medication completely. And thus the scene is set, and the tensions rise to the surface over one climactic weekend.
… the understated performances, although brilliantly executed, muffle the dramatic gravitas …
The setting of this domestic drama is perfect, with its minimalist modern interiors revealing a house that, despite holding every material necessity, is not a home. The dialogue is authentic, and Schmid cleverly manipulates atmosphere, one minute allowing the family to engage in a content singsong, the next completely undercutting this apparent optimism as the scene takes an unpleasant turn. Tension fills every frame, and the mood chops and changes with gritty spontaneity.
However, the understated performances, although brilliantly executed, muffle the dramatic gravitas of the story, leaving you not just wanting more, but wanting to feel more. The film is a doomed Chekhovian tale, yet the climax is so underplayed it is anticlimactic. Despite this, the unfolding of the Heidtmanns' fate is utterly absorbing, and Eidinger gives a sensitive, thoughtful performance as the son and sibling set adrift between two fractured families, and desperately in need of a mother. HOME FOR THE WEEKEND is a classic tale of a dysfunctional, fragile family, plummeting to tragedy with touching inevitability.