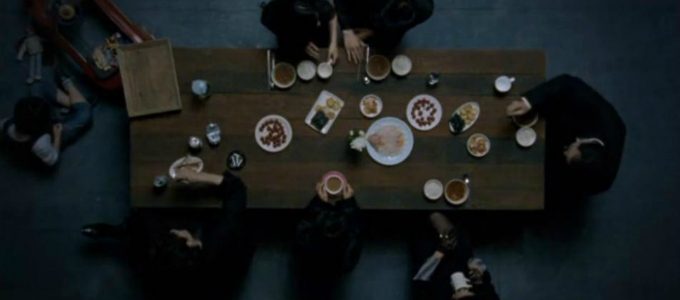 THE FUNERAL is showing as part of the TO RUST section of ShortFusion. A mixture of Peter Greenaway and Samuel Beckett, but with thoroughly South Korean style and sensibility, THE FUNERAL is a wonderfully surreal, elegant and ridiculous short in which a garland of subtly grotesque characters clutch and smear at the clay body of a deceased patriarch. We spoke to director Jun Woo Lee, a unique artist who we look forward to meeting in person at the festival.
Rosy Hunt: THE FUNERAL has a very theatrical, classical feel. Do you have an interest in art and theatre as well as film?
Jun Woo Lee: Since I was a child I loved drawing, and wanted to be a painter. When I was in college I taught drawing. One day, by a chance I encountered theatre that completely changed my life. In college theatre troupe, I started considering theatre in a very serious manner; it was somewhat like drawing also. At junior year of college I chose film as my first major. Only reason was that I thought I will watch many films by doing so. I never thought about making my own film until senior year.
RH: Did you go on to study theatre?
JWL: I never studied theatre as a major. Prior to the production of THE FUNERAL, I directed a theatre piece which also was a theatre piece I directed for the first time. I think it affected THE FUNERAL a great deal. It is my first film and made it for my graduation thesis film. Besides that I directed a theatre piece called 'Carnival of the Mad Man'. After graduating college, I went into National Theatre of Korea as an assistant director.
RH: The performances are wonderfully expressive and witty. Have you worked with these actors before?
JWL: No, I never worked with them before. Personally I love the irony of satire and wit, that's the reason I tried to take it into the performances. However, everything had to be done without dialogue, which was a challenge. Thankfully, being able to work with many professional and experienced actors was key to the result. Especially, both Chun-Gi Kim who wears glasses and digs into the body of the deceased, and Yong-Nyu Lee who takes the clay into her purse appeared in Chan-Wook Park's SYMPATHY FOR LADY VENGEANCE They are very experience and still passionate on set.
RH: Tell me about the sound design for THE FUNERAL – a mixture of traditional and electronic instruments against ambient sound effects – the cigarette lighter, the hands moving in clay.
JWL: The music that starts to play in the middle of the film was inspired by 'Gut' which is a form of Korean traditional religious ritual. People used to seek help when they encountered problems that they could not solve. They sought a way out of their situation by asking shaman, which we call 'Mu-dang', to mediate them and the ancestors so the problem can be resolved by power of ancestor's spirit.
"… when a 'Gut' take place in a front yard of a household, soon whole town turned into a festival like mood with dancing and singing."
Funny thing is that unlike other religious ceremonies, this 'Gut' is only made up of singing and dancing. They use Korean traditional instrument such as 'Jing' and 'kkwaenggwari' when a 'Gut' take place in a front yard of a household, soon whole town turned into a festival like mood with dancing and singing. I wanted to take that mood into my film. The seriousness of people digging into the body of the deceased all coming together with festival like mood of Gut. So the sound generated by digging into the body, also the sound of couple having intercourse, all coming together into a chaos … We used many traditional instruments to make this impression.
RH: Who provided the more contemporary music?
JWL: The music director is Vad Hahn – Amature Amplifier performing as Yamagata Tweakster. He is very much into experimental music, and I was drawn to unique colour of his music. So I contacted him personally and talked about the project, he gracefully agreed to participate on the project right away.
In case of sound effects, to deliver liveliness of the scene we had to do a lot of post production work. Especially, to get the sound of hands digging into the body, we again prepared similar size of clay body which we used in the actual shooting. And did it over and over and over again. Foley artist Tae-Ho Yang who has 36 years of experience also did great work.
RH: To what extent does the stylised funeral in this film reflect Korean tradition?
JWL: Actually it is hard to find traditional aspect of traditional Korean funeral from this film; rather it is more about contemporary modern day Korean funeral.  I felt the modern funeral process only focuses on the efficiency and speed of the whole ceremony, not remembering what it is actually about. I wanted to describe the loss of essence in this ritual.
In many cases, the deceased usually were buried under ground, however due to lack of empty land for graves and cost problems people are more turning to cremation. When health of the elderly gets to a critical state, family members gather around to prepare what might come next. After the person passes away, normally we go through funeral on the duration of three days. The deceased gets to be cleaned with alcohol and goes in to a suit that he or she will wear for eternity. After this, family members go through ancestral rites. At the third day, ceremony that sends off the deceased takes place. After the body of the deceased is moved to the place where it will be cremated.
"… the one [artistic influence] I can pick for the most part is my late grandfather. I've never seen anybody who loved film as much as he did …"
It used to take place at the actual house of the deceased person, however nowadays hospitals and funeral halls. Death nowadays are being separated from the everyday life itself. In addition, there is a scene in my film where people pushes the cart into the fire and gives salute; it is the only moment that has dialogue in the film. Even Korean audience doesn't usually realise this. It is the moment where thin and high pitched shouting comes in with the ending music score. The shouting actually calls about 'Father!'.
RH: Who are your artistic influences?
JWL: There are too many artists that I was influenced. Stanley Kubrick, Lars Von Trier, Michael Haneke, Christopher Nolan, Chan Wook Park, Jun Ho Bong …  Bjork … [laughs] … there are so many. However, the one I can pick for the most part is my late grandfather. I've never seen anybody who loved film as much as he did. He was born in1923 Korea under Japanese occupation. He survived Korean War, and following political events. His whole life sums up to cinema. In Seoul, Korea there was a movie theatre called 'Scala', where he worked on the distribution of films. Yes, he was the one of the pioneers of Korean cinema. I used to live with him when I was young, cinema was gift from my grandfather and joy of life. He used to talk about cinema whenever he had time as well as many people who worked with him in the industry. It is probably his influence that I'm still pursuing filmmaking.
See THE FUNERAL (along with the excellent APSIS) in the TO RUST short film collection on Thursday 13th at 10.30pm. Tickets here.