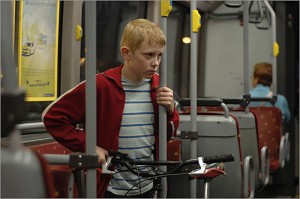 I met Luc Dardenne at the bar of the Cambridge Arts Picture House right before he went to introduce of his and his brother's latest film THE KID WITH A BIKE in occasion of the UK preview screening. He was immediately very friendly and because I had to wait until the introduction finished to interview him, I sat and waited at a table.
Suddenly, while he was leaving the comfortable sofas of the bar area, he waved at me and with a gentle smile said 'I'll be back!'. This was most certainly one of the most relaxed waiting moments of my life: how many times would it happen that a film multi-prize winner does not demand you follow him on your knees to obtain a word from him, but instead makes sure you, a total stranger, know he will be back to talk to you?
the boy waited for his father who never returned to him, and eventually, as a grown up, he turned to crime.
On this note, the whole interview session was very relaxed on the one hand, yet also very intense, on the other – he strikes me as a most sensitive and careful listener committed to understand the comments about his film in depth, and as a result, provide answers that would not only be truthful to the film's intentions and reasons but also in tune with the questions' nuances. Questioned about the genesis of the story, Luc Dardenne explained that it took him and his brother quite some time to write it: in 2002 they were in fact in Japan promoting another film when they happened to hear about the case of child who was placed by his father in a children's home, promising to come back to him; the boy waited for his father who never returned to him, and eventually, as a grown up, he turned to crime.
"This story remained with us and after a few years eventually we made it into a film. Differently from the story about the Japanese boy, we wanted to show that criminality is not the only possible outcome for abandoned children and so, the love of another person for the child was the fundamental element for us to add in order for this new story to emerge".
All of the brothers' films show an evident warm attitude towards the protagonist, but this one in particular is shot under different values. "How do you explain the 'luminous' tone of this dramatic story?" I asked.
"This is our first film shot in the summer. Cyril, the young protagonist, is already suffering, so we did not want to put him also through the winter. Although the film is shot in the usual surroundings as in our previous films, to have filmed in this season when the trees, and nature overall, are so prosperous, it all looks different. And Samantha, the hair-dresser, is so radiant, bright; part of these elements is what is to keep the boy alive".
"And in all of this," I add, "what about the bike?"
"The bike is an instrument through which the boy can exteriorise his anger, can free himself from it…it evolves into a character of its own. Cyril is with it at times, other times he loses it, but no matter what, he always ends up going back to it."
Enthusiastic about the young actor's outstanding performance, I was then curious to know more how they found him:
"After placing adverts on the newspapers, we received 600 pictures of boys. Eventually we cut to 150 and when it came to Thomas Doret, who was the fifth of day one of casting, we tried him on the opening sequence when he is ringing his father who never answers. During this audition we were astonished by the tension and the concentration that emanated from his entire body, from his eyes and his breathing while he was waiting for his father to pick up; that was decisive in choosing to assign him the part."
… one of the most influential encounters for the Dardenne brothers at the beginning of their career was with script-writer Jean Gruault …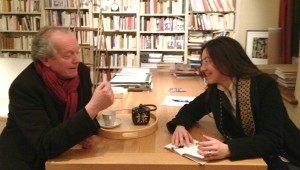 Furthermore, having read that one of the most influential encounters for the Dardenne brothers at the beginning of their career was with script-writer Jean Gruault – who co-wrote L'ENFANT SAUVAGE, I asked him whether he would see his and his brother's attention to children, as in many of their films, as part of some sort of tradition of French cinema about the subject. Luc Dardenne found that this type of question is a difficult one to answer, because these connections are often more easily noticeable for the eye of the spectator. Yet, he added:
"L'ENFANT SAUVAGE is a film I greatly loved, and also, Rossellini's GERMANIA ANNO ZERO and Pialat's LA MAISON DES BOIS and L'ENFANCE NUE. These are the films about childhood that are very important for my brother and myself" – his facial expression being at its most intensely heartfelt at this point. Without ever doubting the concern that the brother-film-makers show in their films about this topic, I felt particularly lucky to witness such an emotive response by Luc Dardenne in regard to such a truly touching thematic, in life and in cinema.
To then add to my 'Jean Gruault connection' he told me, playful and laughing:
"Well, you know that the man you see having his finger bitten by Cyril is … right, Jean Gruault!"
Although the Dardenne experts would already know this, it should be reminded that non-diegetic music and actor-stars are not normally part of their previous films' worlds; yet, this film presents other two novelties, in the use of both elements. I therefore asked him to comment on such details:
"Cécile de France has such a radiant aura…the way she smiles, carries herself, wears her clothes, her simplicity…there was no doubt that she was Samantha. From the very start we wanted music. Music does not come from the film, it is over the film. The music is brought in by Samantha. Music is what Cyril lacks. He lacks tenderness; music is kindness, gentleness in someone's life.
At the end of the film the long shot of him entering into the wood features an extract from Beethoven's piano concerto no .5 that accompanied him throughout: his journey was to lose the illusion that his father wanted him; to free himself from his father is what allows him to be embraced by Samantha. At this moment he goes to her; Samantha is the music."