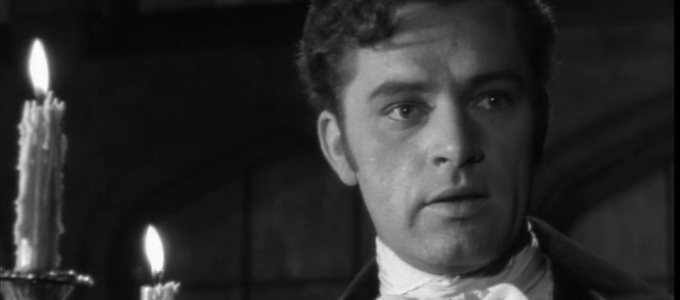 Directed by Henry Koster, MY COUSIN RACHEL was based on Daphne du Maurier's novel of the same title. Philip Ashley (Richard Burton), orphaned when young, lives on an estate in Cornwall with his wealthy older cousin, Ambrose. Ambrose falls ill and goes abroad to recover. While overseas, he meets and marries a younger woman, Rachel (Olivia de Havilland) who at first appears only in a series of letters written by Ambrose. Initially he depicts her in glowing terms, but over time, the tone changes to suspicion and finally to hysterical accusation. "She has done for me at last, Rachel my torment," writes Ambrose.
Was there anything suspicious about Ambrose's death after all?
Rachel is the mystery, from start to finish. After Philip initially suspects her, she comes to England to return Ambrose's things and in person she is charming, compelling, and nothing like what Philip anticipated. As their friendship unfolds, either Philip comes to see all the enchantments Ambrose initially saw in his bride, or he also falls prey to her machinations. Was there anything suspicious about Ambrose's death after all? Did she or didn't she?
The film works because de Havilland is capable of matching the narration's ever-shifting perceptions of Rachel. She is all doe-eyed compassion one minute and cold calculation the next. Philip attacks her for refusing to marry him; the next day she hires a companion and tells him, "I don't think I care to be alone with you again." It's a perfectly reasonable thing to say, under the circumstances, but de Havilland imbues it with a hint of fearlessness and wicked acerbity; Rachel plays her hand with skill. Is she frightened for her life, or has she purchased an alibi? As each damning or exonerating piece of evidence comes to life, the scales tip again.
"There are some women, good women very possibly, who through no fault of their own, impel disaster."
Rachel has a disadvantage over du Maurier's more famous creation, Rebecca: being alive, she is not now the composite of the conjectures of her friends, but also, as she points out to Philip, "a human being with human faults." Not prone, as Rebecca was, to erratic behavior or bursts of drama, Rachel keeps visibly serene whether she's receiving a proposal or being accused of murder. Nevertheless she's unable to escape the scandal that follows the social chameleon. History follows human beings, however clever they may be, and vicious gossip comes to town in Rachel's wake. People are strangely willing, however, to give her the benefit of the doubt: "There are some women, good women very possibly, who through no fault of their own, impel disaster. Whatever they touch somehow turns to tragedy," opines Philip's friend Nick, helpfully. Rachel, twice-widowed and surrounded by suspicion, sickness, and death, certainly leaves tragedy in her wake, but is she a murderer or simply a narcissistic opportunist?
De Havilland famously sought to escape the roles of sweet-faced ingenues and gentle maidens she portrayed at the beginning of her career. By the time she made MY COUSIN RACHEL she'd already played several mad, dangerous women and she would go on to play several more. Rachel might have been more fearsome in the hands of a director other than Koster, but de Havilland still brings an unnervingly interpretable blend of light and shadow to the role, showcasing a character as charismatic as she is devious.
httpvh://youtu.be/8fKjZDgat_0