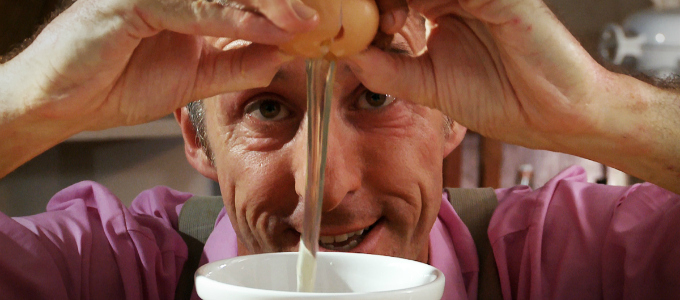 While the seven films presented in the "To Cry: Films about the act of laughing" collection of shorts may not have consistently provoked the laughter that the title suggests, they each endeared themselves in one way or another.
The opening film COOK BOOK was elevated somewhat by the presence of co-director Martin Briggs-Watson and co-producer Zu Kingdon. Their Q&A with João Serejo (Submissions Co-ordinator & Programmer for the festival) shed playful light on the production process of their short, along with the ideas that lay behind the stylised approach to props, costumes and copious amounts of delicious food. The film itself was a simple but well executed idea that played on the mishaps of a gastronomic lothario and his toaster.
Oddly, what COOK BOOK had in brevity and charm was immediately contrasted by THE FINNISH COW, a distinctly off-beat short about an ill-fated bovine and her master. For the time it took to tell this story of eventual animal starvation (a whopping 20 minutes) it was short on laughs and any particular subtlety.
… a single, clever idea and slick production are sufficient to gain the trust and laughter of an audience.
Getting back on track, HAPPY BIRTHDAY JIM and AILEMA were both reminders that a single, clever idea and slick production are sufficient to gain the trust and laughter of an audience. These two films were well acted, well produced and really hit the mark in terms of expectation and delivery. THE THINGS MY FATHER NEVER TAUGHT ME came close to achieving this high level of execution, but lacked something in the production stakes.
The collection was transported to a sleepy Mediterranean village for THE FOREIGNER which played very nicely with the boundaries of eccentricity and caricature to tell a story of dwindling rural populations. A FISTFUL OF SANDWICH rounded off the evening, sending the audience out into the night with images of flashing samurai swords and chubby baton-wielding security guards in their minds.
Answering the question 'who likes short shorts', the briefest offerings were consistently the pithiest, but moreover this was a fine collection of projects that each contributed something to an evening of good-humoured film.