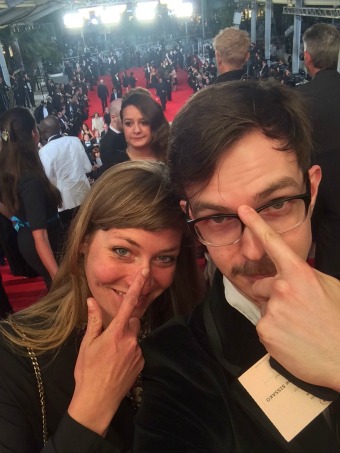 Thursday 15th May
The theme from For A FEW DOLLARS MORE fills the sitting room I am calling my bedroom for six days. It's my alarm, and the time is 7.30am. Why am I up so early after a fairly late night yesterday? Well yes, that question does ring through my mind fleetingly, and then I remember.
At 8am, the ticket-booking system opens for films playing in Competition (the ones eligible for the Palme d'Or ). There are two films in the Grand Théâtre Lumière that I'm aiming to see today, and within a space of 5 minutes, all the tickets will probably be gone.
I've brought my dinner jacket and bow tie along with me to Cannes – pre-emptively hoping that they will bring me good luck in securing tickets to Competition screenings. As it happens, I get a ticket to the 7pm gala screening of Mike Leigh's new film, MR TURNER, with ease. But it seems I have lost out on a chance for Abderrahmane Sissako's highly spoken of TIMBUKTU. My TGV-travelling journalist friend Falilah recommended this to me as one of the two best African films at the festival this year. A wise person once said "If at first you fail with your online booking of tickets at the Cannes Film Festival, try again mate." Maybe all is not lost at this stage of the day…
Never give up on the good times… as a Spice Girl or two once sang 😉
I head out to the Palais des Festivals with Verena, who kindly shows me where to go to pick up my newly-secured Mr Turner ticket. Into the Palais (hello, various levels of security), up an escalator, and around the corner. It's easy as pie to remember where to go when you've done the trip once already, but without such a calm and patient Cannes-guru as Verena, to my chirpy "I'm going to get lost right now" Cannes-rookie self, I can see getting acquainted with the layout of the festival could easily be a challenge not overcome till day 3 or 4. In short, if you can, always bring Verena (or someone very similar) with you to Cannes Film Festival. She's a guardian angel!
It turns out that once I'm in the room to pick up my MR TURNER ticket, the computers on the wall let me reserve a ticket for TIMBUKTU too! I make a repeat trip to the friendly chap behind the desk. He scans my festival badge again, and all of a sudden I have two tickets for screenings in the Grand Théâtre Lumière. Never give up on the good times… as a Spice Girl or two once sang 😉
There could be much, much worse places to queue outside in the early morning sun than on the French Riviera. This is where I find myself for an hour and a half. Queuing outside the Cinema Debussy for my first film of the day: PARTY GIRLS. I have my Truman Capote novel to read, and strike up a conversation with some very friendly Iraqi filmmakers. After 90 minutes, and the reappearance of Verena after a meeting, we're heading in to the cinema. It's time for another one of those jaw-dropping moments as I am introduced to my first 1000+ seater screen. It's full to capacity, and as the lights dim and the curtains draw back to reveal the Cannes Film Festival pre-show ident, the atmosphere in the screen is palpably electric.
I go and visit the Short Film basement of variety and wonder.
Maybe I'll write individual, detailed reviews of all the films I have seen here at a later date. This diary, for now, is as much about the day-to-day experience of being at the festival. Nonetheless, I enjoyed the film, and would bump into the director and cast on the side of the street later on in the evening, prompting a big smile and wave from myself.
Between changing out of my tweed 3/4 length trousers into my DJ and bow tie, I go and visit the Short Film basement of variety and wonder. I will definitely be coming here once a day to sample a selection of Short Films – all accessible at the touch of a button, on a computer system very similar to the BFI Meditheque in Cambridge Central Library. One short from Scotland, COLOURS, stands out for me today. More to explore tomorrow.
I go back to the apartment. Get changed. Get an apple. Head back in. The Balcon queue for MR TURNER is on the right-hand side of the red carpet, and I initially stand queuing in the International Photographers section. After 20 minutes of wondering why everyone around me have very large cameras hanging around their necks, I shuffle over to the correct side of the queue. All of a sudden we are ushered en masse, onto the red carpet and I walk up the steps, glancing behind, to observe a sea of flashes from the press contingent, and a lot of very smartly dressed people gliding through the light fantastic of flash eruptions.
I take my seat inside the Grand Théâtre Lumière. This screen makes the Debussy earlier on in the day look small. It's as close to a stadium cinema experience as I think I'll get. I've read some very positive press reviews of MR TURNER before going in to the screen, and maybe this unduly influences my watching of the film. I think I will need to see the film again before passing judgement, as I left feeling a bit lethargic and morose.
Tomorrow is another day, bringing with it more sunshine and apples…
It's out one door, and back into the next queue with Verena, to head up the red carpet again and into the cinema for the 10.30pm screening of TIMBUKTU. This film doesn't disappoint. Skilfully depicting a return to the insurgent-led, brutally simplistic, patriarchal thinking that comes about when a group of twits decide to go on a jihad/power-grab and impose Sharia Law on a neighbouring community in Timbuktu. The film is very well received, with applause for the filmmakers still ringing out as we leave the auditorium. I wonder what the Jury of Campion, Coppola, Dafoe and Co will make of it though?
Tomorrow is another day, bringing with it more sunshine and apples, and also excitingly, the arrival of Cambridge Film Festival stalwart Becky Innes, who is flying in mid-afternoon. The team grows bigger, and gradually more sleep-deprived ;)X