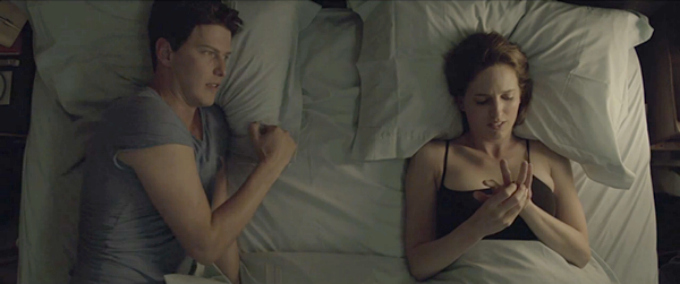 Maurice Caldera's short film is based on a simple foundation; girl meets boy and the rest is history. But like a lot of good films, a simple idea can only work if it is executed well and CAMILLA IN THE LOOKING GLASS has certainly achieved this. 
The truth is, the story is not so simple as the traditional structure of 'girl-meets-boy' – it's far more complex. For a start, it's actually 'young lady meets a gentleman' and you're led to fall for the archetypal trap from the very opening scene. A poised and well-dressed young woman, adorned with an attitude of self-righteousness. Camilla (played by Olivia Chappell) waits in a driving school reception, bored, until she is called for her lesson. In the car we meet her instructor, Mr Singh (Emilio Doorgasingh) who is less than impressed by her constant self-indulged chatter and lays down his law before Camilla has even buckled up. As we drive with Camilla, we also start to navigate through her personal life; we learn about her relationship with her pedantic boyfriend Jeremy (Mark Hesketh) and that perhaps, all that glitters is not gold.
This is an uplifting short film which nurtures its audience…
So we have two polar opposites, who dislike each other and have nothing in common, what can we see happening? They fall in love because opposites attract; the end. Wrong.
The story is well scripted, it alludes to a couple of possible scenarios but it is a very human story that reaches out to the viewer. It's carefully lined with hidden messages and metaphors for the audience to find.
It's not a basic love story that's been churned out over and over again. It's a tale of two worlds coming together unusually; it's about two people learning about each other and the world around them. It's about gaining perspective and independence – quite clever considering it revolves around learning to drive, a typical symbol of youthful independence. Between clean and gentle cinematography and lovely scoring, this film has been artfully made. Both the audio and visual components complement the story and bring it to life and above all, the roles are played to the characters incredibly well. Like a good actor should, you connect to the characters and their side of the story. This is an uplifting short film which nurtures its audience, and above all, it carries an important message for us to discover.
httpvh://youtu.be/h5lE6ITiO08