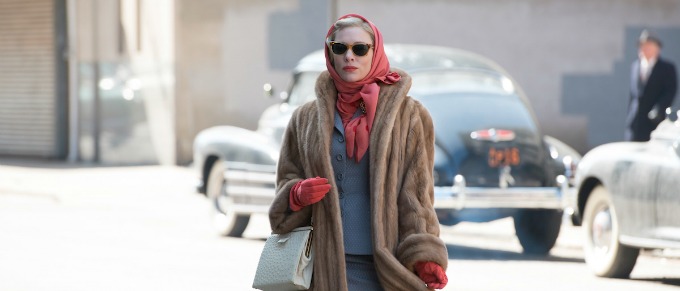 The playwright and screenwriter David Mamet once dismissed Spielberg's SCHINDLER'S LIST as 'MANDINGO for Jews' and while it would be positively ill-mannered even to suggest that as sleek and well-upholstered an entertainment as CAROL deserves the tag 'MANDINGO for Lesbians' the fact remains that practically every man in the movie is either a dolt in a suit or a dullard in a plaid shirt, and in the case of Harge (Kyle Chandler) the estranged husband of mink-clad Carol (Cate Blanchett) a mixture of both, cruelly fighting for custody of their young daughter after the discovery of Carol's affair with shopgirl Therese (Rooney Mara).
Carol and Therese's eyes meet across a crowded New York store at Christmas in 1950, the toy department a riot of garish dolls which immediately brings to mind Todd Haynes's notorious early film SUPERSTAR: THE KAREN CARPENTER STORY, shot using Barbie and Ken dolls and long-banned for copyright reasons (though it's well worth tracking down on YouTube). Seeking Therese's advice about a suitable present for her daughter, Carol is directed away from the girly stuff towards a train set, which she duly orders, making sure she accidentally leaves her gloves on the counter as she goes. Therese returns them and soon the two are enjoying lunch dates and exchanging confidences (the story starts as a flashback from late on in the action in the manner of BRIEF ENCOUNTER, where the couple's emotional turmoil in a hotel bar is interrupted by a chatty innocent acquaintance).
But CAROL is a long way from Celia Johnson and her weekly visits to the Boots Lending Library. Things between Carol and Harge turn ugly and Carol is soon disregarding the warnings of her friend and former lover Abby (Sarah Paulson) and taking off across the country with Therese in tow and a gun in her suitcase, stopping in motels like a couple on the run and pursued by a private detective who gets the incriminating (enormous reel-to-reel) tapes Harge needs after Carol and Therese finally consummate their hitherto thwarted passion in the plush surroundings of the Drake Hotel in Chicago.
there's the sense of a cheaper but probably just as enjoyable melodrama trying to get out …
While Carol and Harge go into battle over custody, Therese is collected by Abby and returned to New York like an unwanted present, where she discovers her vocation as a photographer, putting together a portfolio after being told 'These are seriously good' by a plaid-shirted contact at the New York Times. Naturally enough she and Carol are destined to meet again, with hanging over them the $64,000 question, will Therese again follow her natural instincts of 'saying yes to everything'?
Todd Haynes showed in FAR FROM HEAVEN his skill at putting Forbidden Love on the screen (in that case between Julianne Moore's frustrated housewife and Dennis Haysbert her black gardener, after the discovery of husband Dennis Quaid's gay affair). And here he pulls all the stops out, Cate Blanchett suffering in mink like Jane Wyman in Douglas Sirk's ALL THAT HEAVEN ALLOWS, falling for rugged working-class gardener Rock Hudson (sic). But CAROL if anything is too well-heeled, in its emotions as well as its period trappings – though the script by Phyllis Nagy, adapted from her friend Patricia Highsmith's novel, contains a fair number of clunking anachronisms ('In a good way', 'Don't do this' etc) worthy of DOWNTON ABBEY. The emotional chill can be put down partly to the sphinx-like character of Therese, whose motivation is never explained apart from the 'yes to everything' confession, as personal as she ever gets.
There's an echo here of the British film VICTIM (1961) which tells a sordid homosexual-blackmail story brilliantly yet is almost derailed by the stiff-upper lip (albeit quivering at times) performances of Dirk Bogarde and Sylvia Syms. Their luxurious London lifestyle (he's a barrister, fatally attracted to rough trade) though increasingly under threat, will we feel remain nobly untouched in the end, just as Carol resumes her life having elegant dinners in 'The Oak Room'. During the scenes with the gun and the private detective in CAROL, there's the sense of a cheaper but probably just as enjoyable melodrama trying to get out, the sort Highsmith might have written had she used her own name rather than the pseudonym 'Claire Morgan', to be on the safe side.
httpvh://youtu.be/EH3zcuRQXNo