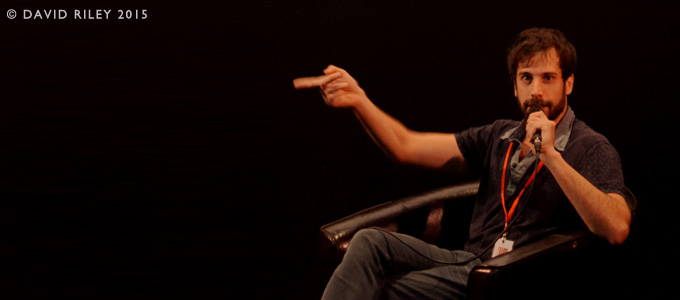 Gemma Ferraté's ALL THE WAYS OF GOD screened as part of programmer Ramon Lamarca's Catalan Cinema strand at the Cambridge Film Festival. This modern-dress morality play takes as its starting point the biblical character of Judas, and the lacuna in the gospels between his betrayal of Jesus – and his subsequent suicide. We spoke to actor Marc Garcia Coté, who played Judas, and Ramon Lamarca.
Faye Gentile: How best would you describe ALL THE WAYS OF GOD?
Marc Garcia: It's a very sincere and honest film, especially taking into account the very modest budget.
FG: What first drew you to the script?
MG: First of all, the fact that director Gemma Ferraté contacted me was a very important factor, we've worked together before and we're very good friends – and I'm a big fan of everything she does.
FG: How did you approach the role of Judas?
MG: The biblical story was a starting point, but then I started working with analogies that had an impact on me. They were personal experiences and moments of guilt, and I traced back all those moments and and used them. When we first started the project, I had recently experienced a break-up and had strong emotions still tied to it: working through the film helped me through that.
FG: You've worked with director Gemma Ferraté before, how did this film differ from your other work?
MG: I've had a longstanding friendship with Gemma, and most of the films that she directs are born out of a personal experience – and that's why they're all similar, yet different. I like the process of how that transforms in the scene.
FG: There are a lot of tense scenes throughout the film. Which did you find the most challenging?
MG: I found it very difficult to film the scene at the very beginning of the film, when I'm collecting the coins from the ground and the character has an anxiety attack. Due to technical issues we had to repeat that scene over and over again, and there was so much emotion in that shot alone, it was very hard. It took a lot from me.
FG: [to Ramon Lamarca] Finally, where you think ALL THE WAYS TO GOD fits in the Catalonian cinema genre?
Ramon Lamarca: As a programmer, I tried to choose an eclectic range of films that would hopefully represent the new and independent filmmakers. It's a combination of very artistic and personal films, as well more mainstream ones, to show the variety. What I try to show with Camera Catalonia are films with some distinctive elements of Catalan – whether in the language, the characters or story.
With many thanks to Ramon Lamarca for translating.
httpvh://youtu.be/dtnUorKpmjo