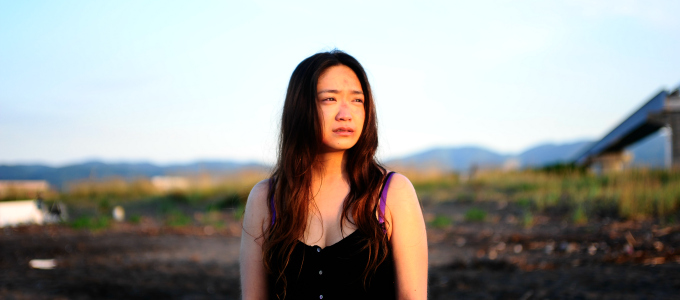 The theme of this year's Japan Foundation Touring Film Programme – 'It Only Happens in the Movies? Japanese Cinema and Encounters' would appear to offer a little more scope for variety than in some previous years, when its focus has been more narrowly defined by 'Japanese Youth' or 'Women in Contemporary Japanese Cinema'. Variety is, in a way, what the 2015 programme is all about.

Each of the thirteen films show the capacity of Japanese cinema to draw on established movie conventions and other influences and turn them towards a uniquely Japanese perspective. If certain encounters and events have the narrative convenience of 'only in the movies', it's merely a device that forces the filmmakers to be uniquely creative in how they use them to explore deeper questions about personal, family and national identity. There are certain things that only happen in Japanese movies…
There are a few convenient cinematic encounters in Mipo O's THE LIGHT SHINES ONLY THERE (2004), but moored to a stark realism, an unconventional narrative approach and characterisation that is far from typical. It has a way of making those narrative twists even more unsettling. In Hakodate in the remote north island of Hokkaido, Tatsuo has turned to heavy drinking and gambling as a means of blocking out a terrible event in his previous employment as a quarry miner. An encounter with the sister of Takuji, a guy he meets in a pachinko parlour, could save Tatsuo from oblivion. Chinatsu's family affairs, her job at a squid factory, her love life and her ways of earning some extra money are hardly ideal, but such is Tatsuo's position that you suspect he would willingly sacrifice illusions for some semblance of normality. Some people's realities, however, might be too hard for anyone to live with. If there are some characteristics that remind one of a Kinji Fukasaku wild youth movie, with even a slight gangster spin towards the conclusion, Mipo O's film applies real people to dramatic situations and shows the often brutal nature of life in the remotest regions of Japan.
httpvh://youtu.be/G8SEHCf9YNQ
"It only happens in Japanese movies" applies to the family drama of Keisuke Yoshida's MY LITTLE SWEET PEA (2013). It's not just that Yasujiro Ozu's films cast a long shadow over parent/child and generational dramas, but the individual circumstances of each of the characters is itself uniquely and entertainingly Japanese. Mugiko, for example, is an anime fan who dreams of becoming a voice-over actor in a country where such a career can be a valid aspiration. If there is a similar character to Mugiko's brother earning a living working in a pachinko parlour and her mother working as a cleaner in a 'love hotel', deep down their aspirations and realities are universal. And so are the family matters that lie at the heart of the film, when Mugiko takes a journey to a remote country village (another very familiar device seen in many Japanese movies), to get back in touch with human feelings and discover the mother she never really knew. Using the same actress, Maki Horikita, for both the daughter and the flashbacks of her younger mother might seem an obvious device, but it does actually help to define the bond between them, revealing character, personality and life in what is a sweet, engaging and warmly humorous film.
Takeshi Kitano is just too big a personality even for such an epic film…
A US influence is more in evidence than Ozu in the family drama of BLOOD AND BONES (2004), which might as well be called 'Once Upon A Time In Japan' for the strong resemblance it bears to Sergio Leone's epic account of the immigrant experience in post-war America. The immigrants in Yoichi Sai's unrelentingly violent film are Korean, displaced there after the Japanese occupation, the country and any national identity further destabilised after Japan's defeat in the war. Arriving in Osaka in 1923, Kim Shunpei is determined to make a better life for himself, and when he returns from the war sets up a fish-cake factory, expanding later into the loan shark business. His explosively violent temperament means that he leaves behind him a trail of death and destruction that doesn't even spare his family. Well-known for violence in his own gangster movies, 'Beat' Takeshi Kitano takes brutality to monstrous proportions in a performance of remarkable and terrifying intensity, but you could tire very quickly of him punching women in a yet another appalling rampage. In some ways, Kitano is just too big a personality even for such an epic film, overshadowing any finer points it might have made about the Korean-Japanese experience.
A film in an earlier Japan Foundation touring season (CASTLE UNDER FIERY SKIES) compared the construction of a castle to the building of a nation. Koki Mitani's ALL ABOUT OUR HOUSE (2001) is slightly less lofty in its ambitions, where building a house could probably be more closely aligned to the process of making a film. You know what the foundation of the premise is from the outset (how to build a house), you can be fairly sure that the construction is not plain sailing (how not to build a house), and you can guess that the roof of an amicable solution will sit on top of all these first-world problems without ruffling the feathers of its target mainstream audience too much. Although it is a typically broad Japanese comedy in this respect, with requisite over-acting just to make sure you get it, the philosophy behind ALL ABOUT OUR HOUSE does rest on solid foundations in a way that fits in well with the purpose of this season of films. Rather than cater to the demands and 'arty' western values employed by the fancy-pants interior designer architect, what gets the house and the film made is good old-fashioned Japanese craft. As Naosuke's job as a comedy sketch writer implies, sometimes it's just about getting the basics right, knowing your audience, and wringing the laughs out of the monster suit jokes…
httpvh://youtu.be/A9W7eLZ6xhs
The 'encounter' in Shinobu Yaguchi's WOOD JOB! (2014) is an unfailingly popular one not just in Japanese cinema, but probably the world over. A soft city boy finds himself out in the sticks with a lot of country hicks, and is forced to endure much embarrassment and raise much hilarity as he learns to toughen up and get in touch with the real world. Having failed his university entrance exams and subsequently been dumped by his girlfriend, Yuki Hirano settles for enrolling at "Green Camp", lured by the image of an attractive girl on the cover of a brochure. Little does he realise that not only does being a Trainee Forester involve a lot of hard work in places infected with snakes, bugs and leeches, but you can't even get a mobile phone signal way out there in the middle of nowhere. The people out here talk kind of funny too. WOOD JOB! doesn't miss a trick as far as fish-out-of-water comedy goes, but it's slickly made and often laugh out loud funny, and yes, 'wood' has similar connotations in Japan. The romantic situations are a little limp, no matter how big the tree used at the village festival, but the real love encounter here is the one Hirano and the audience enjoy with the beautiful heartland of Japan itself.
Exploitation of cinematic narrative devices – or just plain exploitation – is a field where veteran director Seijun Sukuki excels, and in CARMEN FROM KAWACHI (1966) he applies his unique stylisations wonderfully to the idealisation of the big city/country divide so popular in Japanese cinema. Having been gang raped back home, and having seen her mother prostitute herself to a wealthy local businessman, Tsuyuko feels she has no option but to sell herself as well; but she chooses to do it on her own terms, leaving life on the mountain to work as a hostess in a night club in Osaka. Although we get a wonderful Japanese swinging 60s rendition of the Habanera at Club Dada, Tsuyuko's life as a cabaret dancer is more Lulu than Carmen: she hooks up with a love-struck client, a lesbian fashion designer, an artist, an old flame from home and then a rich man, but Suzuki at least spares her the traditional tragic fate of opera's fallen women. Shot in black-and-white widescreen with some highly stylised sequences and a New Wave sensibility, CARMEN FROM KAWACHI's is as lurid and colourful as any of Seijun Suzuki's work (TOKYO DRIFTER, BRANDED TO KILL). If you have the opportunity to see it on the big screen as part of the 2015 Japan Foundation Touring Programme, this is one not to miss.
Click here for further information on the tour's screening dates across the UK.
Also showing on tour:
THE HANDSOME SUIT – Tsutomu Hanabusa, 2008
SHORT PEACE – Katsuhiro Otomo, Shuhei Morita, Hiroaki Ando, Hajime Katoki, 2013
SCATTERED CLOUDS – Mikio Naruse, 1967
NOBODY TO WATCH OVER ME – Ryoichi Kimizuka, 2009
JINX!!! – Naoto Kumazawa, 2013
BOLT FROM THE BLUE – Gekidan Hitori, 2014
A LETTER TO MOMO – Hiroyuki Okiura, 2012
httpvh://youtu.be/x-ZFm2b0H0w