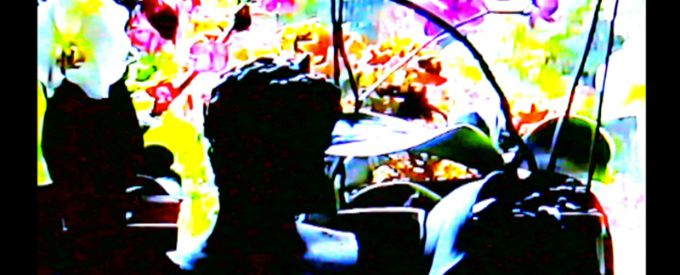 Art is an incredibly subjective topic. some love it and some hate it. A unifying trait that art carries is that it has personality, often because they're very personal pieces of work. At the beginning of the last century, the boundary between art and cinema blurred and the two forms collided, creating a niche genre. David Bordwell, a prolific film scholar, describes the genre "with its own distinct conventions" and broadly speaking, the content of an art film will hold high symbolic reference and will be deeply aesthetic – much like a portrait or a sculpture.
British artist and filmmaker Daniel Fawcett has truly lived up to this statement. In his epic 57 minute cine-poem SPLENDOR SOLIS, Fawcett creates a profound slideshow of his growth and transition by using footage collected over the last 17 years. He collates home movies, unfinished films, experiments, performances and behind the scenes material culminating in a deeply personal chronological journey.
From the opening scene, SPLENDOR SOLIS is humble and ethereal. It's not polished but that's what makes it so wonderfully artistic. With sheer grit, it's an incredibly profound visual song and an insight to Fawcett's past and present. Usually making films that explore himself and heal his wounds, aligning his life with his creative spirit, what inspired him to create such a piece? "[SPLENDOR SOLIS] is a document of my journey as an artist, from the gardens of my childhood to where I stand now, this film is an expression of it all"
And play is a really important factor in Fawcett's work…
Having waited nearly two decades to arrange the footage, what prompted him to venture on this project? "The reason this film was edited now was in part due to a feeling that the weight of so much unused footage was holding me back, I needed to clear things out, reflect on my journey so far and release myself from the past in order to be able to move on to the next phase of my creative journey" Fawcett explains.
There is something ultimately spiritual about this film, the audience is really bought into the experiences documented by all the colours and its transient score.
One of the things you will notice instantly about SPLENDOR SOLIS is that fragmented styles of film used. What went into the process of creating and collecting all the footage?
"Some of the footage is more in line with conventional home movie stuff, images of events and personal moments. But a lot of the footage is of what I call dress up and play, which are the times when I have got together with friends and made costumes and acted on visions, bringing into the outer world the characters and situations of our dreams and fantasies."

And play is a really important factor in Fawcett's work, like most will agree explains that (play) as an adult doesn't come as naturally as it does in childhood but film provides a great outlet for that; "cinema is an arena where one can play comfortably and work on keeping the doors to one's child-self slightly open" he adds.
The film is clearly artistic, much like every film that Fawcett produces. Each one is different from the last, maintaining a theme of continuity. "Formally this film is different because most of the film plays out across two screens. I think thematically the film is in line with my other work, in that it is about the path of the individual: it's an exploration of what it is to live a creative life, and it's a deeply personal work in both form and content."
This also formed part of the difficulties faced, when one opens up the past it comes at a price. Fawcett has called this the most intense experience of his life, and quite rightly so: this appeared to be a deeply emotional exploration of his soul. "I have had to face myself and look myself directly in the eyes. There have been moments of great joy but also moments of loss and sadness and I have had to face that and tried to understand what happened. I have discovered many parts of myself, the ugliness and the beauty, and I have come out on the other side transformed."
Professionally amateur, and bragging a sense of humility, SPLENDOR SOLIS is a time capsule displayed in a wonderfully artistic and poetic manner. So how will it be received by audiences when something so personal is showcased? "It is a film that is a celebration of life, creativity and friendship, and these are things that could speak to anyone. I set out to make the kind of film that I would like to see, so hopefully there will be other people out there who will want to see it too."
SPLENDOR SOLIS premiers at Cambridge Film Festival on Friday September 11th. To see more or Daniel Fawcett's work visit theundergroundfilmstudio.co.uk.
SPLENDOR SOLIS screens on 11 September at 17.30 at APH