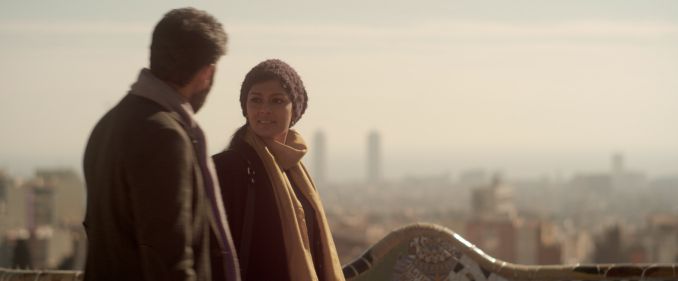 TRACES OF SANDALWOOD is a film about love and loss, but where it gets really interesting is how it tackles the very complex and topical issue of identity. Set between the contrasting locations of India and Spain, the film also touches on some profound subjects, including poverty, the sex-trade and the changing attitudes towards race. It is a film full of reflection in both story and style with director Maria Ripoll (YOUR LIFE IN 65, TORTILLA SOUP and KILL ME LATER) peppering the production with reflected imagery, starting with the very first shot.
The almost all-female cast and crew deliver a film that literally crosses boundaries as long-lost sisters Mina and Sita, played by high-profile Indian actress Nandita Das and Spanish actress Aina Clotet, are reunited in the unlikely location of Barcelona, having been separated at a young age in India. Sita, who doesn't remember the details of her early childhood as she was sent off to a convent when she was still a toddler, discovers that she was not only adopted and renamed Paula, but that she is not even Spanish by birth, but Indian.
The film begins with this birth, as dramatic opening scenes show the younger version of Mina, played by popular child actress in India Vaibhavi Hankare, collecting water to bring to the women delivering her little sister. She stumbles along, pail of water balancing precariously on her head, as her mother's screams echo. Before long, the baby is born but life is quickly drawing out of her mother. Mina doesn't have much time to grapple with the loss of her mother as more screams ring out, this time her own as she realises that the women who'd helped bring the now-orphaned child to life were drowning it in a bucket of water. Mina snatches the newborn from their hands, vowing to raise it herself and naming her Sita. But life won't give them a break it seems. The poverty-stricken girls end up being sold off and forced to separate. Mina manages to escape the prospect of life as a child prostitute and finds a home as a maid in a wealthy family's home where love blossoms between her and the rich son.
 a film full of reflection in both story and style…
In a jolting transition, we zoom out to discover that these were scenes from a film within the film and that sitting in the cinema theatre are the adult Mina and Sanjay (Subodh Maskara), her on-screen husband, and coincidentally also the actress's off-screen husband. In this future we've been propelled to, we learn that Sanjay is the rich kid now grown up and a successful movie producer and that the couple had produced this film in an attempt to reach the adult Sita, wherever she might be. And so begins the revved up search before Sita is located in Barcelona, after which Mina returns rather abruptly to India once she is reassured of Sita's well-being. The focus now shifts almost exclusively to Sita, or Paula, now a biologist, as she slowly tries to come to terms with her true identity. While the choice to cast a Spanish actress in the role of the Indian younger sister may sometimes be a distraction, Aina Clotet delivers a strong and intense performance. Guiding her on this precarious journey through the Indian haunts of Barcelona, and her own emotional and cultural awakening, is love interest Prakash (Naby Dakhli) who sells her Indian DVDs of movies that her now-famous Bollywood superstar sister, Mina, stars in.
TRACES OF SANDALWOOD is an adaptation of a bestselling novel of the same title, co-written by Asha Miró and the film's producer and screenwriter Anna Soler-Pont. Soler-Pont has taken several movies from the page to the screen, but TRACES OF SANDALWOOD is the first based on one of her own screenplays. A guaranteed crowd-pleaser packed with romance, tragedy and Bollywood choreography, the film won the Audience Award at the 2014 Montreal World Film Festival.
httpvh://youtu.be/PkaUXlKaKBg