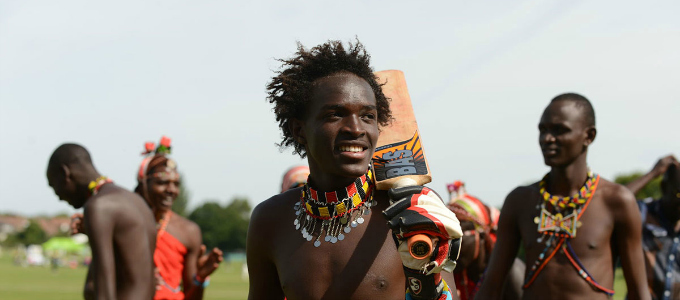 WARRIORS is a strange hybrid: part DODGEBALL-type underdog story, part travelogue that wouldn't be out of place on a cable nature channel but also part polemic, addressing head-on the practice of female genital mutilation (FGM) still undergone by girls as young as six in Kenya's Maasai villages to render them eligible for marriage – often in exchange for cows or sugar, but without consideration for the dangers of infection from HIV and AIDS.
Setting themselves against these rituals, which are doggedly approved by their elders ('If you touch a woman today she tells you she has human rights') are the young men of Ilpolei village, shepherds and goatherds who thanks to enlightened teachers from South Africa and input from the British Army Gurkhas who build them a cricket pitch, literally exchange their spears and shields for bat and ball. And soon the MCW (Maasai Cricket Warriors) team are leaving on a jet plane to compete in the 'Last Man Stands' club cricket competition in the UK, simultaneously inviting the folks back home to broaden their minds and horizons.
In London the feelgood DODGEBALL side of WARRIORS takes over as – still wearing their traditional costumes – they explore the Long Room at Lord's, remarkably without a single short-tempered MCC official in sight (no doubt the official involvement of the England and Wales Cricket Board had some influence here). On the field the team struggles to compete against more conventionally flannel-clad, if fatter, sides. Defeat follows defeat but convention dictates that the Warriors' determination will see them through, and so it proves with a Final on a pitch at the Nursery End at Lord's, which the Warriors narrowly lose. No matter: on their triumphant return to Kenya and sitting amid barren rocks a million miles away from the lush mown acres of St.John's Wood, the team meets with the elders again, who amid the glare of adverse publicity not to mention the pressure of common sense, have started to have second thoughts about FGM.
early games played on bomb-sites led eventually not to Lord's but the less picturesque Jersey…
A not dissimilar story was told in OUT OF THE ASHES in 2010, charting the unlikely progress through cricket's World Cup qualifying rounds by a team representing Afghanistan: early games played on bomb-sites led eventually not to Lord's but the less picturesque Jersey, nevertheless the bewilderment displayed by both inhabitants and visitors was touching and well-observed. Here scenes of the Warriors outside Buckingham Palace, Downing Street and on the Underground and its escalators seem staged and frankly patronising: admittedly breathtaking panoramas of Kenyan landscape intercut with the Shard and the London Eye are unnecessary given the wealth of human material available.
Of which, fortunately, good use is made. There is no doubting the salutary effect cricket has had on the villagers' wider education and the fact that a Maasai Cricket Ladies team is now in existence shows how far the elders have come, whereas before the MCW they'd have had to be dragged kicking and screaming into the fourteenth century. Barney Douglas's film (executive-produced by England's leading fast bowler Jimmy Anderson) shows the game and the effect it can have in a wholly positive light, in stark contrast to the equally persuasive but damning documentary DEATH OF A GENTLEMAN which uncovered the darker, sleazier side of international cricket – and whose progress the England and Wales Cricket Board unsurprisingly tried to impede.
httpvh://youtu.be/7k7SM2Gs860