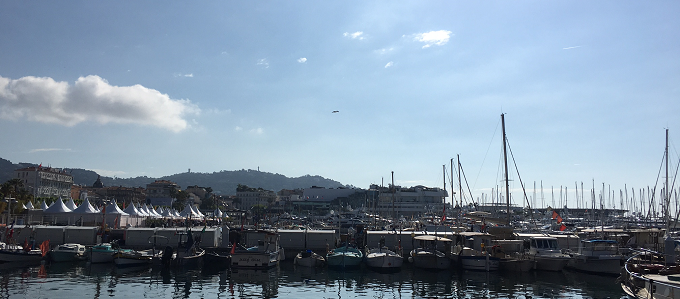 The realisation has dawned that keeping a daily diary at Cannes this year is not really a possibility with the mixture of accommodation, film viewings and events that I've been to. Nonetheless, here you have my summary of events for the past four days in the South of France.
I'm keeping a notepad full of notes on all the films I've seen, and also consulting the photos on my phone to remind myself what it is I've been getting up to since I last published a diary entry on Take One. Where we last left off, I'd just seen Ken Loach's new film, I, DANIEL BLAKE, and from where I sit typing this diary entry on Wednesday of the festival, that film still sits firmly within my Top 10 of the festival so far. But there have been more films and more random occurrences that I should like to write about here.
I've already published my interview with the lovely Rahma Rachdi, but I'll say again here, meeting her on Saturday night at my friend's apartment out in Cannes La Bocca, has been one of the loveliest chance encounters I've made at the festival so far. If we all have a personal energy, Rahma's moves in a very similar way to mine, and she instantly made me feel calm, intellectually stimulated, and ready to tell jokes and have a laugh about all that is silly and over-the-top in Cannes. Going around the festival with her on Sunday was an invaluable experience, observing just how differently a film festival can be encountered if you do not have full use of your legs and constantly need to think creatively about how to get from A to B without tiring yourself out or getting trapped in some inaccessible corridor on the seventh floor of a nameless hotel. I was sad to see her go back to Paris on Sunday afternoon, but it was a great pleasure to get to know her for the brief time we had together.
Without planning it, the Quebec Pavillion down on the beach in Cannes – the place where the Quebec Film Industry folk mingle and network – has become the place that Sarah McIntosh and I migrate towards on a near daily basis. We've been to two cocktail events and a rather eye-opening VR Headset event there so far, and although my knowledge of Québécois is somewhat minimal, the staff at the Pavilion have always been friendly and accommodating. I've stuck my feet in the sea, and you know what dear reader, it wasn't warm, but it wasn't freezing, a la North Sea off the North Norfolk Coast this time of year.
I've stuck my feet in the sea, and you know what dear reader, it wasn't warm, but it wasn't freezing, a la North Sea off the North Norfolk Coast this time of year.
I visited the Europa Cinemas Conference this year at Cannes. Held in a ballroom in the Carlton Hotel, it was heartening to see Watershed Cinema's Madeleine Probst in-post as the Vice President of proceedings and to find out that contrary to recent articles in the UK press, European Cinema had a very good year at the Box Office in 2015. Europa Cinemas, for a bit of context, are a European body, funded by Creative Europe, who give money to cinemas that show a certain quota of European films in their cinema, thus ensuring a monetary return on slightly riskier (in some towns and cities) programming for a cinema. It's great to see the positive effects that Europe can have on our cultural cinematic landscape like this and makes me less fearful that fewer people are coming to see non-English language films in the UK's cinemas.
A chance encounter with the lovely Antoine Damiens at the Quebec Pavilion resulted in us finding out all about the serious grafting that goes into the Queer Palme at the festival every year. This is the award given to the best LGBT-themed film in the festival, a relatively recent addition to the Cannes Film Festival, which I find rather shocking considering Berlinale has had an established award for nearly thirty years now (The Teddy Award). Last year, Todd Haynes' CAROL won the award, the previous year, Matthew Warchus's PRIDE, and the year before that, Alain Guiraudie's STRANGER BY THE LAKE.  I've seen THE DANCER and THE LIVES OF THERESE at the festival this year and would love for one of them to win big, but who knows. Meeting Antoine in the day, led to another great meet up with him, this time in the company of Tom and Kahloon who run Peccadillo Pictures in the UK – one of the best independent distributors of LGBT and World Cinema content we have. I'm not talking high tension business meetings here, just a quiet drink and chat in the shadow of Cannes's town hall, in the warmth of the Mediterranean evening sun. These are the special memories to take away from Cannes.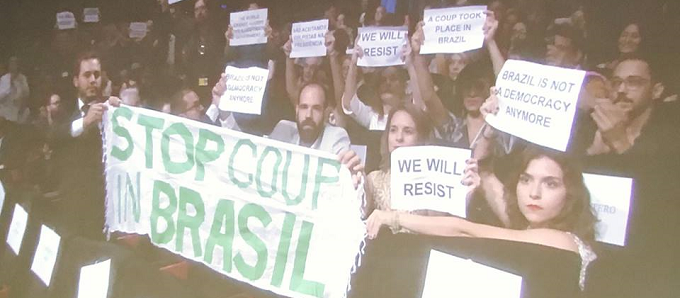 There was a great political protest inside the Lumiere screening of AQUARIUS, the new Brazilian film from director Kleba Mendonca Filho, about a middle-aged lady who refuses to give up her life-long apartment to a predatory development firm. The cast and crew revealed protest slogans in the cinema against the coup they saw as going on in country against their president at the moment. It was great to see so many cameras focused on them, and one has to hope that the world's media talk about it and spread the message a little way further than the cinema here in Cannes.
It was great to finally meet up with my friend, Stefano Da Fre, an actor from New York, who I have been in correspondence with for around 13 months, but missed at Cannes last year. Bumped into him, predictably in the Quebec Pavilion, and it felt like a 1990's reunion of pen pals from different continents. I'll hopefully get to have a proper chat with him for Take One about his experience of coming to Cannes as an actor a bit later in the festival.
This has been a bit of a condensing of ideas with so many days in one diary entry, but hopefully it gives you some idea of what goes on here when you're attending the festival for ten days. I've probably forgotten or accidentally omitted a fair few amusing incidents, but I'll try my best to get the synapses shooting properly for my next, and probably last, diary entry on the weekend.
httpvh://youtu.be/MCd1JpaYTLY