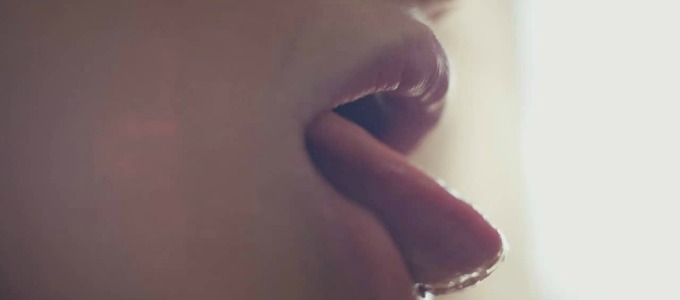 This month's REEL WOMEN event showcases local filmmakers, and programmer Kayleigh Barnes has also included a few trailers for some great upcoming features.
One stand-out short featuring this month is Rhiannon Evans' wonderful stop-motion animation FULFILAMENT, which we reviewed at the Cambridge Film Festival last year. It's about an idea, represented as a lightbulb in the brain, that's trying to find its purpose. Our lightbulb does everything it can to fit in, but like the ugly duckling, it doesn't seem to belong anywhere. Every shot is well crafted, and (we presume) agonised over. No detail is too small. Evans and her skilful animation team make a lightbulb speak without words: we know what the lightbulb is thinking and feeling just by its eyes.
INTO THE RAIN was submitted by Project Trident to the 2015 Sci-Fi London 48 Hour Film Challenge. Director Sammy Patterson and her crew were given the title, a line of dialogue ("Some people worship it like a God, but there's no accounting for taste"), a prop/action "A character opens a sealed padded envelope and pulls out a card" and an optional theme: "Robotic limbs look natural". Patterson tailored her script to three outstanding character actors whom she had pre-selected in preparation for the competition, and the result is an intoxicating future shock – we would describe it as a thinking woman's EX MACHINA.
Caroline Apichella's THE BELLOWING BLUE is a one minute film consisting entirely of ITN archive footage and stock music from Audio Network. "I wanted to invite my audience to respond to the sublime beauty and terror of man and nature," says Apichella. "I didn't expect to find such beautiful footage in the archived news reels, but I did. I discovered a multitude of talented men, women and children from all over the world and throughout history. Matching the video with the right music took time, and the film would have been quite a different story if I chose anything other than the uplifting, life affirming piece which I found". Reel Women will also be screening a trailer for Apichella's self-funded feature-length documentary LIVING WITH ARTISTS, which is about the struggles of a young painter forging her path in the art world.
OLIVE won the Shortreel award at last year's Cambridge Film Festival. Filmmaker Bex Church said, "Olive is a film very close to my heart. Motivated by my nan's diagnosis, I wanted to make a film demonstrating the effects someone having dementia has on the family as a whole. It was a way for me, and my dad who was closely involved in the process, to deal with our emotions head on. I'm so overwhelmed and proud of the positive responses I've received, especially winning the ShortReel award!".
Hannah Gautrey's THE WOODEN HOUSE is a documentary about a yellow wooden house in Cottenham, owned by art director Wesley West. The short was chosen for the British Film Institute (BFI) Future Film Festival award last year. ahead of five other "amazing" candidates. She told the Cambridge Evening News: "I never really show many people my films and they often end up unlisted on YouTube, so to have it screened to a packed cinema was a complete shock – the audience were great, and laughed throughout, and it reminded me of why I started making films in the first place. It just felt great to entertain so many people, and give them an insight into Wesley's life and a virtual tour of his remarkable home". Gautrey's media diploma teacher Tom Woodcock added: "Hannah has made an exceptionally competent film by anybody's standard. To do so with no budget and whilst still at sixth form is a testament to her ability and commitment."
SERVICE | MOVEMENT | DESIRE (Zoe Chamberlain/Reeta Varpama) combines interviews with Cambridge City Football Club players and fans with footage from a public art project, KickstART. The project is connected to the creation of 106 new homes on the site of CFC's grounds in Milton Road. The first of the project commissions was 'Making The Move' – when a giant animated footballer was projected onto facades along the route between Milton Road and Histon Road in Cambridge. The projector was mounted on a specially designed 'Light Rider' bike and the moving images included drawings by children from Milton Road primary school.
This month's REEL WOMEN event takes place in the Cambridge Arts Picturehouse bar on 25th February from 9-11pm. Free entry!
httpvh://youtu.be/58BDtdddF1E