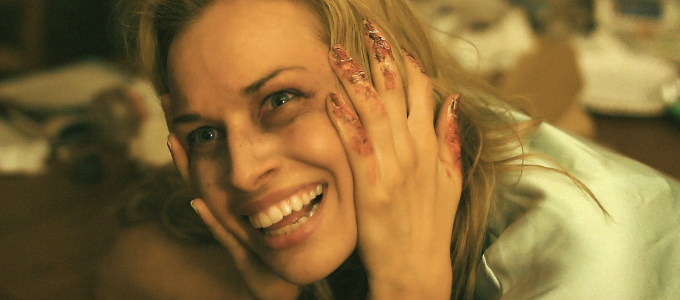 Cat Smith's horror programme for this month's Reel Women event, at the Cambridge Arts Picturehouse, is a great showcase of indie horror talent. Let's have a look at what's in store – and where to look for some feature-length films from other great female filmmakers, once these shorts have whet your appetite. Dating site OK Cupid's algorithms have shown that a shared love of horror films is one of the best predictors of a steady love match, so romance could well blossom amid the screams – on Thursday 24 March at 9pm, in the Cambridge Arts Picturehouse Bar. There won't be a dry seat in the house…
A desperately lonely heart beats at the core of MAUVAISES TETES (BAD HEADS), featuring on this programme of scary shorts. Rebekah Fieschi brings vintage 1930s MGM style to a story reminiscent of Lucky McKee's MAY. If the "make do and mend" approach to romance seems legit to you, you might want to seek out a copy of P.J. Woodside's feature FRANCES STEIN – not on the programme but worth tracking down. Everybody loves a mad scientist and this is a great addition to the subgenre. P.J. wrote, directed and stars in this feature. Frances Stein is a notoriously brainiac who sacrifices everything to realise her new breakthrough in biochemical research – and there's an easter eggy nod to THE ROCKY HORROR PICTURE SHOW among the supporting characters. Her Cronenbergian attempts to create artificial life start attracting attention, and soon we realise that she has darker plans for her creation than anyone could have imagined. With plot twists aplenty, this indie cyberpunk retread of Mary Shelley's most famous story transcends sci-fi horror and develops into a compelling noir drama.
Another classic in the same body horror ballpark as BAD HEADS is the Soska sisters' AMERICAN MARY, starring Bette Davis lookalike Katharine "GINGER SNAPS" Isabelle. Here's hoping the UK's penniless trainee doctors don't follow in medical student Mary's footprints – she pays her bills with money made from increasingly unconventional plastic surgery commissions. Tristan Risk appears as Beatress, a woman who's had facial surgery to make herself look like a terrifying real-life Betty Boop. Risk also stars in Izzy Lee's upcoming film INNSMOUTH, a Lovecraftian throwback to 70s genre horror with an almost all-female cast… and you can see one of Lee's horror shorts at this month's Reel Women horror event. POSTPARTUM was first conceived as a horror comedy, but the script grew darker by the page and the result is a heady nightmare of plastic wrap and impending doom. Some say that film critics are just a bunch of embittered filmmaking wannabes – not so Lee, who also reviews for Rue Morgue, Diabolique, TwitchFilm and Fangoria as a tireless, blood-soaked cheerleader for the genre.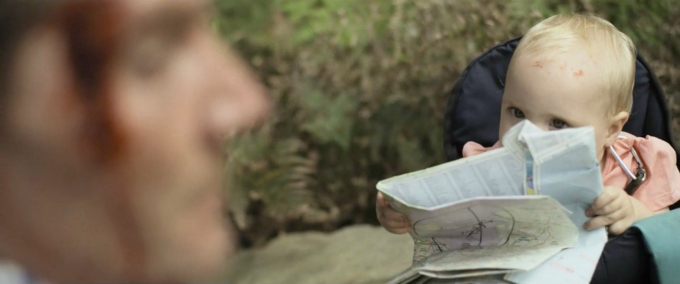 If you enjoyed Tristan Risk's performance in AMERICAN MARY and INNSMOUTH, and want another fix, you could do worse than Jill Gevargizian's CALL GIRL. Gevargizian also has a short on the Reel Women programme: GRAMMY, a spine chiller in the spirit of Stephen King's Gramma. If you don't make it to the Picturehouse, you can watch GRAMMY on Jill's website which not only offers four other shorts but also a downloadable graphic novel adaptation of CALL GIRL.
Do you like Canadian horror films? There's BLACK CHRISTMAS, CUBE, GINGER SNAPS, THE LITTLE GIRL WHO LIVES DOWN THE LANE, RESIDENT EVIL and SCANNERS, to name a few Take One favourites. The guest list for Karen Lam's Canadian short THE MEETING comprises four serial killers, looking for redemption. It's not so often that we see a serial killer experience conflicted emotions – and one of the most famous cinematic crises has to be the iconic confession scene in Mary Harron and Guinevere Turner's AMERICAN PSYCHO. Turner told Dazed magazine, "I very much think it's a feminist film. It's a satire about how men compete with each other and how in this hyper-real universe we created, women are even less important than your tan or your suit or where you summer and to me, even though the women are all sort of tragic and killed, it's about how men perceive them and treat them. It's funny to me because so many women have not seen the film because they assume it's a horrible slasher movie and that always hurts my feelings."
Chloe Okuno's SLUT is all about a naive young girl who just wants to impress the boys. Most schoolgirls have felt the pressure to be perfect, or to rebel against patriarchal expectation, or more likely a mixture of both – and in 2009 JENNIFER'S BODY treated the same issue in a different way. This supernatural horror comedy was written by Diablo Cody and directed by Karyn Kusama. In the spirit of HEATHERS, it's not so much a feminist fable as an exploration of the uniquely and cruelly internecine relationship that can develop between two young women – after you watch it, you'll never be able to look at a Claire's Accessories BFF charm without shuddering. Rounding off the Reel Women programme is Yolanda Ramke's zombie thriller CARGO, which juxtaposes a helpless infant against a zombie apocalypse – but did you know that there's a zombie feature written by a kid? Emily Hagins wrote and directed PATHOGEN at the tender age of 12. Watch the trailer below – and come along to the Picturehouse on 24 March at 9pm if you can!
httpvh://youtu.be/pEHLQUnmcis