COLETTE tells the story of French author, actor and icon Gabrielle-Sidonie Colette, covering her transition from her home in rural Burgundy to the avant-garde intellectual circles of turn-of-the-century Paris. We meet Colette (Keira Knightley) on the brink of marriage to author Henry Gauthier-Villars (Dominic West) – nom de plume 'Willy' – a shameless libertine fourteen years her senior, who proceeds to exploit her talented pen to boost his own name and fortune. Spanning the period 1897-1912, the film follows Colette as she develops her own voice, fights for artistic and personal independence, and explores her sexuality at a time when the world was changing.
Directed by Wash Westmoreland (STILL ALICE), COLETTE is a lavish and enjoyable period piece that will appeal to fans of PRIDE AND PREJUDICE and queer cinema alike. In many ways it does for the period drama what LOVE, SIMON did for the teen movie: couching queer narratives in a genre with (potentially) wide mainstream appeal. Refreshingly, COLETTE portrays lesbian relationships as neither tastefully chaste, nor cinematically designed for the male gaze. Colette's relationships with women range from spicy flings to long-term affairs, running the gamut of sex, love and everything in between. Same- and mixed-sex love scenes are given very similar cinematic weight – neither fetishised nor avoided, but normalised. Westmoreland (also a cowriter) mines this fascinating true story for all it is worth – touching on queer relationships, role-play, transgender identity and the violence that those who dare to step outside gender norms still experience today. For all its scope and relevance COLETTE never preaches, and is consistently entertaining.
The film roots us firmly in time and place with an intense attention to detail, gorgeously designed from the costume to the setting – to the point where one yearns to step through the screen and carry off the furniture. The city of Paris exists in the film almost as a character on its own – sumptuous, crowded and loud in all senses of the word. When we first meet Colette in her rural home, she wears loose dresses of soft yellows and creams; her house is sunlit and surrounded by fields and forest. In contrast, our first sight of Paris is drab, rainy and grey – and we see Colette being stitched into a constricting red confection, with obvious displeasure. At her first salon, surrounded by the opulence and insincerity of the intellectual elite, she comes face to face with a jewel-encrusted tortoise ornamenting a side table. 'Poor thing' she says, 'you want earth and grass.' The parallel is blunt, but effective.
Colette's greatest standing as a cultural icon was almost certainly as a novelist. Despite the fact that the act of writing is notoriously uncinematic, Westmoreland doesn't shy away from its central place in her life. As in THE POST, there is a wonderful tactility in the film's treatment of the process of writing and publication. The camera lovingly examines the handwritten first draft, the typesetting and printing, the placing of the novel in the bookseller's window. As such, though Colette is often pushed to work under the control of her husband, we never lose the sense that writing is, for her, an escape – a place of power.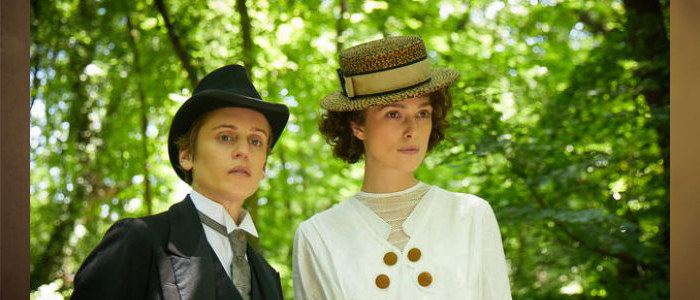 The central players of this story – Colette (Knightley), her husband 'Willy' (West), and Parisian society – are brought to life through a combination of sharp writing and intelligent performances. The dialogue is witty but down-to-earth, never straying into the realm of the pretentious (apparently not an easy feat when your characters are struggling artists, cough, RENT). Knightley's Colette is a likeable protagonist, growing believably over the course of the film from a schoolgirl-like forthrightness to the maturity of a woman willing to give up anything for the right to live her life on her own terms – a transition visible as much in her mannerisms as in her appearance. Knightley's performance is especially strong in the quieter moments: when Colette observes from the sidelines as her husband is lauded as a genius, the tiny movements of her face show us joy, pride and regret all at once.
West, as the sleazy Willy, accomplishes something equally impressive. On paper, Willy is despicable. Like a 19th-century James Patterson, he runs a 'writing factory' – paying ghostwriters to pen novels which will be published under his name. Despite consciously manufacturing trash, he sneers at more successful writers. He constantly struggles for money because he squanders it on mistresses, gambling, and maintaining his successful image. When it becomes clear that his young wife has talent, he has the cheek to buy her a house as a present – using the money from the advance for 'his' next book, which he expects her to produce forthwith. If she refuses to write, he locks her in a room until she works. Though often controlling, Willy is also that subtle breed of abuser rarely captured on film – the person who, when shown opposition, breaks down, becomes pathetic, and traps their victim with whining dependency. The most astonishing thing about West's performance (and testament to the intelligence of the writing) is that we believe that Colette would have stayed with Willy for so long – because, up until the end and despite everything, West imbues him with humanity and a kind of pathetic charm.
Aside from these central performers, the cast is peppered with talented actors who lend weight and depth to the story. Fiona Shaw as Colette's mother, 'Sido,' and Denise Gough as Colette's long-term lover 'Missy' (Mathilde de Morny, a French noblewoman) deserve particular mention for the understated strength of their performances.
Mining a formative period in the life of a cultural icon, COLETTE succeeds in being not only relevant but sumptuous, scandalous and thoroughly enjoyable. Most significantly, it is an unapologetically mainstream piece of queer cinema – and deserves an audience to match.