A man meets a woman in extraordinary and surreal circumstances. She is twenty years his junior, but he feels an immediate connection with her. He loves her as he loves the desert – she is vast, impenetrable. He can erect a monolith on her mysterious, undulating plains but he can never own her… or can he? He hatches a plan to capture her, to take her to his isolated home and reinvent her as the centre of his own fantasy world, where he can control and revere her completely. To his surprise and delight, the plan works. She gives him her trust, submits to his fantasy and becomes for him a virgin tabula rasa, as thirsty for his projection as the white walls of his Moroccan retreat.
This is the story within and also behind YOU GO TO MY HEAD. Seasoned producer Dimitri de Clercq describes his film as a "Taj Mahal" built in tribute to the actor/model Delfine Bafort, who plays the lost amnesiac Dafne/Kitty in this dark thriller-cum-romance. He hoped to perform opposite her as Dafne's abductor, the lonely opportunist Jake: perhaps to become the Arthur Miller to her Marilyn Monroe. But to his chagrin, a fourth wall arose. Delfine told him, "You have to get an actor to play Jake. It's getting too personal".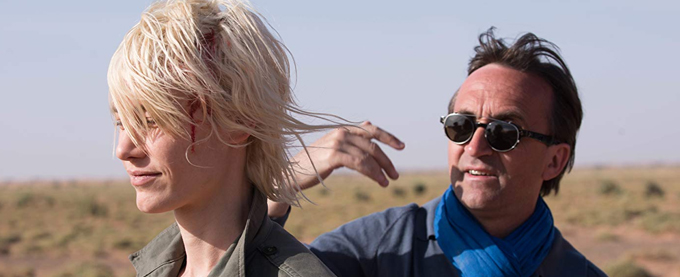 Delfine had previously performed in PROMISES WRITTEN IN WATER, the rest of whose cast and crew comprised Vincent Gallo. In diametric opposition to the insular Gallo, de Clercq as an artist, lover and aesthete wants nothing more than to expose himself, and to share his "Taj Mahal" with as wide an audience as possible. When I spoke to de Clercq following the popular screening of YOU GO TO MY HEAD at the Cambridge Film Festival this year, he described the irresistible feeling of nostalgia inspired by Delfine, a fellow Belgian, when he watched her on the set of Felix van Cleeff's experimental feature EVENTIDE. "I felt a longing for Belgium through Delfine – I was homesick". He quickly asked her whether she would consent to appearing in a film directed by him, and she agreed on condition that there would be a script – something she felt EVENTIDE lacked.
"I have always been fascinated by Peckinpah's blood poetry…"
"I knew that probably nothing would happen between us but I still wanted to make this film," said de Clercq. "It's hard." Delfine's second condition – that de Clercq step aside from the male lead role – arose when the temperature in Morocco soared so high that filming was postponed. Svetozar Cvetković took his place just a few weeks before principal photography began. "When I first saw him, he reminded me of this great Irish actor – Richard Harris," says de Clercq. "There are even a few moments when he resembles a young Brando." "Jake is my double," he adds. "The house, with its white cinemascope walls and maze-like circulations, can be seen as a metaphor for the film and its characters' journeys. It became quite obvious early in the writing of the screenplay that Jake would be an architect. In another life I would have loved to be an architect. The love-making scene of Jake and Kitty in the sand dunes takes a whole other dimension with Jake being an architect. At this very moment the two worlds become one. His desire to transform sand dunes into living spaces and his desire to be one with Kitty".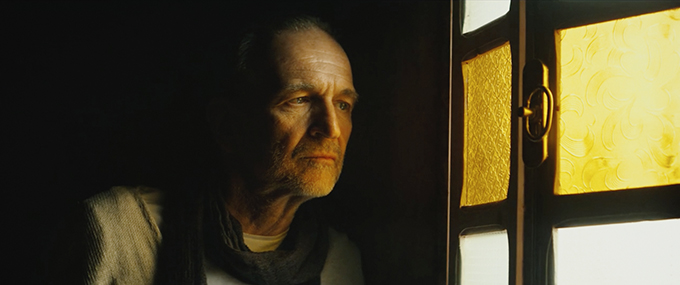 Fundamentally a Gary Stu, the role of Jake is surprisingly complex: and it's Hacène Larbi's intoxicating, nauseating and unpredictable score which constantly reminds us that this particular authorial insert stands before us not just naked but raw, warts and all. "I have always been fascinated by [Sam] Peckinpah's blood poetry. When we started writing the script, the situation was the same but it was much more violent. There were dead animals, that kind of stuff. It was much more plot oriented, more dark."
"To me there is something Hitchcock about the film…"
"The violence is still in the film, in another way, expressed through the music of the film," he explains. Although Jake is painted as a sympathetic character, Larbi's recurring waves of intense, horror-influenced pizzicato strings, layered with distorted cries and whispers, make it clear that Jake's passion and desire is an all-consuming burden – almost horrific for an outsider to contemplate and even recognise in himself. "I'm not a musician, so it's not easy to communicate with a composer. There was a first version of the soundtrack which was romantic and piano led. A couple of friends took me aside and said, 'We don't understand this choice of music. Your movie is already romantic, you don't need that in the music'. With the help of [Larbi], the violence came back, the perversity if you want. Kubrick always used music in an expressionistic way – it's a character of its own".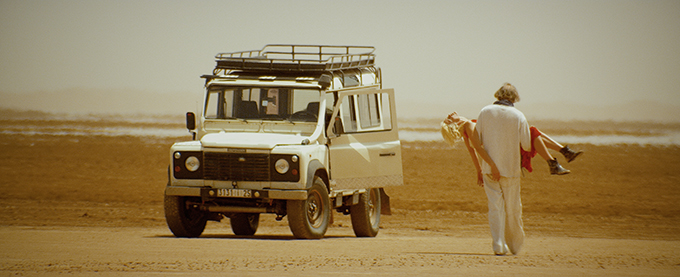 "I was worried because the film came out at the same time as the Harvey Weinstein scandal, and the Me Too movement," de Clercq admitted – but so far, festival audiences have seemed to understand that what might easily be mistaken for multiple scenes of sexual coercion are intended as a crucial signifier of redemption and purity in the cinematic dreamworld. De Clercq describes cinema as a mirror into the human soul, and YOU GO TO MY HEAD as a "dream" movie. If this is a dream, it's an introspective, Jungian nightmare in which the creator's feverish lust and insatiable limerence are disgorged in DOP Stijn Grupping's apparently unexpurgated cinematography – whether it's the violent red and blue of the beach, the alien landscape of the desert or the Escher-white angles of the iconic "Fobe house" that's caught the filmmakers' lens, the camera drags swathes of exquisite B-roll across the screen with all the profligate exuberance of an Andrex puppy.
"Whatever story there is, there is…"
"To me there is something Hitchcock about the film," says de Clercq, and he's not just referring to Delfine's resemblance to Hitchcock's heroines. "Much like James Stewart's character in VERTIGO, I was recreating as a filmmaker moments, memories of scenes I had lived with Delfine during the making of EVENTIDE a year and a half earlier. I was trying to capture the feelings when I'd seen her move in those places for the first time. Things shook me up and hypnotised me. I tried to give life to those moments again". And for such a personal project, de Clercq carried his film with a tiny crew: just the DOP, assistant camera, sound mixer and boom operator. Even the budget came straight from de Clercq's personal piggy bank: "I sold my personal collection of movie posters to finance the film's shoot," he notes ruefully.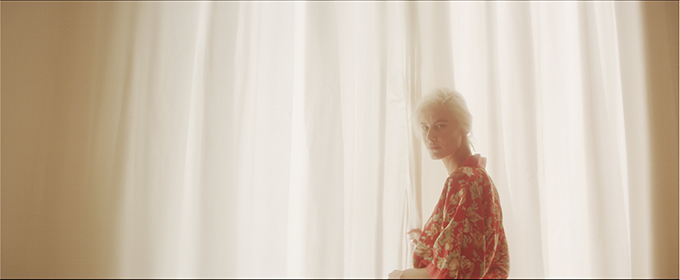 YOU GO TO MY HEAD is an unashamed deep dive into its own belly, where the rootless, lost woman with the identity crisis is just as much an authorial insert as the more obvious kidnapper turned Romeo. "Whatever story there is, there is," smiles de Clercq. "You live with these films quite a few years. It's a dream movie like BLUE VELVET or EYES WIDE SHUT – daydreams. The people for whom this movie works – it does that."
This year, the excellent Aesthetica Short Film Festival in York held its first feature film competition section, in which YOU GO TO MY HEAD was awarded Best Narrative Feature Award. This marks the 30th prize for the film.