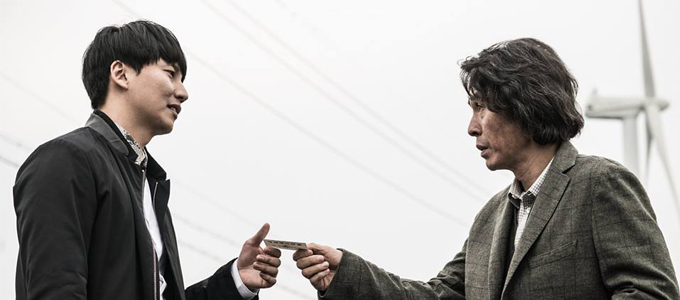 This year the London Korean Film Festival is luring us with an M&M trail of teaser screenings in London and Cambridge, the most recent treat being Won Shin-yun's MEMOIR OF A MURDERER (2017). Now, if you're into Korean cat-and-mouse thrillers featuring a grumpy teddy versus a young Jarvis Cocker, you're spoiled for choice. So if you've already seen most of 'em, what will MEMOIR do for you that CONFESSION OF MURDER (2012), I SAW THE DEVIL (2010) or THE CHASER (2008) didn't?
Single dad Byung-su (Sul Kyung-gu) is an ex-murderer turned vet and poet. Flashbacks paint him as a voracious vigilante killer, but in his dotage, Byung-Su's philosophy has begun to align with the "Eat the rude" attitude of Hannibal Lecter, and traits such as "a vulgar laugh" are enough to catch his twitchy eye. He can't even remember why he killed some of his later victims – but that's because he's slowly succumbing to Alzheimer's. Are we dealing with a Dexter here, or a daydreaming Victor Meldrew?
Pop star Seolhyun plays baddy-bait daughter Eun-Hee, sharing the role with brilliant child actor Rin-Ah Shin. She gives her dad a mobile phone so that he can use the voice recorder to remember names and events, but his on-the-hop reminders soon prove to be as unreliable as Leonard Shelby's tattoos. Key events unfurl through Byung-Su's increasingly divergent perception, and only his murderous muscle memory and killer instinct seem to be unhampered. That's why we feel we can trust his gut feeling when he dings a car whose driver, Tae-joo, claims that the bleeding bundle in his boot is just a deer. When Byung-Su looks into Tae-joo's eyes he recognises a kindred spirit. But how's a dotty old vet going to catch a killer? Does Byung-Su have a loyal, cuddly cop buddy in whom he can safely confide over beer and bulgogi, you ask? Why, yes he does – Byeong-man is on hand to look up the car licence number, and have a snatched sample of "deer" blood analysed in the lab. Byeong-man is, of course, played by audience favourite Oh Dal-su. Oh snap – Tae-joo is a cop too!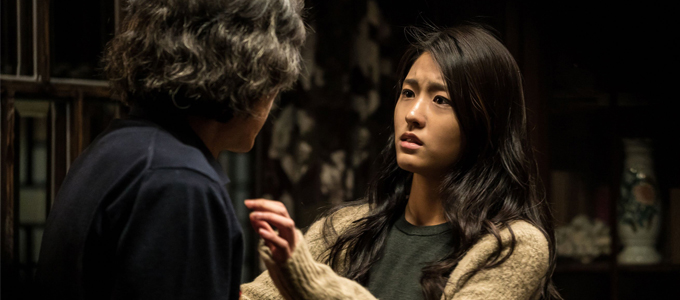 A gumshoe style narration adds to the general pulp feel, but there's an elegance to every scene, from the theatrical choreography of a group tussle in the police station to the Krav Maga style hand-to-hand combat scenes, which are shot at a steady pace that's easy to relish. As we've come to expect from Won Shin-yun, the cinematography, set dressing and costume are on point at every turn. Beautiful Sul Kyung-gu is only fifty but is totally convincing as an old, Buster Keatonish hangdog grump, with the type of dainty haircut and cuddly cardy you'd normally see roaming Boden. His dazed face often reads, "did I leave the oven on?" although you know he's actually wondering "did I do another murder?". Preppy, reptilian bowlhead Tae-joo (Kim Nam-gil) can't match his performance, but rocks a great cobra-print hoodie towards the climax, as we begin to wonder whether there isn't something in Byung-su's theory after all.
There's nothing ground-breakingly new in MEMOIR OF A MURDERER – it's co-written by a scriptwriter who worked on OLDBOY (2013) and it's even bookended with imagery of our hero silhouetted against train tracks threading through a tunnel, evoking MEMORIES OF MURDER (2003) – but that's OK. Sometimes you want familiarity with only a little extra pepper, and this story is just the ticket in those times.
MEMOIR OF A MURDERER showed at the BFI London Film Festival in 2017, and screened on May 21st 2018 in London and Cambridge as part of the Korean Film Festival. See more Sul Kyung-gu at the Cambridge Arts Picturehouse in 1987: WHEN THE DAY COMES from Joon-Hwan Jang (SAVE THE GREEN PLANET!) at Picturehouse Central on 18th June and Cambridge Arts Picturehouse on 25th June.
https://twitter.com/koreanfilmfest
https://www.facebook.com/theLKFF/