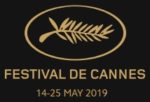 Last Saturday, notorious director Gaspar Noé premiered his latest film LUX ÆTERNA at a Séances de Minuit event of this year's Cannes Film Festival. Telling the spiritual yet insane, controlled yet epileptic story of a film shoot sabotage, the Argentinian-French director delivers a medium length piece that reveals a new side to his craft.
Starring controversial French actresses Béatrice Dalle and Charlotte Gainsbourg, LUX ÆTERNA lets its audience in on how quickly a film shoot can become a psychologically scarring experience. Being an extremely meta film, the actresses play themselves. Béatrice is the director of a piece titled 'God's Work', which is essentially an experimental horror version of Dreyer's 1943 DAY OF WRATH, chronicling a witch hunt in the early 17th century. The production is two weeks late and persists on being a disaster due to many personal conflicts and miscommunication.
Charlotte is an actress on this fictional film and plays one of the three witches that are set to burn at the stake. The opening sequence is absolutely fantastic. In a perfectly composed split-screen scene, Béatrice and Charlotte exchange a series of hilarious, yet extremely embarrassing and outrageous, set anecdotes by a fire. One tends to wonder whether this was all scripted by Noé himself or simply improvised by the actresses. Either way, this sequence gives its audience just enough for it to understand that something is about to go terribly wrong. At the film's narrative and aesthetic climax, both characters experience a traumatic event that is set to make everyone's heart race.
This 50-minute-long film takes various forms. It can be felt as a tribute to the 7th Art, featuring quotes from legendary directors such as Godard or Dreyer, whom Noé refers to by their first names. It is a metaphysical piece that demands its spectators (and actors) to push aside the possible nightmarish obstacles in filmmaking and focus on the divine aspects of making art – hence the title of the film's fictional project. This piece also operates on the other end of the spectrum as it can be seen as a satire of the film industry. Noé's well balanced dark comedy does not shy away from the industry's toxicity, tackling issues of harassment or manipulation. LUX ÆTERNA is an ode, supported by the director's beloved rave beats and eerie music. It is also an ad for the French luxury fashion house Yves Saint Laurent, who provided the costumes and produced the medium length film! Most importantly, it is a manifesto affirming Noé's auteur status. Although it does not feature any physical violence, sex nor drugs (an important trio of the director's filmography), LUX ÆTERNA does not fail to shock its audience.
The film begins with a famous quote from Russian classic novelist Fyodor Dostoevsky: "You all, healthy people, cannot imagine the happiness which we epileptics feel during the second before our fit". Gaspar Noé attempted to transpose this feeling and he succeeds in doing so.