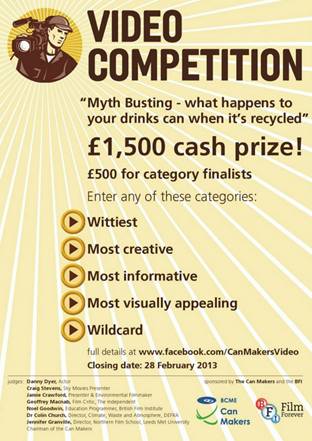 Want to get your video in front of a prestigious panel, showcase it at a BFI event and win £1,500? Well, look no further! The British Film Institute and Can Makers are looking for short videos busting drinks can recycling myths.
The Prizes
·       £1,500 for the overall winning video which will also be showcased at a BFI event
·       £500 for the five category winners
The judges:
·       Danny Dyer, Actor
·       Craig Stevens, Sky Movies Presenter
·       Geoffrey Macnab, The Independent Film Critic
·       Jamie Crawford, Presenter and Environmental
·       Dr Colin Church, DEFRA
·       Noel Goodwin, Young Person Programme Manager at British Film Institute
---
The 5 categories:
·       Wittiest
·       Most Creative
·       Most Informative
·       Most Visually Appealing
·       Wildcard
You have until the 28th of February, 2013 to enter your video.
Find out more at www.Facebook.com/CanMakersVideo