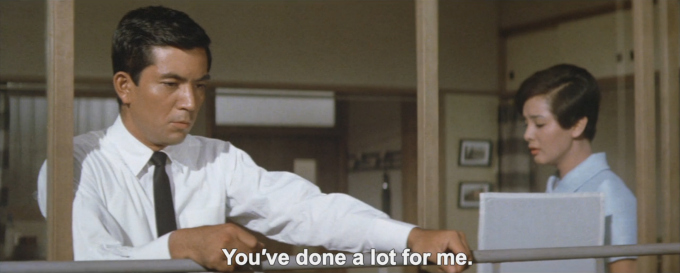 A first look at the Japan Foundation 2015 Touring Film Programme  revealed a very distinctive response to reality. reflected through the medium of contemporary Japanese cinema. The remaining films in the programme also take a uniquely cinematic response to the necessary illusions that sustain everyday life. Filmmaking is, after all, the art of illusion. Whether it's selling the dream of a bright future, the illusion of an ideal past, that success and happiness are attainable even for the most unfortunate, or even just creating a sense of purpose and meaning through an imposed narrative structure, cinema makes life better. Who, after all, wants to see the ugly reality up there on the screen?
The ugly reality is what Takuro has to live with everyday in THE HANDSOME SUIT (2008). Underneath we're sure he's a lovely man, but his surface appearance and behaviours aren't exactly attractive. Running a cheap diner out in the direction of Osaka, you'd have to admit that he's a bit of a loser: he's overweight, has disgusting personal habits, a thick provincial accent and he's not much to look at either. Basically, he's ugly. No one, least of all Takuro or the hundreds of women who have fled from his advances would dispute that. A pretty new waitress, Hiroko, seems to appreciate the man beneath the very thick surface, but even she is disappointed when Takuro declares his love for her. How can he show them all the real Takuro? Fortunately, there's experimental new clothing not yet on the market – the Handsome Suit – and Takuro's appearance makes him the ideal candidate to try it out. Just keep it away from hot water! THE HANDSOME SUIT has much of the highly-stylised and ultra colourful manga/anime visual language of Tetsuya Nakashima (KAMIKAZE GIRLS), but director Tsutomu Hanabusa never lets the cartoonish special effects overpower the sincerity of the message, or the brilliance of the comedy. The message, of course, is an obvious one – we've all seen SHREK – but sometimes what's important is how you get it across, and Hanabusa's entertaining comedy does that very well indeed.
httpvh://youtu.be/x-ZFm2b0H0w
Illusions take many forms in Gekidan Hitori's BOLT FROM THE BLUE (2014). Right from the start we're shown a series of sleight of hand tricks that are not performed by an illusionist, but by a bar attendant. Despite his evident talent, Haruo seems to have given up on any desire to be a successful stage magician, and has become disillusioned with the direction his life has taken. When he goes to pick up the belongings of his estranged father, who has just died in somewhat unpleasant circumstances, the reality of just who his parents were and what really happened in the past hits him like a … well, like a bolt from the blue. Literally, or cinematically even, confirming that time-travel is still a popular device in Japanese movies, Haruo is flung back to 1973. The science might be just as dodgy as BUBBLE FICTION, where a character revisits the 1990s through a washing machine, but BOLT FROM THE BLUE is not an exercise in nostalgia nor, despite appearances, is it an attempt to look back at an idealised past and question where it all went wrong. Gekidan Hitori's film – adapted from his own novel – might seem to use the illusion of cinema to promote the fantasy of the possibility of second chances, but in a film about illusionists, appearances can inevitably be deceptive, and this one is as twisty as they come.
…this lovely little film is a convincing statement on the power of movies…
It might seem like a simple little romantic movie, but Naoto Kumazawa's JINX!!! (2013) fits in well with the themes of the Japan Foundation's 2015 touring programme, and manages to be genuinely touching despite its apparently manipulative and sentimental premise. The encounter here is between a Korea exchange student, Ji-ho (played by K-pop group T-ARA idol, Hyomin) and her Japanese friend Kaede. The outgoing Korean girl attempts to help her friend overcome her shyness and declare her love for a boy she has long admired, by getting them to act out classic scenes from LOVE ACTUALLY, THE NOTEBOOK, EDWARD SCISSORHANDS and ETERNAL SUNSHINE OF THE SPOTLESS MIND. It's hardly an encounter that causes any serious examination of cultural differences, not even within the narrow field of romance. As far as the 'things that only happen in the movies' theme is concerned, however, this lovely little film is a convincing statement on the power of movies, the creation of illusions, and their ability to transform one's view of the world. JINX!!! doesn't rely entirely on western cinema to achieve second-hand effects either. Ji-ho's own tragic-romantic love-story is meaningfully and skillfully integrated into the narrative, and has a beautiful romantic allure of its own.
httpvh://youtu.be/k4KLGfBb_3M
Anime features are able to serve the illusion of cinema in a very different way from live action films. As anyone who has seen SPIRITED AWAY, WOLF CHILDREN or even last year's Japan Foundation anime feature COLORFUL well knows, anime is particularly good at integrating folklore and fantasy elements into the lives of its young protagonists in a way that helps them describe their distinct view of the world and the problems they face growing up in it. In A LETTER TO MOMO (2012), a young girl, Momo and her mother, have sold up their apartment in Tokyo and gone to live near some relatives on a remote island. Momo's father has just died in a boating accident, and an unfinished letter that opens only with 'Dear Momo…' doesn't bring about the kind of closure the young girl evidently needs. One day, three mysterious blobs of rain fall from the sky, and accompany Momo to the island where they take the form of ghostly goblins from an old picture-book that can only be seen by Momo. The trick with anime films of this kind is that the viewer needs to be drawn into Momo's view of the world, blurring the line between fantasy and reality, letting the message that lies behind it weave a magic spell without being overstated. A LETTER TO MOMO achieves that cinematic art of illusion particularly well, creating good interaction between the characters, and exploring the opportunities for visual effects in a way that builds up towards an epic conclusion that gets the message across sensitively, without preaching or speaking down to its younger audience.
Mikio Naruse has still largely remained in the shadow of his contemporary Yasujiro Ozu…
Despite some recent interest in his works in the west, Mikio Naruse has still largely remained in the shadow of his contemporary Yasujiro Ozu, a comparison that has hasn't served Naruse well. Despite some superficial genre similarities however, a wider look at Naruse's work – only a few of the director's 89 films have been seen outside Japan – shows that the comparison isn't even merited. Shot in Tohoscope and in colour, Naruse's gorgeous melodrama SCATTERED CLOUDS (1967) is closer to Douglas Sirk than Ozu, but it's also possible to consider the film's style and subject matter as being influential on other Asian filmmakers like Wong Kar-Wai (IN THE MOOD FOR LOVE) and the Korean master of romantic melodrama, Hur Jin-Ho (APRIL SNOW). The pace is more sedate, but considering the nature of the encounter here, the passions are necessarily the slow-burn kind. It takes that long for Yumiko's feelings to change towards the man who was responsible for her husband's death in a car accident. Shiro, a driver for an escort/entertainments company, has been cleared of any wrongdoing, but he can't help but feel a sense of guilt for what has happened, particularly when Yumiko is subsequently disinherited from her husband's family protection. It's this sense of guilt on both sides, for different reasons, that draws the couple together and at the same time proves to be an impossible impediment to the love that they eventually feel for each other. Strikingly shot, delicately understated, with the occasional abstract poetic cutaway to sustain mood and tension, Naruse's pacing and balancing of emotions is masterful as the film builds towards a quietly devastating conclusion.
httpvh://youtu.be/ffN2yaw6dsI