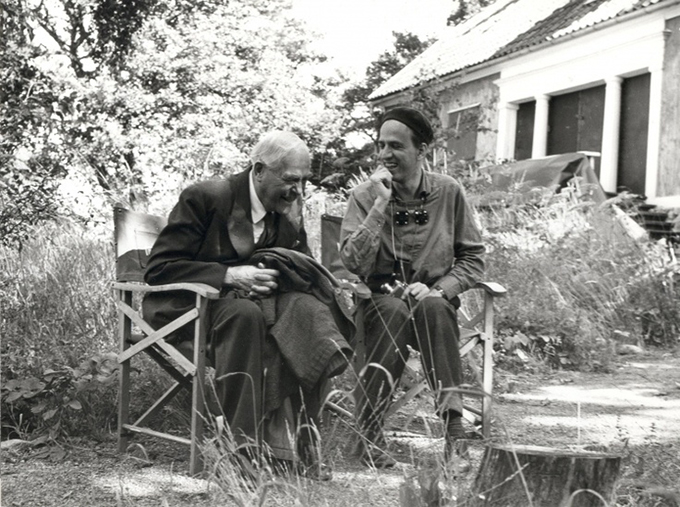 Sweden's Victor Sjöström will always be remembered for his quietly devastating performance as the ageing professor in Ingmar Bergman's WILD STRAWBERRIES (1957), but his career as a filmmaker deserves equal praise and recognition. Like D.W. Griffith in America and F.W. Murnau in Germany, Sjöström was an adventurous pioneer, a technical innovator and a great artist in the early days of the medium. Sjöström's unique body of work is a cinema of indelible human faces, beautiful but treacherous natural landscapes, doomed romances, relentless struggles for moral redemption, and brutal conflicts between independent, courageous women and violent, self-deluded men.
Victor Sjöström was born in 1879 in Varmland County, Sweden, to a businessman father and an actress mother. After his timber trade failed, Sjöström's father Olaf moved the family to Brooklyn, New York, and started a shady remittance company. At the age of seven, Sjöström experienced a tragic loss when his mother died during childbirth. His father, an alcoholic, gambler, and womaniser, married the nursemaid and sent Victor back to Sweden to live with his aunt and uncle. The latter were both very supportive and helped to shape the boy's growing artistic sensibilities. As a teenager, Sjöström became enamoured of the theatrical world and eventually left home to make a living as an actor and stage director.
Still in its infancy, the cinematic medium captured Sjöström's attention. In 1912, he made his directorial debut with THE GARDENER, a sordid melodrama about rape, prostitution and suicide, which became the first film banned in Sweden. Censorship, however, did not stop Sjöström. Between 1912 and 1923, he directed over forty films in his home country. As a filmmaker, Sjöström sought to liberate his chosen medium from its theatrical roots by moving away from the confines of the studio and the city and instead shooting in nature. In 1917, Sjöström directed A MAN THERE WAS, based on a poem by Henrik Ibsen about a tragic sailor during the Napoleonic Wars. It was the first Swedish film of its kind – a feature shot entirely on location in wild nature, over the course of both a spring and autumn, in order to faithfully render the changing seasons and harsh weather of the coast.
Sjöström's directorial style and attention to human behaviour really coalesced with the making of his 18th-century frontier romance THE OUTLAW AND HIS WIFE (1918). Set in the rugged highlands of Iceland, but shot on Mount Nuolja in Lapland, this tells the story of an escaped thief (Sjöström himself) and a farming outpost mistress (Sjöström's future wife Edith Erastoff), who fall in love and take off together into the unforgiving landscape. Sjöström and his frequent cinematographer Julius Jaenzon vividly juxtapose wide shots of the spectacular natural setting with expressive close-ups of faces, contributing to the overall sense of psychological realism.
THE PHANTOM CARRIAGE, Sjöström's greatest success in Sweden and the film that brought him international attention, was released on New Year's Day 1921. Based on the novel Thy Soul Shall Bear Witness! by Nobel Prize-winning novelist and fellow Swede Selma Lagerlof, THE PHANTOM CARRIAGE is built around the occult legend that the last person who dies on New Year's Eve before the clock strikes midnight must pilot Death's chariot for a full year, helping to collect the souls of all the deceased. While there are obvious structural similarities with Charles Dickens' A Christmas Carol, Sjöström's adaptation, at its heart, is a Nordic morality tale about the evils of alcoholism and the heroic efforts of a woman, who will sacrifice herself to free her man from the clutches of the bottle and inevitable death. On a technical level, THE PHANTOM CARRIAGE is a virtuosic symphony of spectral imagery, often achieved through a radical use of double exposure – it's not uncommon for four layers of photographed objects to be superimposed onscreen at once. The young Ingmar Bergman was one viewer profoundly affected by Sjöström's masterful vision. In a 1981 interview for a Swedish documentary, Bergman recalled his first encounter with THE PHANTOM CARRIAGE: "I must have been 12, 13. It made a very deep impression on me. I was deeply shaken by that film. Not that I understood it or anything. I rather think I was struck by its enormous cinematographic power. It was an entirely emotional experience."
The young Bergman was not the only filmgoer impressed with the dazzling artistry on display in THE PHANTOM CARRIAGE. Lured by up-and-coming studio moguls Louis B. Mayer and Samuel Goldwyn, Sjöström came to America in 1923. His first project in Hollywood was the inaugural production of Metro-Goldwyn-Mayer (MGM), HE WHO GETS SLAPPED (1924), starring the great Lon Chaney and future stars Norma Shearer and John Gilbert. Based on the play of the same name by the Russian author Leonid Andreyev, this feverish melodrama features Chaney as a brilliant scientist whose groundbreaking research and wife are stolen from him by an aristocratic rival. Irreversibly traumatised by this betrayal, Chaney's protagonist joins a Parisian circus and becomes its star attraction as a masochistic clown! HE WHO GETS SLAPPED was an enormous commercial success and helped to establish MGM as the top studio in town.
Officially credited as "Victor Seastrom" for his Hollywood pictures, the Swedish auteur would next collaborate with D.W. Griffith's muse and, arguably, the greatest actress of the silent era – Lillian Gish. Another dark meditation on sin and redemption, Sjöström and Gish's first film together was THE SCARLET LETTER (1926), a fairly loose adaptation of Nathaniel Hawthorne's classic 19th century novel, starring Gish as the adulteress heroine Hester Prynne. It was an unexpected box-office hit. Sjöström's second collaboration with Gish, THE WIND (1928), is perhaps the apotheosis of his stylistic tendencies and thematic concerns. Stunningly photographed by John Arnold in the Mojave Desert and Bakersfield, California, this highly expressionistic film tells the story of Letty, an innocent young woman from Virginia who travels by train to the remote and wild prairie of West Texas to live on her cousin's ranch. There, she encounters both the hardships of the natural landscape and the violence of a male-dominated society and is driven to the point of madness. Featuring one breathtaking sequence after another of the natural elements raging from Letty's point of view, Sjöström's psychologically complex and visionary masterpiece deserves comparison with F.W. Murnau's SUNRISE: A SONG OF TWO HUMANS (1927).
Weary of the Hollywood lifestyle and less than enthusiastic about the advent of "talkies", Sjöström returned to Sweden in 1930. He would go on to direct another two films in his native land, before making the British-based production UNDER THE RED ROBE (1937), his final film as director. This clever swashbuckler, set against the backdrop of an early 17th-century Huguenot rebellion, features Raymond Massey as the malevolent Cardinal Richelieu, and, in a rare hero role, Conrad Veidt as a brave swordsman hoping to avoid a trip to the scaffold.
Following his work on UNDER THE RED ROBE, Sjöström continued to act for the next twenty years in a number of Swedish films, including TO JOY (1950), one of Ingmar Bergman's very early directorial efforts. Seven years later, Bergman, now world famous, gave Sjöström his final onscreen role. The scenario of WILD STRAWBERRIES is very simple – Sjöström plays Isak Borg, a retired professor, who sets out on a journey to his alma mater to receive an award and, along the way, must confront his past in the form of dreams, nightmares and vivid memories. WILD STRAWBERRIES is a sublime collaboration between two generations of Swedish masters, an offering from a student to his mentor, and, for its timeless beauty and wisdom, a gift to us all.
You can see most of the films mentioned in this article at the Festival:
THE OUTLAW AND HIS WIFE screens on 4 September at 18.30 at Emmanuel College.
HE WHO GETS SLAPPED screens on 5 September at 21.00 at Emmanuel College.
THE WIND screens on 6 September at 18.00 at Emmanuel College.
THE PHANTOM CARRIAGE screens on 7 September at 18.30 at Emmanuel College.
WILD STRAWBERRIES screens on 9 September at 20.30 at the Arts Picturehouse.
httpvh://www.youtube.com/watch?v=kbA9FNMJnLg