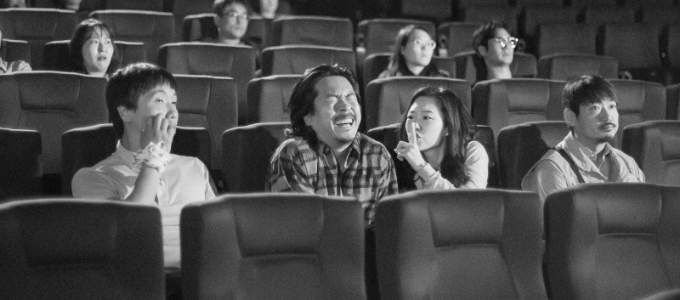 "I like Jackie Chan movies."
"But you look like Sammo Hung."
On Monday 27 March, the Cambridge Arts Picturehouse will play host to the first in a series of sneak previews of the London Korean Film Festival, which will take place in November, not long after Cambridge's own festival.
The first LKFF teaser is Zhang Lu's A QUIET DREAM, which opened this year's Busan film fest. Zhang is known and loved for his neo-realist approach to stories from the fringe of Korean society. A QUIET DREAM is a funny, bookish and absurdist diversion from his usual style, which sees Han Ye-ri serving drinks to three bickering, flirtatious duffers in a dive bar. You'll possibly recognise Han from the shocking HAEMOO – but the three pests are portrayed by famous Korean filmmakers. This isn't unusual in indie Korean cinema, where funding can be very tight and directors often spend time not only in front of the camera but back in the edit suite. This intimate bunch of performers are well suited to such a character-based story: no politics, scant social commentary, just an understated, crisply edited, funny little dream.
The in-joke is that each of the directors play characters that nod to their own work. Yang Ik-Joon's character is a giggling, potty-mouthed hoodlum: a bad lad who really wants to go straight. Yang is known for BREATHLESS (2008)

Park Jung-Bum's character is struggling with bipolar disorder, and berated by his boss for his "sad eyes". Much like the protagonist of THE JOURNALS OF MUSAN (2010), he's a Northern refugee suffering exploitation in the South.

Yun Jong-bin plays Han's landlord, a goofball with epilepsy – which contrasts with the super cool young auteur status he enjoys in South Korea. He directed NAMELESS GANGSTER (2012)

Finally, look out for a cameo from Ee-Seong Kim, who played the baddy in TRAIN TO BUSAN.
Come and meet Dr Mark Morris at the Picturehouse on Monday before the screening – you will not find a jollier and more knowledgeable fella when it comes to East Asian Cinema. For more insight into A QUIET DREAM, and some fun facts about English translation of Korean movie titles, listen to Toby Miller's interview with Dr Morris on Cambridge 105's Bums on Seats at noon on Saturday 25 March. It will also be available next week on podcast and we'll publish a transcript on this site.