To commence the start of the 69th Berlinale, we headed to the International Jury Press Conference to discuss this year's selection of films, contextualisation about the festival and what to expect in the coming week. Dieter Kosslick enters his final year as director of Berlinale, bringing with him this year's theme: The Private is Political, which is extracted from the 1968's women's movement; a fitting tribute in the ode of the Time's Up movement. As Berlinale is known for premiering many avant-garde, indie and politically/socially charged pieces, this year should prove to be no exception.
Below we cover the highlight discussions from the panel which consisted of:
Juliette Binoche (France) – Jury President
Justin Chang (USA)
Sandra Hüller (Germany)
Sebastián Lelio (Chile)
Rajendra Roy (USA)
Trudie Styler (United Kingdom)
The conference commenced with Juliette speaking about the fact that over 40% of the films in the competition this year were made by female filmmakers.
"I think it's a good step forward […] ten years ago it was not like this, so now it seems we are opening our hearts, minds and eventually our bodies – but I think it's a good sign".
Rajendra went on to discuss the importance of his shirt that he donned with a blazer, proudly noting that it was created by a friend in Brooklyn in the wake of the movement.
"She decided to start a line of items such as t-shirts and buttons, the proceeds go to young women filmmakers to help with their short films […] As it says here, the future of film is female".
A journalist from Kurdistan took to the mic next, reflecting on the political status of cinema and asking about the political status of Berlinale this year in reflection of its ongoing traditional history. Juliette replied to this:
"It needs to be human first of all. If it is human then it is political. We use our knowledge, our experience, our minds as awareness. It is necessary for the present time and the future. I think that what feels human is political as consequence […] The world is quite egotistical at the moment. Many countries are closing their borders, and with climate change increasing there is a lot for questioning happenings and urgencies. I don't know what the discussions will be, but in my mind we have to do this for future generations. Governments are not working as seriously as they should be."
The following question was in reference and reflection to the whole history of German cinemas. Justin followed in response, giving reference to writing on databases and sites where your opinion is extensively criticised and people tell you not to comment:
"This is my first time back at Berlinale in seven years, and as a critic in the US when there is such a ameri-centric view of cinema, what I love about coming to international festivals is opening up that mind-set. […] The personal being political, and all cinema is political. I'm very happy to be here. I'm especially looking forward to criticism and its about having a conversation. I look forward to having these conversations with new friends and colleagues".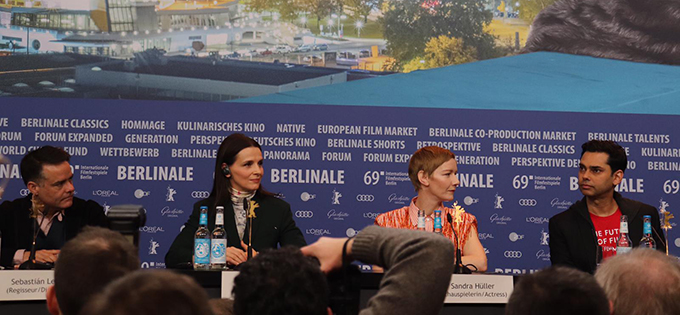 This then passed onto Rajendra, who compares the strands and elements of German cinema history:
"It's impossible to think about contemporary cinema without German cinema. I'm not even speaking about the popular cinema being produced in Berlin and across Germany at the moment. […] It's great to have thriving cinema in Germany again, when you look back at the years of Weimar cinema in particular".
Up next was a question that went on to look at the ability to choose roles and pick films that cover important societal issues. Trudie began this discussion:
"I would like to speak from personal experience here. Berlin has always been very courageous in looking at issues that would not always be considered by other film festivals. I am deeply honoured after coming here in 2017 with an LGBTQ film. SKIN (2018) is a redemption story of a former white supremacist. […] This is not only great, but also having 41% of women directors in the final competition. Hats off!"
Juliette then continued in reflection of what it takes to be taken by a piece during selection:
"When you start a movie, you never know if it will really happen. You have to take a risk and jump into the unknown. That's where I want to go, I like the adventure. I like not knowing. It's the game of life. You know when the film belongs to an actor. There is a link beyond rational knowledge. There is a thread in the heart between knowledge and people making it."
Sandra then gave her perspective from an actress's point of view in terms of roles:
"We are in a lucky position to choose what we want to do, and I'm aware of the responsibility that comes along with it".
The next question was directed at the mogul giant of Netflix acquiring films and the impact this has on the industry, how they felt about its aspirations. Up first was Juliette:
"It does franchise the independent films; we can bring that into question. […] Netflix is a new way of producing, it's exciting as it's something new".
Sebastian then gave his take on cinema's relationship with the streaming service:
"The death of cinema has been declared many, many times. Film is not just 35mm, it is not digital; it is a language. If it keeps being spoken about and being expanded, then it will be alive. I tend to be more integrated than apocalyptical about it. Real cultural relevance and potential of a film, however, can it happen without theatre and theatrical experience? […] I don't think film will die, but instead the collective experience".
The final questions were directed around Harvey Weinstein, with whom Juliette had worked on previous projects:
"I almost want to say peace to his mind and heart, that's all. […] I'm trying to put my feet in his shoes. He's had enough, I think. A lot of people have expressed themselves. Now justice has to do its work".