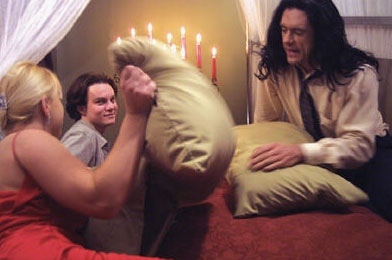 Denny, two is great, but three is a crowd. 
Tim Heidecker and Eric Wareheim were set to produce Tommy Wiseau's sitcom, THE NEIGHBORS. In an interview with GQ magazine, Tim Heidecker explained why the collaboration fell through.
"We wanted [Wiseau] to do what he does in a vacuum without any assistance from professionals," said Tim. "We wanted him to make the show without being influenced by anybody that's ever made a show before. And there was sort of an impasse there."
Wiseau told Mihai Kolcsar, in our recent interview, that he was in the process of casting for his sitcom, which he plans to introduce in cinemas before streaming regular episodes online. However, when he realised that Tim and Eric would not, as producers, be helping him with the script, editing or shooting, they got even shorter shrift than the flower shop clerk.
Read the full interview with GQ here.