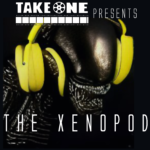 You crash in the Colorado forest and discover a small town overrun with people discussing ALIENS VS. PREDATOR: REQUIEM and why its gratuitous nastiness and deeply conservative undercurrents make this the most unpleasant film so far in the Alien franchise. Is there any interesting critical insight to pull from this literally and metaphorically dark film?
Content warning: body horror, death, infant death, child death, pregnancy, sexual imagery, nuclear power.
Our theme song is Alien Remix by Leslie Wai available on SoundCloud: https://soundcloud.com/lesliewai/alien-remix
Full references for this episode available in Zotero at https://www.zotero.org/simonxix/collections/7JI333U7
This podcast was recorded during the 2023 WGA and SAG-AFTRA strikes. Without the labour of the writers and actors currently on strike, the film being covered here wouldn't exist.