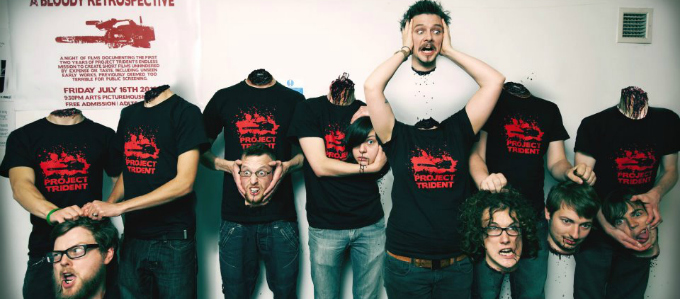 PROJECT TRIDENT is a team of extraordinary gentlemen and not-so-gentle women, many of them projectionists and familiar front-of-house faces at Cambridge Arts Picturehouse. The annual hysteria that is TRIDENTFEST comprises short masterworks created by the unsung heroes of celluloid. This year, the shorts were more accomplished than ever, with an extra helping of music videos. As usual, filming was still underway for some projects until the very last minute – and due to a technical hitch, you'll have to wait and see Simon Panrucker's RAINBOW MACHINE online at projecttrident.com.
One of the highlights of this year's TRIDENTFEST was a music video from Andrzej Sosnowski, featuring his landlord, whose identity remains shrouded in mystery.
Christian Lapidge offered the unfinished CANARY last year – a post-apocalyptic short that never became a feature. This year, his THE VERSE more than compensated for cinema's loss. Ryûhei Kitamura meets George Lucas in this tight action/sci-fi piece with added pizazz from special effects wizard Carl Peck.
Sammy Patterson's CHESS MAN courted controversy. Introduced enigmatically as found footage, it was then confessed that the hero of the film is a willing participant – but it's still uncomfortable viewing. Some laughed, some cringed and some found it exploitative – but it's the film everyone was talking about. Truth is stranger than fiction, and this is a hundred times stranger even than anything Project Trident have cooked up in the past. Patterson has hitherto been involved primarily as an actress, but it's she who coined the name "Project Trident" and with this first foray into her head, TRIDENTFEST has broadened its horizons.
The CHESS MAN is quite the character, but it's Andy from Carl Peck's ANDY NEEDS HIS MILK who will be haunting us on our deathbeds. Inspired by Michael Jackson's last words – he begged for his "milk" (actually Propofol) – Peck mingles elements of Poe's ghastly "The Tell-tale Heart" with a Roger Corman style treatment of parasitic horror.
The Fabulous Poo Brothers were back this year – many audience members (not just the team's friends and family) agreed that this was television-worthy material to rival BIG TRAIN. With hard and fast humour evoking the grotesque anarchy of "Ren and Stimpy", and fearless "Peep Show" style observation, the Fabulous Poo Brothers rarely miss their target – not least on this night, which they rounded off with the insanely popular THE POWERS, soon to be available online.
If you missed the event, we pity you: you might never get the chance to see it again on a big screen. Tridentfest brings much needed comic relief to a surfeit of drama and documentary, and it's also a showcase of some seriously impressive local talent. Let the Cambridge Film Festival know there's a demand by tweeting them @camfilmfest or by commenting on the festival site.