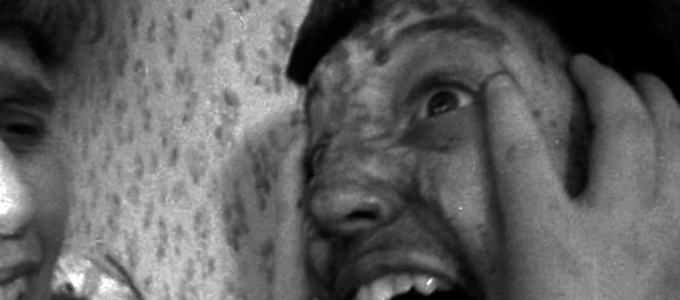 For his new film ATOMIC, Mark Cousins rummaged through archive footage to tell a story of atomic power, from its use in weapons of mass destruction to groundbreaking advances in medicine and technology. The opening frame of ATOMIC warns 'This film is restricted'. It's from a British public information film issued in 1962 at the height of the Cuban missile crisis when most people felt sure that World War III was imminent. The next intertitle declares 'Don't be afraid'. As if we could be anything else. ATOMIC takes this as an invitation to step on a winding (and often terrifying) path through the uneasy story of nuclear technology, created from footage held at the BFI National Archive and other collections. Thankfully, it's not all death and destruction. There's a very positive, and humane, side to the story – one that celebrates ingenuity, determination and compassion.
ATOMIC is Mark Cousins' cinematic response to the word 'atomic', which is how the BBC commissioned him as part of the Storyville strand on BBC Four. Loosely framed by Milton's Paradise Lost and Paradise Regained, our cine-journey starts with the early-20th century cinema-goers' passion for science films as the then new technique of time-lapse film revealed growth in buds breaking through soil, leaves unfurling, spores and seeds bursting into life. From microscopic sea creatures to human babies, from icebergs to great landscapes, the world is 'Paradise' indeed.
But all too soon comes the dark spectre of the Second World War, xenophobic propaganda, the Cold War and nuclear weapons. For decades, fear stalked the world. 1945: Hiroshima. We're haunted by numerous clips of atom and hydrogen bombs exploding; by the crazy idea that men watching tests just needed to turn their backs on the blast; and by the smiling faces of the bomber crew. These images don't lose their power to shock no matter how many times they are repeated. Our hearts are wrenched by clips of damaged bodies, destroyed homes and most especially, as we were reminded only this week with press photograph of a drowned Syrian child, by the image of one little Japanese girl, crouching alone in the rubble, she's covered in burns and ash and is shaking uncontrollably. It's a truly shocking image.
Moving on to the 1950s and '60s, anti-nuclear protests feature strongly, which again resonates with today's mass movements protesting against austerity and war. We see Chernobyl, Three Mile Island and Fukushima. Some of the most effective footage is of women who lived near Chernobyl. Their sons and husbands were lost in the accident but they somehow managed to maintain their dignity and humanity. This strength of spirit is the hopeful message to come from this section of the film.
"Those who cannot remember the past are condemned to repeat it"
The Paradise Regained chapter focuses on how mankind has harnessed the power of the atom for the benefit of mankind, not its destruction. We see dramatic medical advances in imaging and treatment, of NMR scanning and radiotherapy, clips from BBC science programmes, Peter Higgs and the Large Hadron Collider, the worldwide web, full employment in towns near nuclear power plants. While there are tragic stories to be told, the potential is undeniable.
Of course ATOMIC is a strong, personal statement by the director, but it doesn't feel heavy-handed. Using archive film can be fraught with problems, not least being the loss of context. But discovering the source material can be done later when there is time to think. Within its loose chronology, ATOMIC isn't afraid to mix documentary footage with snippets of fiction film. A few key clips are repeated to add power, to reveal a hidden truth or simply to emphasis a point. Mogwai's glorious soundtrack sits well with the different moods on the screen. It's minimal during the explosions and gently sympathetic to the landscapes and people we see. For future shows, Mark Cousins plans to blast the audience with sound; with such dramatic footage, an aural onslaught would certainly add another dimension.
For me, the film spoke volumes; it's part of my own history. Like so many other people of my generation, I joined CND, protested at Greenham Common, went on anti-nuclear marches, and voted accordingly. But I hadn't put together the two sides of the nuclear coin, the beauty and the beast of it. It would be an interesting experience to watch this film with a young audience who don't already know the timeline; what would they make of it?
ATOMIC will be shown next year in Hiroshima, as part of the Edinburgh International Festival and in Coventry Cathedral, where Benjamin Britten's War Requiem premiered in 1962. It's a cinematic nudge to remember George Santayana's view in The Life of Reason (1905) that "Those who cannot remember the past are condemned to repeat it" but also it's a celebration of people and their capacity to invent and create.
ATOMIC: LIVING IN DREAD AND PROMISE screened on 4 September at 15.30 at APH. Look out for repeats.

httpvh://youtu.be/D61QDvpmDnE