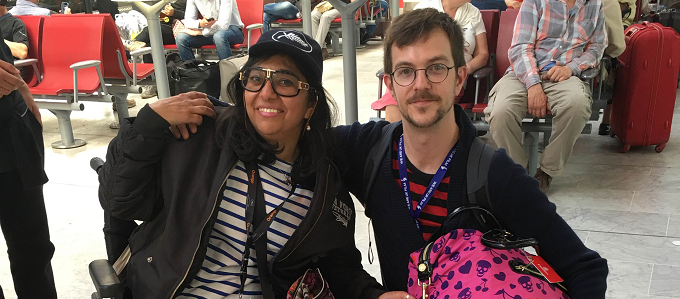 Quite by chance at the 69th Cannes Film Festival, I was introduced to Rahma Rachdi, journalist for the European News Agency and United States Press Agency, by my lovely mutual friend Falila Gbadamassi. Recently required to use a wheelchair, through a change in personal circumstances, I was interested to find out Rahma's unique experience as a member of the press pack at Cannes this year. Spending a day with her at the Film Festival, I noticed a different kind of energy to my festival experience – strangers were more considerate of her presence than they would be myself on my own, children would actively wave from their buggies at Rahma, with a big smile on their face, and the street landscape itself suddenly seemed ill-designed for anyone not fortunate enough to be healthy and able to walk long distances. I spoke to her to find out more about her experience at Cannes.
Jack: Hi Rahma, so we're here in the Gare de Cannes, and we've just spent a day moving around the Festival. Could we talk a little bit about how accessible Cannes is as a Film Festival for people in wheelchairs?
Rahma: Well, today it was accessible because you were here! Not all the streets are flat, and you notice that sometimes the basements of the buildings are not accessible. Sometimes you find here that the streets are too narrow so it is so crowded that I have no passage for myself. Sometimes you have slopes, for example here behind the station is the Croissette. Fortunately I knew the trick for the past few days that you have to cross from a certain parallel street in order to avoid those slopes. Cannes is definitely not disabled friendly.
Jack: How many years have you been coming to the festival?
Rahma: Seven years.
Jack: How many of those seven have you been in a wheelchair?
Rahma: Two years.
Jack: So I wanted to ask is the compensatory measures that the festival gives you for being a disabled visitor, does that compensate as such for the lack of mobility. Could you talk a bit about your experiences with festival staff and accessing different areas of the festival itself?
Rahma: The compensation of being here in the Cannes Film Festival is to live it. – to be able to be here. I have to say, inside the Palais, the accessibility is really, really facilitated by the security guards. For example, the Press Room, they have put a ramp there for me as they are not used to having people in wheelchairs.
Jack: Even in 2016?
Rahma: Even then. There is one photographer, my wheelchair buddy; he doesn't need to get everywhere because he's a photographer so he goes to the photo calls. Me, as a journalist I have to have access to the theatres and the press room, and wherever you have an interview to make. So I think it's new to them. There was another buddy, he was a cinema critic, very well known, in a wheelchair, but last year he died. So I'm the new one this year after him. I have to say that the compensation is that I live the film festival and the film festival allowed me to be here and to access movies and they facilitate me in the queues. For the press conferences it was a little bit trickier, but that's down to the colour of my badge. Then there are also the encounters, like with you, completely by chance, meeting nice people that are very kind and helpful.
Jack: A lot of the talk these days is about access to cinema. That can be in terms of getting young people into the cinema, a space they might not always visit. But it's also quite literally with you a case of getting into the buildings themselves. Do you feel it's improving year on year? Is there a plan to improve disabled access to festivals like Cannes in France?
Rahma: Yes, everything was accessible through the elevators. Even when it was not specified for me, the security guys were very kind and very friendly. They found solutions. "Don't worry, we'll take you in another way." They never wanted to leave me miserable. This was the case 99% of the time with the staff. Only 1% weren't. And that man made me cry that day. He said something that could sound normal or natural to anyone else who wasn't disabled, he said "You, you will never come in here." The way he said that, and the way I received that was like: YOU, like YOU IN THE WHEELCHAIR, you will never come in. It's because you have a blue badge and you're disabled. We cannot take you here because there's no ramp for the stairs.
Jack: And when we say stairs here, it's not like a huge staircase…
Rahma: Three steps. I took it very personally and I started to cry and I was overwhelmed. But, it's only 1% of the staff, so I cannot complain about the organisation as it was only one person who was stupid who said this. When you are in a wheelchair, we don't want to justify, we are always apologising, always sorry as we need to find a way through a crowd.
Jack: Maybe that's where you identify with the English psyche quite a lot as I feel we apologise for everything all the time.
Rahma: Exactly.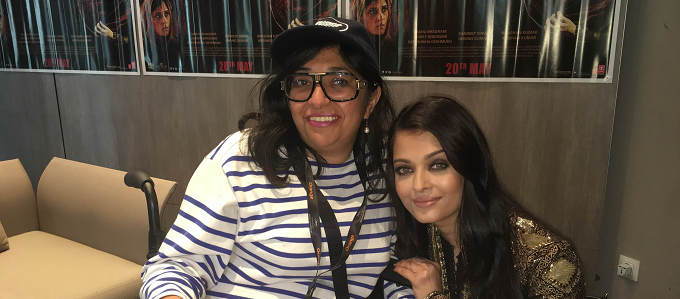 Rahma with Indian superstar actress, Aishwarya Rai Bachchan.
Jack: So you've been here for five days, what has been your highlight of the festival so far?
Rahma: Encounters, like with you. I like new ventures which are unexpected. I met you and many other people who were very kind and interesting. The climax I would have to say is when I met many, many stars around the Entre des Artists in the Palais. The security guards put me there and said: "You sit here, don't move. If anybody that wants to move you from here you tell them that it's me who decides that. So stay here and take any photos you want with any stars. We allow you to." So I met Susan Sarandon, Naomi Watts, Julian Moore, Claude LeLouche, Kirsten Dunst, Jessica Chastain, Vanessa Parady. They were all passing by. After the screening of THE DANCER, there was around ten minutes of standing ovation and everybody was jumping, people got wild, completely crazy to get close to the crew. There was even somebody who jumped on me and used me like a step to get closer to the stars. Then the security guards saw this happened to me, they took me aside and said "you don't move from here, we're going to empty the lobby, you can wait and you can have your photos with all the crew." It was the way they did that for me, as I'm not a pushy person. It's even more difficult to be pushy when you're in a wheelchair and I'm always worried about hurting someone with my wheelchair as it's like an engine. So that was a climax, the moments I shared with all the security guards when they made me feel privileged.
Jack: I believe you've seen Ken Loach's new film: I, DANIEL BLAKE at the festival. A film which deals with the UK State not really looking after the citizens it most definitely should be looking after. What did you make of that film as a French citizen looking inwards to the UK?
Rahma: You know that when that guy told me "You will never come in here," just half an hour later I went to watch I, DANIEL BLAKE. So it was just after this incident, so I was feeling very sensitive already. So I was transposing the film to myself as I felt the effect of Daniel, who was basically spending most of his time filling in paperwork for his healthcare centre and going in circles. Meanwhile, he was living and taking the most of it. I was thinking "oh, so it's the same as in France then." We have the same French system that is so tough.
Jack: And yet we are both citizens of two of the richest nations in the world?
Rahma: Absolutely. In this movie you can see that yes, it's a rich country with a high GDP, and we inject lots of money and lots of funds and political premises and decisions to enhance the standard life of the citizens. The citizen should be at the heart of the whole debate. But when you are facing an administration, it seems like they don't consider the citizens as human, they are a number, and are….
[Mission Impossible theme interrupts the conversation on the piano in the train station at this point.]
Jack: Well that's apt. I wish you a safe journey back up to Paris and it's been an absolute pleasure getting to know you this past day and a bit.
Rahma: Thank you Jack. Thank you for your kindness and generosity and humanity. I think you're a good ambassador for your whole country today with all the help you've given me.
Jack: One day at a time.
Rahma: I won't mention the Roast Beef as you haven't been cliché in the slightest.
Jack: Thank you, Bon Voyage!