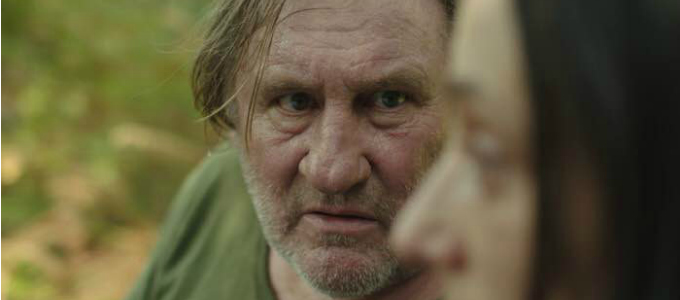 "I don't know this forest!" screams Gerard Depardieu's character in THE END: the new film from eclectic and intriguing French director Guillaume Nicloux, premiering in the Forum section at Berlinale 2016. We last saw Depardieu in Nicloux's stand-out film VALLEY OF LOVE at the 2015 Cannes Film Festival – in that film he played a heightened version of himself named Gerard, reunited with his ex-partner Isabelle (Huppert) in Death Valley, California for some introspective soul-searching over a letter from their recently deceased son. For THE END, though, we move from the deserts of North America to the lush green forests of rural France.
Stripped even of his first name in this film, Depardieu is referred to purely as "L'homme". What Depardieu's character lacks in contextual detail of name, backstory, and narrative motive, he more than makes up for in his performance: cinematographer Christophe Offenstein (known for his work on 2010's French comedy drama LITTLE WHITE LIES), introduces us to L'homme through a close-up shot of his extensive body, tummy tumbling out over his groin, as an alarm clock wakes him up on the day of his hunting trip into the nearby forest with his trusty setter dog.
Time, and its chronological expectations and developments within the narrative of the 85 minute feature film are toyed with by Nicloux. The film's titles come up within the first 5 minutes. The start is the end, or is it the other way around? A walk down the rabbit trail in the forest by L'homme, gun and hunting dog in tow, hints at Alice's journey down the rabbit hole – or perhaps at Mei in Studio Ghibli's MY NEIGHBOUR TOTORO as she crawls towards the Great Camphor Tree for the first time. Indeed, an early establishing shot of L'homme's sitting room, complete with decorative plates, illustrated with depictions of Native American Indians and their animals, subconsciously reinforces the notion that this film may be influenced by the spirit world in much the same way as Apichatpong Weerasethakul's CEMETERY OF SPLENDOUR – nothing visible, but the paranormal accepted as being ever-present.
… the air of tension surrounding L'homme's escape from the forest doesn't let up …
What setting could be more perfect for supernatural, unexplained goings on than the dense, lush green of a wood? The forest advances on Washizu in Akira Kurosawa's THRONE OF BLOOD; it acts as safe-haven for witchcraft in Roger Egger's acclaimed upcoming horror THE WITCH; and in THE END it lures L'homme into its depths on a hunt, but swiftly seizes control as the hunter becomes at the very least, badly disorientated, and at worst, hunted by someone or something. Alongside the excellent tense score by Eric Demarsan, reminiscent of mid-career Hitchcock, Nicloux uses animals in the film to signify a change in tone. L'homme loses his dog early in the hunt, and discovers a bed of menacing black scorpions on a rocky outcrop. Scorpions are a species not uncommon to certain regions of France, but certainly not the one the film is set in; and L'homme wakes up on his second morning to find cockroaches shuffling and climbing all over his rotund body. All credit to Depardieu here – these are not CGI cockroaches, and the visceral effect provoked squeals and gasps from the Berlinale audience.
The film's small supporting cast, Audrey Bonnet as La Jeune Femme and Swann Arlaud as Le Jeune Homme (both were last seen in Elie Wajerman's LES ANARCHISTES at 2015's Cannes Film Festival), make for unnerving companions to L'homme who we quickly realise is trapped, perhaps by the forest itself. Le Jeune Homme is curious as to why he hunts, and which animals he has hunted. He raises a question about whether it's morally right to kill a beautiful animal like a deer, rather than an ugly animal like a cow or an overweight bull. One can't but help observe the size of Depardieu's character and feel a sense of foreboding at the implications of this moral debate. A chance at further interaction and perhaps redemption, comes in the form of La Jeune Femme, whose appearance by a fireside at nighttime in the woods is no less troublesome for the fact that she is at first completely naked, and has a general air of the ghost in Hideo Nakata's iconic 1990's Japanese horror, THE RING. To go further into the narrative exploits of L'homme and La Jeune Femme would be to spoil certain scenes later on in the film; nevertheless, the air of tension surrounding L'homme's escape from the forest doesn't let up.
To those who found the chronology of Christopher Nolan's 2000 thriller MEMENTO or the dream-within-a-dream structure of his 2010 action film INCEPTION engaging and intriguing, this is French arthouse cinema playing with similar conventions. It's the mark of a truly great character actor like Gerard Depardieu, under the guidance of a director like Guillaume Nicloux, both of whom are not afraid to tackle creative projects like this, that make going to the cinema and stepping foot in the overgrown forest of our collective imagination a constantly invigorating and unknown experience. VALLEY OF LOVE looks set for a summer 2016 release date in the UK, so with any luck, we'll be seeing THE END in early 2017, as long as we make it out of the woods in one piece…