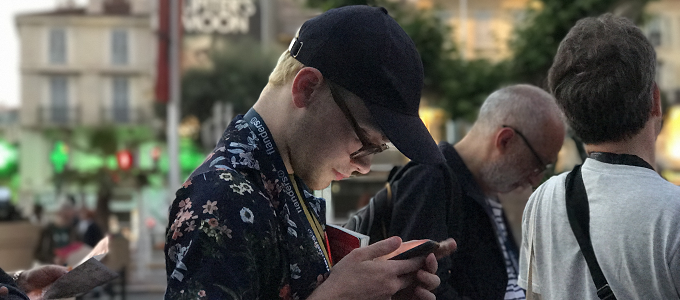 The third half of John Cheshire's personal diaries from the 70th edition of the Cannes Film Festival
Celeb spotting is a great way to pass the time whilst slowly loosing sensation in your legs from queuing all day long; and by the fifth and sixth days all of us at Take One had tried to outcompete each other in a friendly 'You'll never guess who I just saw!' competition. From the previous blog entry you'll see the chance encounter our writer, and Cannes veteran, Jack Toye had with Kristen Stewart – who also happened to catch a glimpse of Pedro Almodovar exiting a macaron shop and somewhat put the rest of our celeb spotting attempts to shame. This year at Cannes seemed to have an overload of famous faces and names as the 70th anniversary celebrated a very special event in the Lumière theatre, boasting a very exclusive guest list. Tilda Swinton, Ken Loach and Catherine Deneuve were to name just three that Take One managed to spy walking around the Croisette.
A great instalment in the Palais, courtesy of festival sponsor Nespresso, was an open espresso bar with a whole host of intense, dark coffees available to all who had entry into the building. This worked especially well on a morning when an 8:30AM screening left us with very little time beforehand to grab some breakfast and a pick-me-up coffee. Half awake we would migrate from the cinema to the espresso bar in hopes to fully waken up and try to comprehend what deep and intense film we had just watched. Rarely were the early morning screenings tailored well to the tone of the film such as Kasawe's RADIANCE or Haynes' WONDERSTRUCK; however films such as OKJA seemed much more acceptable to watch at 8:30AM. Although I'm sure the Press who rely on an early morning screening to allow them to get their reviews in fast don't mind too much; only me then?
The premieres on the fifth day featured Noah Baumbach's latest feature and the second Netflix feature to be shown in competition – THE MEYEROWITZ STORIES (NEW AND SELECTED)… (Don't ask what New and Selected refers to – I have no idea!), John Cameron Mitchell's HOW TO TALK TO GIRLS AT PARTIES and Hazanavicius' LE REDOUTABLE. Overall these films seemed to fair pretty well with the audiences and juries at the festival. HOW TO TALK TO GIRLS AT PARTIES easily had one of the most vibrant red carpets in the entire festival and THE MEYEROWITZ STORIES later won the Palm Dog award for a poodle I don't quite remember seeing in the film – I blame one of these early starts I mentioned earlier.
Walking around the harbour front and central streets you're bound to stumble across exclusive parties and events which boast some of the biggest names not just in film. A quick google search of #Cannes70 or #Cannes will bring up a whole catalogue of famous faces who you later realise were just around the corner in some large house or tent. Behind the security of bodyguards of course. Who knew I was the closest I would probably ever be to Kendall Jenner – certainly not I.
Michael Haneke's HAPPY END premiered on the sixth day; a film unfortunately we didn't get to see. A film described as the bleakest of bleak, HAPPY END stared Isabelle Huppert in a family drama set in Calais around the European refugee crisis – a common theme in this year's selection. Hungarian film, JUPITER'S MOON also shared this theme; however, through the imagery of a Hungarian refugee capable of flight. The title also somewhat baffling as the only nod to Jupiter is found at the start of the film in on screen text explaining the name of one of Jupiter's moons is Europa. Possible relation to our current European climate? That's what we took from this anyway.
Another day in Cannes and another political film to rile up audiences empathy. As you do.