It's near-on impossible not to be struck by the grace and charm of Gwendolyn Leick, the protagonist of Ruth Kasserer's documentary about a year in Gwendolyn's life as an Olympian weightlifter, academic, mother and wife. After the screening at this year's Cambridge Film Festival, a Q&A was hosted in collaboration with the Austrian Focus Selection, but we were also fortunate enough to meet with her afterwards to delve further into the life of such an extraordinary woman.
Elle Haywood: Your optimism within the film shines through in a very profound manner, is there a certain motto or attitude that you choose to live by?
Gwendolyn Leick: Optimistic rather than pessimistic, on the whole.
EH: Do you find that your family and friends are core supporters of this, and the life you've chosen to lead, including competing?
GL: Yes, of course. It's a gift to have close friendships and a close relationship with your family, I'm grateful for them. In regards to the weightlifting, my children weren't particularly interested. I remember my elderly aunt saying, 'what are you doing, this is completely mad!'. My children thought, 'well, it's one of the things she wants to do!' They never came to see me compete, but I would send them a text message saying I had won a gold medal, and I'd get back 'well done, well done it's alright'. They put up with it!
EH: So you would agree then that this was your thing, you did it for you?
GL: It was, it was empowering. But really it was a way to cope with middle age in the beginning, because I felt I was losing my figure and I didn't like that. And going to a normal gym and doing the treadmills, I tried it for a while but it was very tedious. I was very lucky that the gym I found was more about learning and acquiring a discipline. Which can be frustrating and very difficult but that makes it far more interesting. Pat always says it's like gymnastics but with weight. A gymnast does the same routine all the time with your body weight, and in a way we are the same but with extra weight and you can learn to do it perfectly well. I mean today I could do it perfectly well, but you do have to change it up. It's not the same every year though, you do tread water trying to do the same as the year before even. It was an interesting new bodily, as well as mental, discipline. It's very different from doing athletics which I did when I was younger: running and jumping and skiing.
EH: It seemed throughout the film that Pat's gym became busier, was that because of the film crew or was it by chance?
GL: Sometimes there are more people, but in fact I usually train alone. I get easily distracted, I'm not too good at focusing so it is better if it's just Pat and me, which is wonderful. Now that I'm retired I can train anytime I like, first thing in the morning even!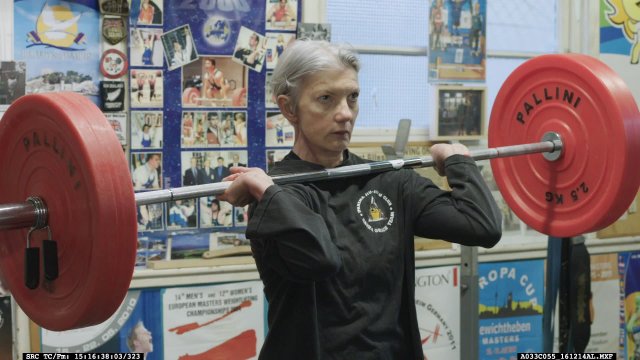 EH: In the Q&A you told us that you found Pat's gym with a friend as you were both looking to get more in shape – did she ever stay on with you?
GL: No, no she didn't. But she does other things like yoga, and she became a tango dancer, modern dance and other things! But with weights, you are either thrilled by them or you are not, to the iron as it were.
EH: How did you feel when you watched the film back, did you take anything from it or the experience?
GL: The filming was on and off, which was interesting and I had no idea what people would make of it. One's daily life, you become more aware of the choreography in your daily life. Even in the simplest of actions, once you notice it – which is something I like to watch in other films. I am a passionate cineaste, so one is aware of that. And then when the camera is in your own environment, you sort of half think of it, but then since I'm not a filmmaker, I'm not aware of it so you just try and be normal. But it does, especially once you see the finished work instead of the filming of it because you just do what you do anyway, but it was interesting to see what the camera picked out and what the editor picked out of this long footage of your daily life – which isn't terribly dramatic except for the competition.
EH: What felt moving and appreciated was that the audience could relate to the normality of the situation, the passing of daily life.
GL: Yes, we all have a daily life, and the appreciation of that is very nice, it's the small things.
EH: Now that you're retired, do you still train in the way that you used to?
GL: Oh, I still train every day, but it keeps me alive now, you see. It is a very important of my wellbeing as they can't treat me. It sends a signal to your aging body, with this cancer, that you're up for it and can put yourself through a challenge every day. You don't have to do it all day long, but just for a little bit at least. You can't keep doing the Olympic movements for as long, your motor-neurone system gets depleted. We do those movements for half an hour and then we do normal training. That is enough to send the signal that you're not ready to decay just yet!
EH: Did you find that in the older age weightlifting category, that there was a sense of community between other competitors and yourself?
GL: I mean, everyone is quite spread out all over the world, there is a little unity but there's more of a community with the people I see at my own gym. I only really get to see them at competitions, but I don't get to see them now as I don't compete internationally anymore. Maybe in the future, I hope. But we do chat a bit, the other grandmothers. There are a few of us oldies who are grandmothers, and we say 'oh yes, you've had that cancer, and I've had that cancer and she's got this!'. So there is a certain understanding, and why are we putting ourselves through this agony now we are old! There is a sense of recognition that we are all in a similar situation and we still for some reason can't let this go. Also, once you've trained for so long – you can't not do it or otherwise you fall to pieces. Masters sport really is fascinating.
EH: Is there something you hope others can take from this film?
GL: Not really in a personal sense, no, because honestly everyone sees different things from the reaction you get. There's all sorts of things that can be taken. Wherever you come from, and even if you don't have any issues, the main thing is you can still enjoy it as a good film. One of the things about the film is that it's not just about being old or ill or sporty or intellectual – it's not about just one of those things.
EH: I think that the relationship you have between your family, friends, partner and coach is one of the most emotionally dynamic and connecting parts that really spoke to me – those wholesome interactions.
GL: I found when I first saw it I came across as so grumpy! Am I really that gruff?! One is what one is, it's very human and how we are. For them it was also an act of love by appearing in it. This is something that Mum wants to do and so we will allow in these pesky filmmakers! We'll enter into the spirit of it because that is what it's about. We all committed to it. Eventually my grandson can see it, and hopefully remember bits of it – and it will be a fond memory to have for us all.