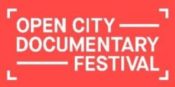 A composite character, combined from the two Torontonian co-directors, Sofia Bohdanowicz and Deragh Campbell, Audrey (played by Campbell) is the literary executor of her great-grandmother's estate. Her ancestor, Zofia Bohdanowiczowa, was a Polish poet who lived in Wales before emigrating to Canada. She corresponded with compatriot poet Józef Wittlin, and the letters she wrote him are housed in Harvard's Houghton Library, under the call name MS Slavic 7; Audrey sets to filing through and reading the letters, her purposes personal and professional, savouring the (in)conclusions they provide. 
MS SLAVIC 7 is a witty hybrid film: the main character is a fiction, the process she's going through filmed as if it's documentary, but complicated by the fact that the co-director not on screen is actually a relative of the poet. It's a potent set-up, the archive sessions alighting on the truth of the poet's life, in turn reflecting back on the actual descendant through an intermediary. It's mostly intelligent and thoughtful work. This is true of the form, too; decidedly no-budget, with an hour-long runtime, the film's slow and patient digital photography is never more than spare but never less than handsome, smart with regard to how long and from what distance a shot should be held. 
But MS SLAVIC 7 is better when it follows what Audrey does rather than what she says. Watching as she traces, folds, closes, and reopens the missives, again and again, the film focuses intently on the physicality of the paper far more movingly than when Audrey begins her etiolated explications of the letter as form, and that's before she haphazardly quotes Susan Howe. Audrey's monologues are bullshit. Her analysis of bird symbolism in her great-grandmother's poems is especially embarrassing and it's difficult to tell why: is this a comment on her talents as a reader? It wouldn't be sensible to criticise her as strongly as the poorness of those remarks would seem to but, conversely, the filmmakers can't believe that these are meaningful interpretations, can they? And if they do, then that's mighty disappointing.  
More substantial, at first, are her confrontations, and they are many. Beyond Audrey, everyone appears as an antagonist. A hilariously spiteful aunt, Ania, causes her untold consternation; a snippy and officious librarian trades verbal routines with her, specifying which pencils she can use for note-taking, delivering his lines with politeness which hides a genuine contempt; and a condescending translator pops up to help her comprehend one of the letters. The last of these is deeply unsatisfying: Audrey begins to engage him in a round of 'close reading vs subject-matter comprehension' which could fairly bore someone to death, not because it's an argument not worth having, but because they make no sense in the context of the conversation. 
Yet there's a small and telling background detail which becomes a foreground detail: Audrey, in her hotel room, is reading a beautiful edition of Emily Dickinson's envelope poems called The Gorgeous Nothings. This is an astute choice, as it's exactly the kind of book which provides keen training in the act of reading a poet's script. And this is where the film clicks into place: when Audrey reads her great-grandmother. These letters open up a world undiscovered by her. Roaming around this unexplored literary corner of her family history is a means of uncloaking her selfhood. These words express, with an emphasis on the sadness of displacement, something pertinent to her, as the final shot of Audrey asleep with the letters sprawled around her bed communicates: the letters being equally applicable to Wittlin, their intended recipient, as they are to Audrey, their present reader.