THE KINDNESS OF STRANGERS was picked for the opening gala of the 69th Berlinale. We popped over to the press conference to hear more details about this beautiful film, and the sentiments behind it. The panel included director Lone Schonfeld, and actors Zoe Kazan, Andrea Riseborough, Tahar Rahim, Caleb Landry Jones and Bill Nighy.

In a discussion about characters rising up from the dust, and finding the power to go on, where do your stock of ideas come from?
Lone Schonfeld: The characters do that for you, and their warmth and light. I drove to a happy ending. It is oppressive how few people go out of their way for people in need. It is something worth making a film about, to do something. Making a film about something urgent.
At the end of the day, there is light, but where does it come from?
LS: If I do have a happy ending, that gives you the license to go deeper. It would have made sense to have love at the ending. It leaves the audience with a sense of not just hope but clarity.
What does it mean to make a film like this in our time?
Bill Nighy: They say that prejudice doesn't survive proximity. People get along, famously as is extremely now the case, politicians attempt to separate us in order for self-advancement and nothing else. It's not even ideology, it's simply mechanics. Therefore, groups of people are persuaded to take positions against one another. People, they get along fine. There is a long history of people from different religions, different backgrounds, different class, different race getting along just fine until they are manipulated in that way […] For no personal gain, simply because that's a basic human instinct. And I think it's marvellous that there's a film that celebrates that. That shut you up, didn't it!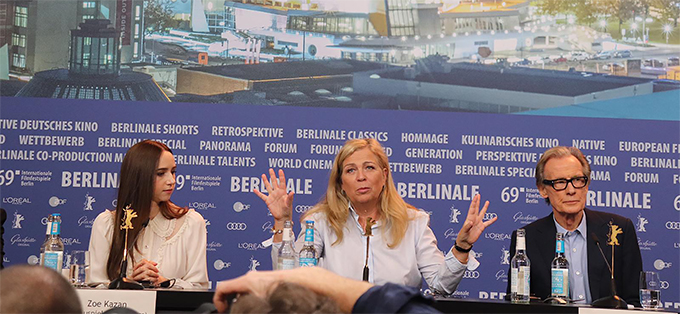 The next question was on the choice of a Russian restaurant – was this Lone's perception of Russia in a New York location?
LS: No, not necessarily! But it is everybody's capital. It was my sense of Russia as a child.
BN: I actually consulted a man called Dimitri, there are tapes of me practising my accent. I was hoping not to meet any Russians, please otherwise forgive me!
The cast was then asked about working with Lone and choosing to take this project on.
Bill: If I had to go to work with Lone every day, I would be happy. As a writer, I adored the script. It is perfectly placed for this time […] It is deeply pleasurable [to work this way] in that it was easy, relaxed and respectful.
Zoe Kazan: The process of collaboration starts in the script. I felt like I had a lot of information, despite little time to rehearse. I think about preparing for a stage part, and she had done her research. I felt confident about my understanding. […] it was happy exposure for us in terms of collaboration.
The music played a profound part of the piece, and Lone gave her response on her decision for this:
LS: I love a massive classic score, I actually ended up under the piano with the composer, I was there for a while. It's the last bit of the food chain, and I like to see it through.
The next question referenced the political history of Berlinale and asked whether this played into the film's context…
LS: The characters themselves are not political […] There is a juxtaposition of the luxury New York and the soup kitchens. I admire films that have hugely intimate moments.
Another reporter asks about the vulnerability of the world and how the characters are like this in their own way…
Tahar Rahim: You've got to help people when you can, and reach out to people. From my heart that is right.