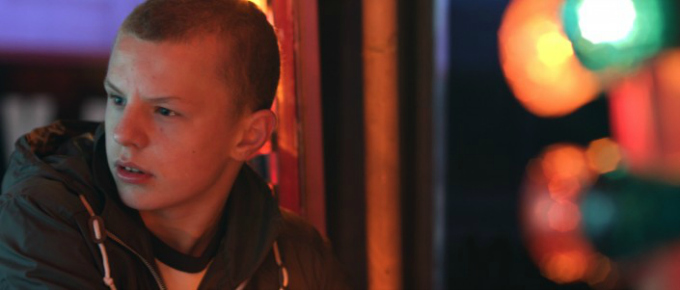 Screened at the Cameo Picturehouse as part of Edinburgh International Film Festival, YOUTH IN FLAMES contains five short films which represent the burning bright nature of adolescence. It clocks in at a feature-length 82 minutes in duration, and the variety on show here is brilliant. All the shorts are either UK, International or world premieres, and it's great to see Screen 3 more or less completely full with a very appreciative audience.
CATAWAMPUS by Welsh director/screenwriter Ryan Hooper is a concise study of death and sex, following the experiences of a young boy on a languid summer day, around a block of flats. There is une petite morte in this short film, but it doesn't fall exactly where you expect it, and it's not exactly sexy. However, the relationships depicted are very believable and the title is great – it's one of the stand-out films in this collection.
SEAGULLS by Scottish director/screenwriter/editor Martin Smith is a very accomplished 14 minute short, showing the shifting dynamics between a group of teenagers living in a small port, and a young member of the visiting traveller community. This is a compelling choice of background for the protagonist; and as the gang go for a stroll up into the hills surrounding their home town, and get up to a wee bit of skullduggery, the cinematography  is simply stunning. Smith has perfectly captured what it is to be young and growing up in this timeless landscape, where nature and not man rules the roost.
By a wide margin, the strongest short film on offer in this screening was SLAP – a 25 minute exploration of masculinity and femininity directed by Nick Rowland (DANCING IN THE ASHES), a student at the National Film and Television School. SLAP is an emotionally charged and utterly convincing story about youth boxing and transvestism. There's humour, violence, and dollops of eyeliner and lipstick to go around too. What's more, the short film looks just like it was shot on 35mm or 16mm film – there's that familiar grainy quality to the moving images. One scene in particular, where the protagonist Connor is dressed up in a very fetching dress, alternately air-boxing and camply prancing in his bedroom, is reminiscent of the shorts of Derek Jarman, and the androgynous, experimental performance he elicited from his actors. Nick Rowland certainly looks like a director for us to all keep our eyes on when he graduates from the NFTS.
 Click here to find out how the Watersprite International Student Film Festival 2013 helped to fund SLAP!
httpvh://vimeo.com/98636251