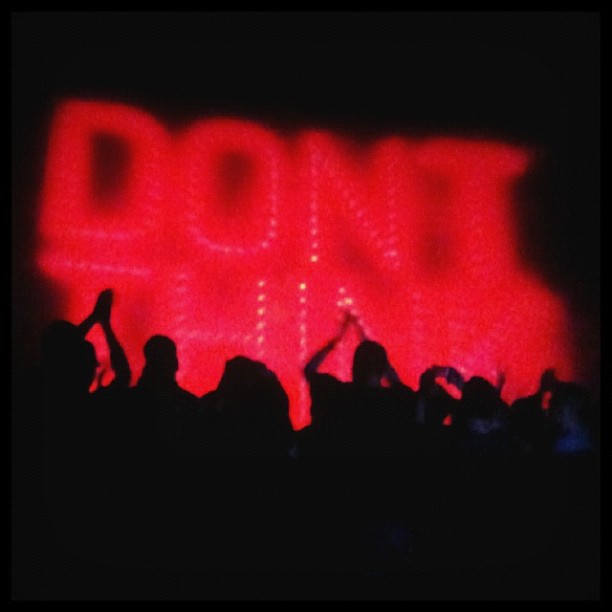 There are rumours of a streaker and a carcrash. People are wearing white gloves and juggling glowsticks. Everyone's dancing, tweeting, beering, cheering and clapping. Just another night at the …Duke of York's Picturehouse in Brighton?! *record scratch*
The Chemical Brothers concert film DON'T THINK was filmed in one night, and offers a vicarious taste of their performance at the Fuji rock festival last year. This unique endeavour was directed by the unassuming CB collaborator Adam Smith, who has attempted to bring the wild concert experience to 500 screens in over 20 countries worldwide.
Dolby 7.1 can't replicate the sternum-shaking, spinning pile drive of a live show, but interspersed with fantastic filmic interjections, the experience is real enough to draw bums from seats, and in no time the cinema auditorium is a hive of whooping and cavorting.
The opening invokes Lennon-McCartney's psychedelic "Tomorrow Never Knows", a loopy precursor to contemporary dance and techno. The Brothers are very much the men behind the curtain, and so 20 HD lenses skim over the two sound-boffins and traverse the entire landscape of the concert, from abstract backing films to battling lasers and oceans of Japanese fans, waving and wide-eyed as Hattifatteners. Friendly, familiar icons of rave dance about the screen, from scary clowns to space floaters and disco biscuits. Audience participation is key – DON'T THINK provokes a visceral reaction and could alienate or even drive away the wrong crowd. The Brighton screening attracted a vibrant group of folk who are willing and able to have fun without pestering the usherette for something stronger than a Juicy Lucy.
Smith has been providing the V to the Chemical Brothers' terrific AV tomfoolery since their first foray as The Dust Brothers, and with DON'T THINK he brings a benevolent nightclub vibe to the comfort of the cinema auditorium, where all reserve and restraint is cast aside and the atmosphere transformed in brilliant and intoxicating ways matched only by giddy cult screenings such as THE ROCKY HORROR PICTURE SHOW or THE SOUND OF MUSIC.
DON'T THINK is a piece of history. I dare say they'll show it on our holo-TVs in old folks' homes in years to come, and chuckle at us indulgently as we quaver along to "Surrender to the Void", beating time on our zimmer frames. Let them, and Let Forever Be!
Images ©http://eelus.com/