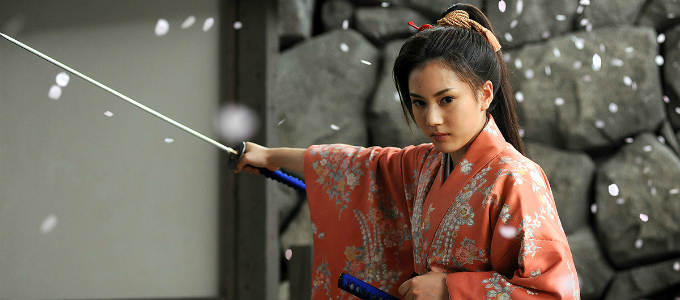 Ikiru: The Highs and Lows of Life in Japanese Cinema – Part 2
Taking its inspiration from Akira Kurosawa's classic 1952 film IKIRU, the Japan Foundation's 2016 Touring Programme presents a diverse selection of contemporary and classic Japanese cinema that deals with the trials that life can throw at us, and the ways we can draw strength and meaning from them.
Ken Ochai's UZUMASA LIMELIGHT (2014) is perhaps the most poignant treatment of life changes in this season, relating as it does to the movie business itself. The title is a reference to Chaplin's valedictory tribute to a bygone era, and in UZUMASA LIMELIGHT it's applied to the legacy of the samurai epics made in the Uzumasa studios in Kyoto. It's an industry that has kept Seiichi Kamayama in employment for over 40 years as a kirareyaku actor, who only appears on screen to be one of the many victims of the leading star's sword. Times and tastes are changing, however, with younger directors making series to appeal to younger audiences, and there's not much room left for an actor whose greatest skill is his ability to die well on the screen.
The casting of 71 year old Seizo Fukumoto, the real-life inspiration of UZUMASA LIMELIGHT who is said to have acted out 50,000 on-screen deaths, gives the film something that others can only manufacture: a true sense of dignity in the face of life's challenges. Consequently, Kamayama's selfless way of dealing with forces beyond his control is also very different, the old actor finding that the most meaningful thing he has to offer the world is passing on his experience and knowledge. It's not just to Satsuki, the budding young star he mentors, but there's an inspiring message for everyone in the very nature of UZUMASA LIMELIGHT, the film itself a tribute to the part that movies have in passing on that legacy.
This is bold and adventurous filmmaking.
The 'Ikiru' moment of looking for meaning in life is a little harder to find in Yuki Tanada's THE COWARDS WHO LOOKED TO THE SKY (2012), but by the time you get to the conclusion it's clear that the film has gone right back to basics to look for it. The process of childbirth is a prominent theme throughout the film, and by implication it raises the question over whether in some cases it might even be better never to have been born. Whichever end of the process you are on in this film, the experience is clearly a very painful one.
For a long while it is by no means obvious where the film is going, but the oblique approach brings about a conclusion that is thoughtful and transformative. The drama starts over a little cosplay fantasy sex seen from the perspective of Takumi, a schoolboy who is having an affair with a married woman, trying but unable to break it off. There are two sides to every story, though, and in replaying some of the events we gain a greater insight into Satomi's marriage problems during the period of the affair and her attempts to conceive. A third perspective is that of Takumi's classmate and friend Fukuda, adding a further level of abstraction to the whole film. His experience at a convenience store highlights associated youth issues around education, lack of opportunities and life traps in a way that gives greater sociological significance to the problems raised in the central drama. This is bold and adventurous filmmaking.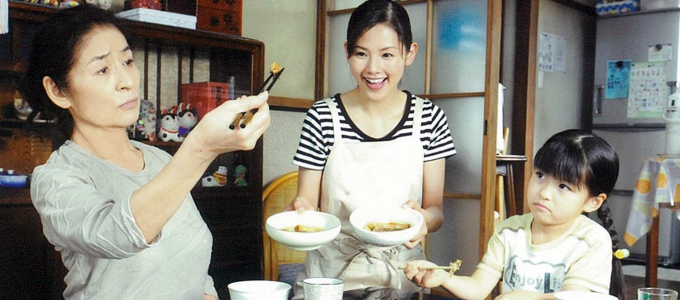 The cosplay escapism in COWARDS hints at a deeper problem in Japanese society, one undoubtedly leading to an increase in divorced Japanese women in their thirties having to start all over again and find independent means of living. The problem of the infantilisation of a generation well into their thirties has been highlighted before – mostly for laughs – in previous Japan Foundation seasons (OTAKUS IN LOVE, LOKE STRIKES!), and it can be seen again this season in I'LL GIVE IT MY ALL… TOMORROW. In NORIBEN – THE RECIPE FOR FORTUNE (2009), Komaki has finally had enough of her irresponsible husband, a useless layabout who fancies himself as a writer. Other than working as a hostess in a bar however, what opportunities are there for the single mother of a young child? Fortunately, Komaki has another talent: the noriben dishes she cooks for her daughter are something special.
NORIBEN has all the hallmarks of being made to appeal to a very specific target audience – the divorced mother in her thirties looking to find a way to strike out independently. With Komaki going back home to a provincial small town and taking up cooking as a career it sounds like another rather calculated longing for a return to traditional values, the film brightly filled with jaunty tunes and fun animated recipes. The apparently light mainstream approach is deceptive, however, and Akira Ogata's film does take the challenges faced by Komaki seriously. Komaki doesn't yield submissively to the traditional demands placed on her love life as might have been expected, but comes out fighting for her independence. Hard work yields its own rewards.
despite the hardships of winter, spring will come again…
There's a similar message that comes through by the end of Jiro Shono's THE LETTER (2006)and it compensates for the rather manipulative and conventional plotting elsewhere. Naoki's older brother Tsuyoshi is in prison, doing time for a botched robbery that has resulted in the death of a woman. Naoki feels some measure of guilt, as Tsuyoshi had resorted to those desperate means in order to pay for him to go to college, but the stigma of having a brother in prison prevents Naoki from settling down into a steady job and makes him shy away from relationships. Even when Naoki achieves a measure of success as part of a comedy duo stage act, the past always has a way of catching up with him.
The injustice visited upon Naoki in THE LETTER is over-dramatised, any insight into his condition is almost nullified by the clichéd dialogue, and the whole thing is set to a swelling soundtrack that squeezes the life out of any genuine feeling that might be found in the story, but the underlying message carries though to a moving conclusion and it has a profound truth to it. It touches on a very real issue highlighted in TALE OF A BUTCHER SHOP, that of discrimination and stigmatisation, and its message of perseverance and going the distance is an uplifting one. The poetic image of cherry trees blooming at the conclusion might appear to be yet another Japanese film cliché, but it's a beautiful way of reminding the viewer that despite the hardships of winter, spring will come again.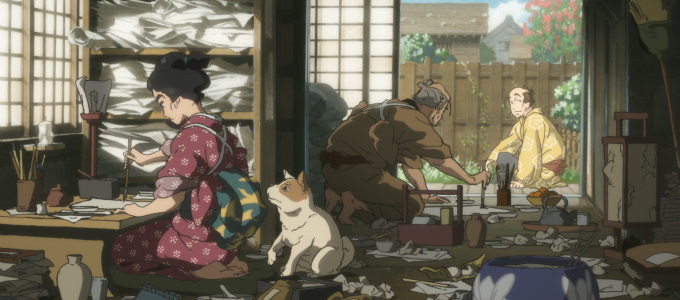 Using fantasy and imagination as a way of finding a purer and deeper way inside human feelings is something that animation is traditionally good at. It worked well for Keiichi Hara in his previous anime feature COLORFUL (seen in the 2014 Japan Foundation touring programme), and it seems particularly appropriate in the case of MISS HOKUSAI (2015), since the subject is that of an artist who uses real life as a means of expression. Based on an original manga Sarusuberi by Hinako Sugiura, the feature has several interesting perspectives, since it is set in Edo-period Japan, involves the legendary artist Katsushika Hokusai, and takes the viewpoint of a female protagonist close to the great master.
O-Ei is the daughter of the celebrated Japanese artist Hokusai (whose painting The Great Wave is one of the most famous and recognisable pieces of Japanese art). Set in 1814 in Edo (now Tokyo), O-Ei works with her father, helping him prepare his pieces and trying to mend the divisions that his lifestyle has created within their family setup. O-Ei is a gifted artist in her own right, even if she doesn't have the life experience that would make her work truly great. Production IG's animation studio, always innovative in their use of combining 3-D and traditional cel animation, use those techniques to suggest the process by which life becomes an inspiration for art – using everything from storms, fires and ghost stories – while also giving some idea of the human cost that must be paid for it.
Takami has developed an allergy to money and given up his banking job in Tokyo…
We've already seen Suzuki Matsuo's use of extreme comic exaggeration to highlight the absurdity of modern social values in OTAKUS IN LOVE. Based on a manga series, there seems to be a similar message and grounds for even greater comic exaggeration in the director's latest feature A FAREWELL TO JINU (2015). Takeharu Takami has developed an allergy to money, given up his banking job in Tokyo and relocated to the sticks in the far north of the country to live in a shack. The small declining town of Kamuroba has a population of 494, 40% of whom are over the age of 65, but 100% of the villagers think Takeharu is nuts.
The message of A FAREWELL TO JINU ('jinu' being the local slang for 'cash') seems an obvious one and the treatment is familiar in Japanese cinema. Seen in the context of the Japan Foundation's 'Ikiru' theme, the film does ask some basic questions about how we live, and the importance we give money over people. Like last year's WOOD JOB! however, there's a lot of comedy to be derived from a naive city boy trying to deal with the hardships of country life. The manga origin of the film, with a colourful cast of characters that includes a village god, does tend to overshadow any serious questions the film might address, and the absurdity reaches 'Father Ted' proportions before the message starts to get through. Not everyone has a village god to look after them, but once again perseverance yields its own rewards and everything works out, although not always in the way you might expect. You can say that again.
httpvh://youtu.be/f6SiTvbz6rI
The Japan Foundation Film season will open at the ICA, London on Friday, 5 February 2016 before touring to a further 12 venues until 26 March 2016.
•ICA, London
•Phoenix, Leicester
•mac birmingham, Birmingham
•Watershed, Bristol
•QUAD, Derby
•Showroom Cinema, Sheffield
•Aberystwyth Arts Centre, Aberystwyth
•Dundee Contemporary Arts, Dundee
•Filmhouse, Edinburgh
•Exeter Phoenix, Exeter
•Brewery Arts Centre, Kendal
•Broadway, Nottingham
•HOME, Manchester
Details on the films showing can be found at the Japan Foundation's Film Programme website.
Also showing in the Programme at selected venues; THE ELEGANT LIFE OF MR EVERYMAN (Kihachi Okamoto, 1963), A JAPANESE TRAGEDY (Keisuke Kinoshita, 1953) and the anime feature ANTHEM OF THE HEART (Tatsuyuki Nagai, 2015)