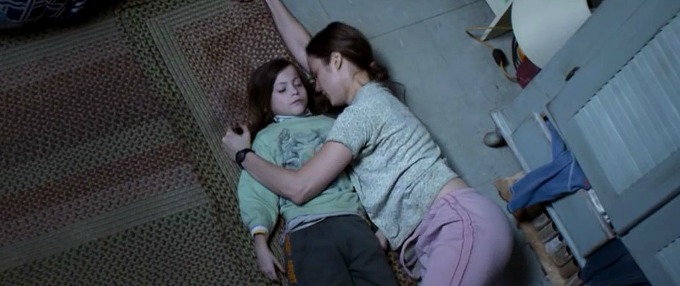 Shut off from the world, air-tight, locked away, world-proof isolation. A young woman doing the best that she can and a little boy who keeps his 'strong' in his long pony-tailed hair. A great big scary world outside, but it doesn't fit into Room. Room only has room for Ma and Jack and Bed and Chair 1 and Chair 2, not the forever changing 'brightness and hotness and soundness' of the world. Room does not even have room for mouse.
ROOM, adapted for the screen by the novel's author, Emma Donoghue, tells the story of 5 year-old Jack and his mother Joy, who have been confined to just one room for 7 years by a mysterious captor. They eat there, sleep there, run there, play there, dream there. But strangely Jack's life, until he is made aware of what is on the other side of his familiar four walls, would not appear any smaller despite its boundaries, if it weren't for the obvious distress of Joy and her panicky unhappiness. Here is a mother trying to do her best for her son despite traumatic and hugely restrictive circumstances: 'mind over matter. If we don't mind, it doesn't matter'. But the little boy, unaware of the truth of what he is missing, inhabits a universe far larger than its physical breadth, an imagination greater than one might expect for one who has seen so little. He has invented, in his own square-shaped mind, stories which are a 'different kind of true'.
"… one would do anything for the other, inside Room or Outside."
The love between mother and son is the outstanding force of this film, a love without boundaries, a love against all odds, and a love which ultimately saves them both, time and again. Brie Larson and Jacob Tremblay are quietly outstanding in their delivery of subtle, measured performances of real joy and real frustration and real grief. Their relationship is as close and as fraught as in any family: Jack has tantrums, Joy snaps and loses her temper, they both scream and roar. Yet one would do anything for the other, inside Room or Outside.
An emotional tour de force, ROOM leaves you bursting with feeling and hurt and intense pain; cheering Jack and Joy on; yearning to be Outside your own personal Room yet somehow trapped within it, torn between familiar fetters or the unbounding vastness of life lived in the fullness of the world.
httpvh://youtu.be/E_Ci-pAL4eE