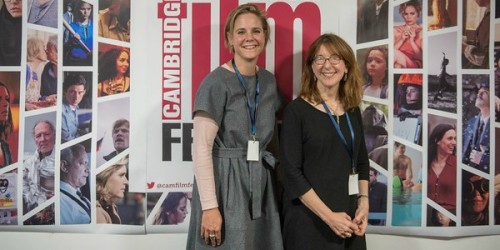 Bridget Bradshaw interview directors Sabine Krayenbühl and Zeva Oelbaum about their film Letters from Baghdad; which won the Audience vote for Best Feature Film at the Beirut International Film Festival on Oct 13.
Bridget Bradshaw: You're here with Letters from Baghdad, a film you've completed quite recently. Would you like to tell us a bit more about it?
Zeva Oelbaum: Our film is about Gertrude Bell, sometimes referred to as the female Lawrence of Arabia. She was the first woman to get a first in Modern History at Oxford, and at the turn of the century she went into the Arabian desert, learning Arabic and all the dialects of the tribes, forming relationships with the tribes, and was recruited by British military intelligence in World War I to help draw the borders of
Iraq and help reshape the modern Middle East.

BB: Fascinating. What drew you to her story?
Sabine Krayenbühl: We both travelled extensively in the Middle East, at one point we both read a biography called Desert Queen by Janet Wallach, and were fascinated by her story. I had followed in her footsteps in the year 2000, and later Zeva and I collaborated on another film together about another trailblazing woman, we also referred to Gertrude Bell as a trailblazer, had mentioned if the character of that film had read or heard of Gertrude Bell, or heard of her, she hadn't, but Zeva did, that started out our collaboration. It took us three years before we were able to get our schedules lined up, then four years to do research and get the film to this point which is now finished!

BB: What structure did you use?
ZO: Gertrude Bell left more than 1,600 letters, those were primarily to her family. She has another several hundred letters to her colleagues and other friends. We began with her letters to create the
narrative arc that we wanted to focus on. Her letters are read by Tilda Swinton in the film. We went on a search for archival footage shot in the Middle East during that period of about 100 years ago. We were very curious to know what we were going to find, if we would find enough footage to make a movie. We were thrilled with the quantity of gorgeous footage from 100 years ago that we discovered.

BB: Where on earth did you find such footage?
SK: The footage – we looked all around the world in archives, one of the first pieces that came to our attention was footage from an archive in the United States, it is actually one of the most stunning
pieces in the film, it's in the opening scene, we see a bustling dock in Baghdad, people unloading stuff into round basket-like boats, floating up and down the Tigris river. We were in touch with archives in the UK, BFI and IWM, France, Germany. It was a very long and expanded search for footage.

BB: Were you predominantly trying to tell the human story, or the history of the area?
ZO: That's an interesting question, because we were constantly gauging the balance between the human story and the history. We found Gertrude Bell's story, her character, really intriguing. She was really complex, arrogant, vulnerable – but we realized that the value of her story was in how she intersected in a position of power in the colonial office when Iraq was being shaped and created and she had an important hand in that, and that gives a film an important layer of relevance. It was a balancing act for us.

BB: It's unusual to find a story like that, I guess.
SK: What we realized too is people didn't know of Gertrude Bell. Even in England when we did our research, we asked people we met about her, it was clear to us that she was really forgotten. Even though we know from our research, and we stated in the film as well, she was more influential than T.E. Lawrence who was her contemporary. He was a colleague but also a competitor.
BB: What sort of audience are you hoping to reach with this?
ZO: We really would like the broadest possible audience! [laughs] The film is a springboard for discussion for so many topics, it's an inspiration for young women, women of all ages. It's of interest to anyone interested in archaeology because in addition to the letters Gertrude Bell left 7,000 photographic negatives. Some of them are panorama photographs of ancient sites, we have some in the film including Palmyra, Hasankeyf, and a lot of other sites that are at risk or have already been destroyed. In addition there is a lot of contemporary relevance in terms of the US involvement in Iraq from 2003, which are there parallels from the 1917 British occupation of Iraq, and now with the border disputes and ISIS there is a whole other level of the sectarian strife which has its roots in the British involvement after WWI.

SK: Another interesting aspect of her and one of her legacies is the museum, the Iraq museum. She was the founder of the famous Iraq museum that was ransacked in the 2003 occupation, and all her life and especially toward the end of her life she really paid a lot of attention and importance to the fact of preservation of artifacts and the preservation of antiquities. That is another very topical theme of our film.
Twitter @LettFromBaghdad
Facebook @LettersFromBaghdad