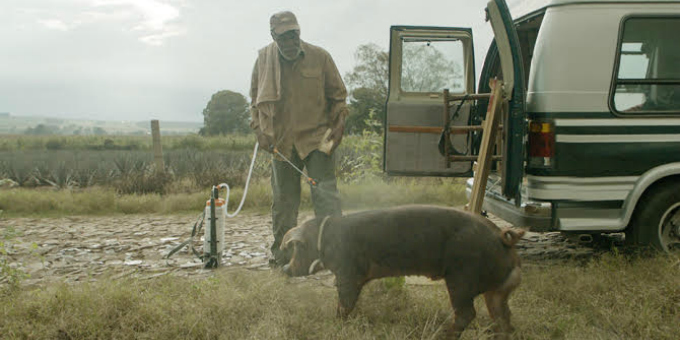 What do you get when a 75 year old man goes on the run with a beast of a hog in a van? Diego Luna's MR PIG, of course (or Señor Pig, perhaps?). Taking similarities from Hákonarson's RAMS (2016), MR PIG serves humour of both a human and porcine variety.
Danny Glover takes the lead as elderly pig farmer, Ambrose, whose unexpected and unwelcome visit from a suited man propels this wonderfully ridiculous story into full momentum. The quest Glover pursues appears to be a search for happiness and safety for himself and his hog companion in his last days, whilst suffering from a breathing condition. The pig, Howie, and Glover's character not only share a personal attachment but experience a similar ordeal, not necessarily at the same time – foreshadowing elements throughout this desert scorched road trip. It's impossible to forget Howie's response when offered a pork laden taco by Glover: "I would give you a taste but I wouldn't want you turning into a vampire or something". After all, he adds, "Mexican junk food is the Mona Lisa of junk food."
Rudolph pumps some oestrogen into this male orientated Mexican voyage…
Maya Rudolph makes a striking entry as the fussy and determined daughter to Glover, Eunice. Pumping some oestrogen into this male orientated Mexican voyage, Rudolph's emotion, compassion and humorous sass give MR PIG an incredible depth that would be hard to achieve with just a single man and a pig. Towards the end of Luna's film, the relationship between Glover and Rudolph strengthens just as the necessity for the connection between Glover and the pig decreases. Changing heart with a deeply impactful and tear jerking last few scenes, the beauty in Rudolph's acting becomes apparent in full centre stage (or should that be centre van at this point?).
MR PIG brings about the charm of LITTLE MISS SUNSHINE (2006), the humour of BLACK MOUNTAIN POETS (2015) and the adventure of CAKE (2015). It's a Guadalajaran odyssey which serves as a nod to the beauty of family as well as a visual eulogy to the love of friendship. Luna has firmly thrown down the bacon flavoured gauntlet, and one can only wait for what is to follow. A Welsh road trip titled Mr Sheep? Why not?
httpvh://youtu.be/t8NA0TSehS4