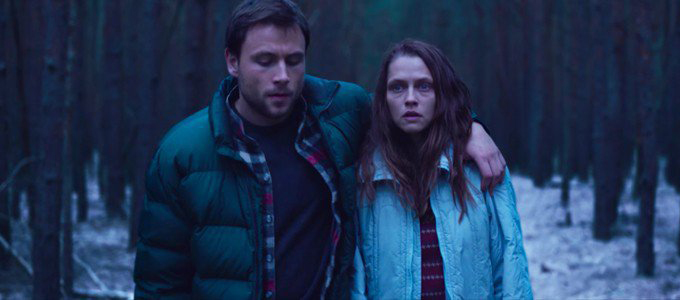 Cate Shortland's BERLIN SYNDROME, based on Melanie Joosten's novel of the same name, is a sexual thriller which examines themes of  escape, desire and dependence while bringing to life the aesthetic beauty of the German capital.
Clare (Teresa Palmer), an Australian backpacker eager for "life experience" meets intelligent English teacher Andi (Max Riemelt) while travelling in Berlin. After one particular "life experience", Clare wakes up realising Andi has inadvertently locked her into his apartment and she therefore ends up spending the day there, unable to leave. Clare's anxieties escalate as the next day she is left locked in again when Andi goes to work, leaving her alone in a run-down, empty apartment block in West Berlin. What unfolds in an intense, frightening and manic version of what can follow as you embark on any relationship: more is revealed, things look different in the unforgiving light of day as secrets are unearthed and Andi's past is exposed.
As Clare begins to discover that she may not be the first woman to have been confined to Andi's apartment, and as her chances of escape grow ever slimmer, part of her becomes resigned to this dysfunctional relationship in which she has been trapped; and she bides her time waiting for an opportunity to escape. Rich vignettes piece together the drama through slow-motion tableaux which mirror Clare's need for psychological escape and respite from her physical entrapment. Teresa Palmer's performance is strong throughout, flitting between internalised terror and fits of anger.
The film follows Andi as he leaves the house, a tactic often ignored in favour of a focus on the story's victim. Shortland shows Andi out in the world, as his emotional capacities break down and slowly begin to unravel. The root behind what he is doing soon becomes apparent: the monster lies within a man seemingly inoffensive on the surface.
At 1 hour 56 minutes, the drama of the second half is spread a little thin. A film of this ilk might have been more affective at a bite-sized 90  minutes, keeping the consternation high, in parallel with Clare's own state. She is soon teetering on the edge, her need to survive and her desire to escape clashing disconcertingly with her increasing dependence on Andi. However, the film keeps us engrossed right up until the very end., when the last ten minutes jump start the tension-o-meter again as Clare makes a final attempt to free herself.
BERLIN SYNDROME celebrates the urban landscape of the city, its undiscovered corners and overlooked interior. Clare's fascination with GDR architecture offers the audience a cinematic collage of beautifully shot, post-war urban landscapes, the Fernsehterm TV tower making regular appearances. Although the interior of the apartment was shot in Melbourne, Shortland immerses us in Berlin with the cityscapes captured on location.
As well as being a clear metaphor for wanting to escape, the power struggle between Andi and Clare can be said to represent Berlin's history of Totalitarianism, something that remains unavoidable when using the city as a subject. What is left is the struggle to let go, to be free without the comfort of the familiar, even if that sense of the familiar is forced upon you.