In 2001, the landscape of mainstream cinema was irrevocably changed by the advent of two crushingly successful film series: THE LORD OF THE RINGS and HARRY POTTER. Before the millennium, sequels were rarely planned – and the idea of committing to a (then) seven-film fantasy series was unheard of. Almost two decades later, movie franchises are viewed – by cynical parties – as an effective method of printing money.
That's certainly the message the audience gets as they settle into their cinema seats to watch the FANTASTIC BEASTS sequel, part of a planned five-film series. Before the trailers we are bombarded with tie-in adverts – the play, the Lego, the online game – and even once the film has begun, the corporate calls to action remain. For example, the baby nifflers were clearly created for the sole purpose of selling toys (and I want one).
But franchises can still fail, particularly in their early stages. FANTASTIC BEASTS always had a commercial head start because of its ties to the HARRY POTTER series. Like THE HOBBIT: AN UNEXPECTED JOURNEY, the story takes place in a world that people want to revisit. But to retain an audience, it's not enough to simply rely on nostalgia. Franchises succeed by telling new stories, incorporating diverse voices and – above all – embracing the necessity of healthy change.
The great pioneer of this tactic is Marvel, set to release their 21st film (CAPTAIN MARVEL) early next year. Marvel use their lower-risk standalone films to recruit diverse, often lesser-known directors (Ryan Coogler, Taika Waititi, Anna Boden/Ryan Fleck, to name a few). This has the effect that the MCU continually incorporates new voices, allowing the nature of the films and their superheroic characters to evolve. For example, the THOR films have taken a wholly positive route from corny Shakespearean drama to comic/epic space opera, wholeheartedly embracing their own absurdity and somehow becoming cooler in the process. Increasingly, the MCU makes forays into genres more specific than the 'generic superhero action movie'. Marvel has made spy thrillers (CAPTAIN AMERICA: THE WINTER SOLDIER, CIVIL WAR), space operas (GUARDIANS OF THE GALAXY, THOR: RAGNAROK) and a high school drama à la John Hughes (SPIDER-MAN: HOMECOMING). These new voices and flavours mean that the MCU has so far remained astonishingly free of stagnation, despite putting out almost as many films as the BOND series.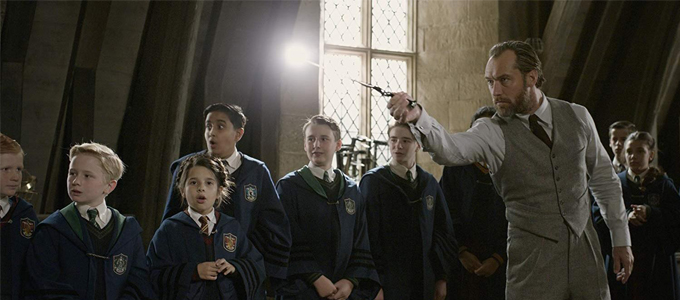 DC's rival attempt to build a cinematic universe only hammers the point home. Despite owning some of the best-loved superheroes of all time (Superman, Batman and Wonder Woman), DC is hamstrung by a tendency to cling to the creative choices of their first director, Zac Snyder (MAN OF STEEL, BATMAN VS. SUPERMAN, etc.). Since Snyder's grey, faux-angsty vision of the universe is quite dull, it's unsurprising that audiences have steadily lost interest. This had the result that their big team-up film, JUSTICE LEAGUE, actually earned less at the box office than every single previous DC outing – nowhere near the $1 billion target cracked by every Marvel AVENGERS film so far. In contrast, the standalones WONDER WOMAN (Patty Jenkins) and SUICIDE SQUAD (David Ayer) were commercially successful, in the same box office league as Marvel standalones such as CAPTAIN AMERICA: THE WINTER SOLDIER. Likewise George Lucas' STAR WARS prequels, left to the original creator, are widely considered poor, whereas THE FORCE AWAKENS (J.J. Abrams), ROGUE ONE (Gareth Edwards) and THE LAST JEDI (Rian Johnson) benefited from new directors eager to both honour and expand the world of the franchise.
Of course, some series never get off the ground at all. Universal reported plans to launch their own 'Dark Universe' based on their classic monster movies, but were forced to rethink after their perplexingly terrible 'pilot' DRACULA UNTOLD (2014) was panned. The second launch attempt, Tom Cruise vehicle THE MUMMY (2017) sank rapidly under audience disinterest and poor reviews, leaving Universal with burnt fingers and a reported loss of up to $95 million. Strangely enough, they've gone rather quiet on the whole 'money-printing cinematic universe' thing.
But where does that leave FANTASTIC BEASTS? The first film was relatively well received by critics and audiences alike, but the second film is often the true test of a series' longevity. It is quickly obvious whether the story has legs, or if all the good ideas went into the first outing. So does FANTASTIC BEASTS: THE CRIMES OF GRINDELWALD stand up?
CRIMES (directed by David Yates) suffers from several nearly-fatal flaws: it is baggily plotted, tonally wobbly, and features 2017-mode Johnny Depp (PIRATES OF THE CARIBBEAN series). Any of these things could be enough to sink a franchise into mediocrity. Thankfully, the film is saved by a charismatic ensemble cast, promising themes and a spectacularly designed world.
Let's not understate this: CRIMES is the most visually inventive, breathtakingly gorgeous film in the Potterverse. Continuing to distance the series from the gritty grey tones and Brit-realism that dominated his later HARRY POTTER outings, Yates instead presents us with a slice of true escapism: the gothic fantasy of a world that constantly glitters with magic. Never has the wizarding world looked better on screen – and nowhere else has it been portrayed with such invention, wit or beauty. As with the first FANTASTIC BEASTS, the detail and personality invested in the creatures for which Newt Scamander (Eddie Redmayne) cares are endlessly fun. At the other end of the spectrum, the magical fight scenes (occasionally underwhelming in previous works) are well-handled, with the music (scored by returning composer James Newton Howard) doing much of the heavy lifting.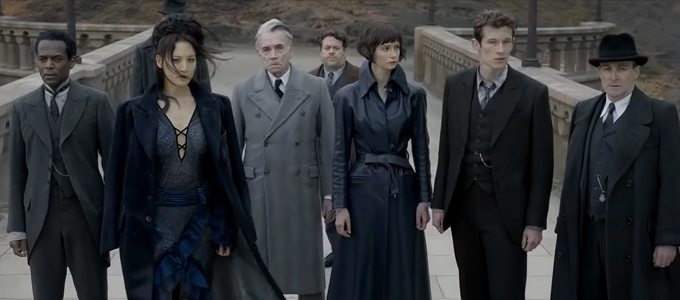 This sequel is, without a doubt, a truly magical film. On the other hand, the visuals are so charming that it may take you an hour and a half to start wondering whether the plot exists. This is fortunate, as CRIMES is far too leisurely for its own good. Despite the promise of a breathless pre-title sequence, the film spends much of its runtime pushing characters directionlessly around '20s Paris, only kicking up a gear in the final half-hour. The story has more than a hint of the Greek tragedy about it. It is rooted in the idea that secrets buried in the past can poison the present (appropriately, key revelations take place in a mausoleum) – but the payoff is diluted by a baggy setup. The writing falls short elsewhere: early dialogue is laden with unnatural exposition; Dumbledore's (Jude Law) inexplicable refusal to battle the genocidal Grindelwald (Depp) is lazily explained, and some characters (particularly Alison Sudol's Queenie) are criminally underwritten.
These issues are almost obscured by the valiant efforts of the ensemble cast. Returning as Newt Scamander, Eddie Redmayne (THE THEORY OF EVERYTHING) continues to quietly carry the series on his shoulders. His nuanced turn as an unwilling protagonist whose only superpower is compassion comes as a welcome departure from the traditional 'chosen one' fantasy hero. As Leta LeStrange, Zoe Kravitz (MAD MAX: FURY ROAD) paints a haunting portrait of a woman cracking under the burden of her own terrible history. But of the newcomers, Jude Law (THE TALENTED MR. RIPLEY) is surely the most perfectly cast. He embodies Dumbledore with a sparkle in his eye, adding gravitas and warmth to the proceedings – and just the right amount of steel.
It would be a long job to give all the cast members their due. Suffice it to say that all the players in this story are excellent, bar one. The biggest crime of Grindelwald is that he is Johnny Depp. Multiple factors combine to doom Depp's portrayal of this (apparently) terrifying, seductive dark wizard. The first is his character design. With cockatoo hair, a rather suspect moustache and contact lenses that scream 'stop me, I'm Evil,' his design seems aimed at a far younger audience than the rest of the film, and is tonally jarring. He's a far cry from the charismatic, attractive figure described in earlier films. At one point we are shown a younger Grindelwald (Jamie Campbell-Bower, cast in DEATHLY HALLOWS pt. 1) transforming into Depp. This seems to be a not-so-subtle retort to all the YouTubers who complained 'How did that (elegant twink) turn into this (aging, inept cosplayer)?' It only serves to emphasise the poor casting.
Secondly, Depp's performance is thoroughly pedestrian. He takes Grindelwald to the realm of the pantomime villain and camps there. The character goes on a journey of sorts, but only with respect to his accent, which wanders cheerfully from English public school to various non-specific European countries in ways that would give Russell Crowe's ROBIN HOOD a run for his money. Perhaps he would look better were he surrounded by less talented actors. As it is, he performs the dark fantasy villain character with a supreme lack of imagination. Depp isn't terrible – in fact, it's one of the best major-role performances he's given in the last decade. But that's not saying much.
In many ways, the miscasting of Grindelwald embodies much of what is wrong with FANTASTIC BEASTS as a series. It's easy to ridicule Depp, but ultimately his casting is only surface detail: a symptom of a deeper philosophical problem. Predictably, the issue comes down to the unwillingness to recognise the need for change.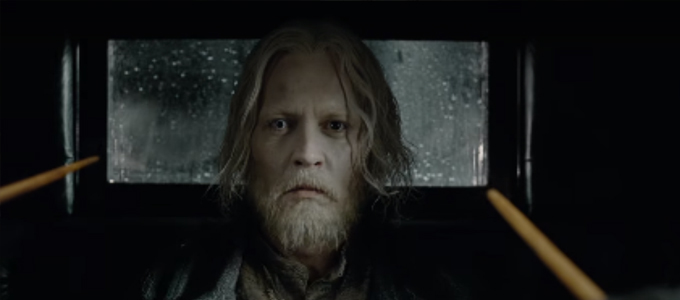 When the FANTASTIC BEASTS series was announced in 2013, Depp was between his latest limp PIRATES film, Tim Burton's misjudged DARK SHADOWS and box office bomb THE LONE RANGER. His output has hardly improved since. Creatively, Depp has clearly been on autopilot for a decade1. He continues to be cast in Hollywood films because he is considered a safe bet, despite the fact that he grows less relevant (and more problematic) with every passing year. FANTASTIC BEASTS did not need Depp's 'star power' to succeed: it has a premade audience who have grown up with HARRY POTTER and will shortly introduce it to their children. As such, any number of fine actors could have filled Grindelwald's shoes (Paul Bettany, Mads Mikkelsen and Daniel Brühl come to mind). The fact that the creative minds behind FANTASTIC BEASTS were willing to cast Depp as their title villain is therefore worrying because it suggests a lack of imagination – an unwillingness to move beyond the tried and tested.
So what – or who – needs to change? It's too late to replace Depp – and besides, he's a superficial issue. A deeper problem is the stretched plotting, which tests the audience's patience and leaves one wondering whether this franchise really has enough ideas to continue for another three films. Is Yates, the director, responsible for this? From his long record in the Potterverse driving seat, one suspects not. In the past, pacing issues in Yates' projects have usually stemmed from the source material.
In which case, J.K. Rowling – credited as the sole screenwriter on both THE CRIMES OF GRINDELWALD and its predecessor – is the problem. These are her only screenwriting credits, and it is telling that the films suffer from similar pacing issues. This could be fixed by bringing in an additional, more experienced writer to fine-tune the script. But given the attitude to the Depp misstep2, one worries that this will not happen.
There are flashes of gothic brilliance in THE CRIMES OF GRINDELWALD, and with inventive world-building and a committed ensemble cast, it has the potential to grow into a truly exciting series. But without the introduction of a firm hand to shape the narrative, there's a real danger that audiences will lose interest.
1 The most notable feature of his post-2010 filmography is that he has an impressive habit of taking Paul Bettany down with him (THE TOURIST, TRANSCENDENCE, MORTDECAI).
2 The missDepp, if you will.