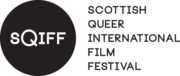 Filmed over three years in Nairobi, SIDNEY AND FRIENDS follows a group of transgender friends who have been abandoned by their families, shunned by their society and are effectively living as outcasts.
Having visited film festivals on almost every continent, won acclaim at NewFest: New York's LGBT Film Festival and Transgender Film Festival Kiel (to name a few), been wildly praised by publications such as Intersex UK and Gay Essential, SIDNEY AND FRIENDS is a big deal.
Apart from the enlightening tales of hurt and hardship which make up this documentary, SIDNEY AND FRIENDS is also visually satisfying. Shot in black and white, the film becomes mimetic of the society which is constraining these trans people into old-fashioned, binary terms. Either male or female, nothing else, the choice is as distinct as black and white.
In black and white the characters become even more striking, even more distinctive. Maria, whose portrait is often used as a primary still for the film, comes to mind most of all. She shows off to the camera with no hint of reserve, fully confident in her body and herself.
All of the characters we meet, speak of how hard living as a trans person in Kenya is. Yet they all seem confident and optimistic. Of course there are tears, frustration and despair but equally there is much talk of love and friendship. I did not however get a great sense that the characters were intimately connected until the end of the film. Each person is interviewed separately, in different settings. At first the only thing which ties them together is the somewhat loose motif of lace and tea-cups, which appear throughout the film and as each new character is introduced. Only later do we see images of the characters together, standing in a wood or sitting on a sofa. There is an element of fragmentation to this documentary: many of the shots are tight, the locations unrelated, as if you are never given the bigger picture, and can never experience the actual suffering, can never fully understand the lives of these individuals. How could you?
What is most striking about this film is, obviously, its subject matter. It portrays a group of young adults, living in a developing country and dealing with similar problems of identification and acceptance which face the trans community in privileged western society. For those people who doubt transgenderism, who say that wanting to live as a different gender is attention-seeking, or results from a confused younger generation faced with too many options, this film is of vital importance. Why would a transgender person in Kenya deliberately choose to be different? Sidney's own family made attempts on his life, believing he is possessed with male demons.
Rural Kenyan practice, as Sidney explains, has strict rules about how boys and girls should dress, and boys' chores (herding cattle, collecting firewood) are separate from the girls' chores (fetching water and washing dishes). Sidney wanted to dress as a boy and herd cattle with the boys that followed was worse than misunderstanding: his community beat and shunned him. With such clearly defined gender norms, why would gender dysphoria occur in Kenya if not because, in the case of Sidney and his friends, the individual's sex did not match their gender identity?
Giving a voice to the trans community, in any community, is important in order to share an understanding of transgenderism. Giving a voice to those communities which are more silenced than most is even more important. SIDNEY AND FRIENDS will, hopefully, challenge those who are sceptical or misunderstanding of the trans community and offer a deeper level of understanding to all.