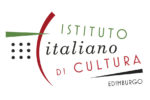 When a renowned producer is found dead on the night of the 1990 World Cup semi-final, three budding screenwriters must recount their misadventures in the heart of the Italian film industry. Screening at Dundee Contemporary Arts as part of the Italian Film Festival, MAGICAL NIGHTS is a cheeky, dark peek behind the curtain into a world of delusional fantasy.
This showbiz satire is bursting with politically incorrect humour and eccentric personalities, all seen through the eyes of three disparate, naïve individuals. They are finalists in a national screenwriting competition, converging in Rome where they are thrown together on a whirlwind journey of glamour, dubious promises and false idols. Flashing between past and present, the young writers sit in a police station and recount their story and connection to the murdered producer Leandro Saponaro (Giancarlo Giannini).
First, there is Sicilian Antonino (Mauro Lamantia), a pretentious cinephile who talks far more than he listens. He is the Italian Simon Bird, his snooty nature the perfect archetype for an 'Inbetweener' who believes he knows everything but is in fact the most clueless to everything around him. Then there's Luciano (Giovanni Toscano), a working-class Tuscan and carefree jerk, full of bravado and intent on catching the eye of every woman in Rome. Lastly, there is lonely but wealthy Eugenia (Irene Vetere), the 'self-deprecating artist' who offers the offers a place to stay in Rome in sole exchange for their company. Resentful of her father and the inspiration for her script, she welcomes the other finalists into a new world as they each carve out their futures in cinema.
The trio interact with numerous influential figures, meeting the ageing stars of a fading era in Italian cinema. Producers and directors clash at regular intervals, entering screaming matches in a busy restaurant before shrugging everything off and its business as usual. There are plenty of fun moments, with playful dialogue and animated performances from the cast. The taste of fame initially blinds these young idealists, unable to see how morally bankrupt their idols have become. Antonino is so excited to meet with Saponaro that he is readily willing to make any changes necessary to appease the producer, no matter how absurd. The look on his face when Saponaro proposes Baroque artist Caravaggio be played by Mickey Rourke is priceless.
Luciano's delve into the world of ghost writing reveals the apathy of the old guard of cinema. He is among a roster of young writers eager to stand out from the pack, churning out scripts at a ridiculous pace. Luciano is no doubt a by-product of his impoverished upbringing, working as fast a she can to make a living, only too happy to trade in artistic credit for a paycheque. However, the audience glimpses a deeper side to the character, who only lets his barricades down for the briefest of moments. He too has the chance of his script becoming a reality, only a defeatist director has lost all credibility in the name of commercialism. Luciano's arthouse film about suicide and the working-class is twisted into mainstream trash, starring the hunk from 'Prince Sinbad', whose ingenious idea is to play the role shirtless – his abs on constant show so as never to appear a 'loser'. Eugenia faces the worst case of disillusionment after an encounter with a French actor who turns out to be anything but the charming romantic he plays onscreen.
The central mystery regarding Saponaro is somewhat anticlimactic, but perhaps deliberately to align with the superficiality of this world. The characters remain fundamentally unchanged by their experiences despite all they have witnessed. The film's real success is keeping the zippy momentum as this breezy comedy remains thoroughly enjoyable throughout its runtime. What feels refreshing is the notion that these are not people destined to become great friends and inspire one another. The only thing they have in common is their wide-eyed amazement at being given the golden ticket to their own place in the sun, only to see it inevitably blow up in their faces.