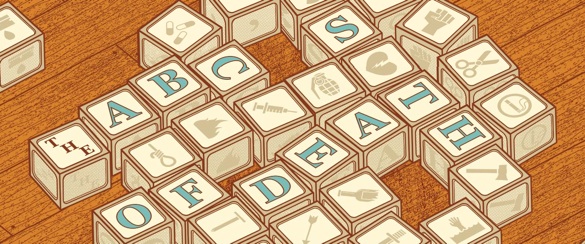 THE ABC'S OF DEATH is an exciting anthology of horror and black comedy, featuring segments directed by 25 of the world's leading talents in contemporary genre film. It will be released next year – watch the teaser trailer here.
Drafthouse Films, in association with Magnet Pictures and Timpson Films, held a competition to find the 26th director, and the winner was fresh new talent Lee Hardcastle. We interviewed Lee and also caught up with Simon Rumley, who was entrusted with the letter P.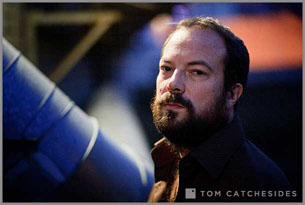 Simon Rumley: "I decided to call my film PARAMARIBO which is the capital of Suriname, a country in South America in between Guyana and French Guyana (it's actually the former Dutch Guyana) where my regular DP, Milton Kam, originates from.
The title of the film gives little away about the subject matter since I wanted it to be an intrigue as to what the death is going to be. Milton and I went to Suriname for 4 weeks during which we spent 2 weeks prepping,  another week filming and returning everything to normal and about 7 days hanging out.
We shot on the Canon 5D, with a crew of between 3 and 6 depending on which day it was, generally using 'real' people and real locations. I have to say it was a great time and everyone was very friendly and helpful. I've just finished the editing process now and will be doing the sound mix before Christmas…"
Lee Hardcastle's short film T IS FOR TOILET beat 170 other applications for the coveted letter T.
T IS FOR TOILET follows the story of a little boy who really should have done a poo at Paul's. It is the second of Hardcastle's films to go viral, following his labour of love THE EVIL DEAD IN 60 SECONDS WITH CLAY. Shot in just 10 days, this short was one of the 5 international finalists in Empire's "Done In 60 Seconds" awards last year. It's since won praise from Sam Raimi, Rob Tapert and Tom Sullivan, the SFX technician who worked on the original THE EVIL DEAD.
Lee has been combining his love of Aardman Animations and classic horror for the good of the interweb since 2006. He has also created ERASERHEAD IN 60 SECONDS WITH CLAY, and his earlier work RICKY'S BATTLE SHOCK won Best Film at The Onion's GI Joe Stop Motion Festival 2010 and was screened at a special Adult Swim event at Curzon Soho.
Rosy Hunt: Which is more important for a would-be film maker – a foot in the door, or hard graft?
Lee Hardcastle: I'm still very blank about the whole logistics of becoming a film maker, really. I was so deluded after film school that it took me a whole year to stand on my own two feet. What I learned is, you can call yourself a "baker" and you might have made a loaf of bread once or twice before, but you're not a "baker", even if your bread isn't bad. You can't make a loaf of bread whenever you feel like it and expect to be paid for it.
RH: What advice would you give to a film school graduate?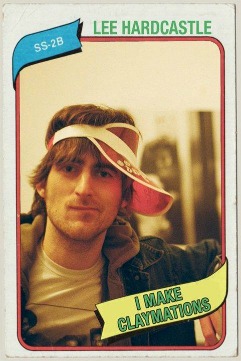 LH: After film school, I was working 10 hour days in Soho getting coffee and food for producers and celebs, and I dedicated big chunks of my free time and weekends to making my own films. I knew they were gonna result in nothing, but a long time before when I was about 16, I'd got a piece of advice off an Australian film maker that I emailed. He said something like, "if you wanna be a film director, make videos – music videos, commercials, shorts, do anything and everything, just don't stop and you'll progress". I kept hold of that advice and believed in it, so I was making these films because I wanted to progress and keep the dream.
Whatever profession you decide to do, you have to work and put the time in, provide a service, be professional.
This last 12 months, I set myself very realistic goals and worked towards them and I got to where I wanted. Self discipline is everything. I won't lie, it drives me Travis Bickle mental to pull myself together and crack on, it's hard, but rewarding as hell when you get the work done.
RH: Do you use 100% plasticine? Might you go through a Blu-Tac period?
LH: Tell you the truth, I hope I can put claymation behind me one day and start working with actors. One step at a time, eh!