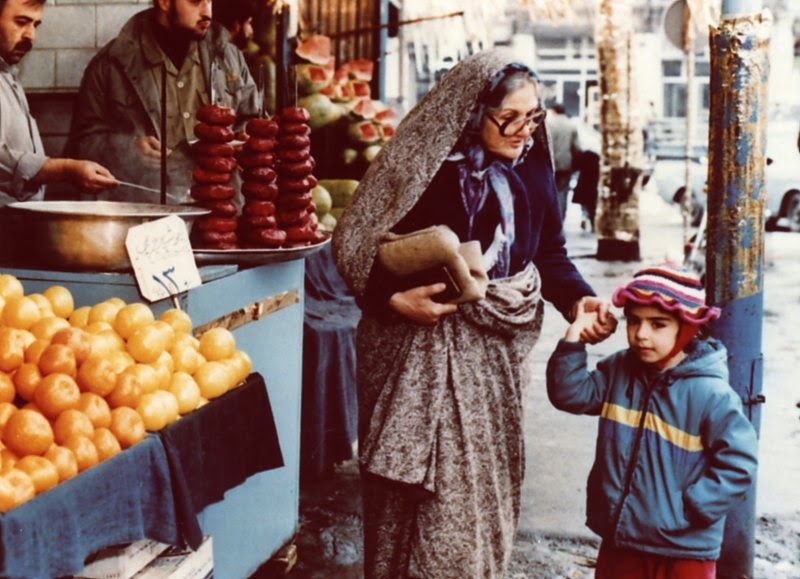 "The Cinema of Childhood" season is Mark Cousins' cinematic travelogue, in which he charts a journey around world cinema with a focus on the lore and language of children.
Spearheaded by the scrapbook of discovery that is A STORY OF CHILDREN AND FILM, Cousins brings 17 films to UK screens this month, including some rarities that not even Criterion can help you with. Click here for Mark Hasan's list at mondomark.com, showing which films are available on DVD, but prepare to be disappointed! Among the films which might tempt you in "A STORY…" but aren't available to buy is the intense WILLOW AND WIND (BEED-O BAAD)(1999), by the Iranian director Mohammad-Ali Talebi. You may well have the chance to see WILLOW AND WIND at your local Picturehouse – it's the buttock-clenching odyssey of a small boy fighting his way against howling gales across the countryside, carrying a pane of glass to his school so that he can mend the window. If you are super lucky, you can even meet Talebi – beloved of Cousins and his pal Tilda Swinton – in person.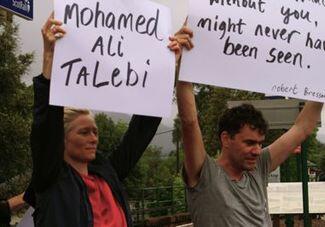 As well as a Q&A at the BFI Southbank, he will be attending the Cambridge Arts Picturehouse with his film BAG OF RICE (1998) – check the APH website for details.
A bag of rice is the Macguffin for a little girl and an old lady, whose story takes place in a poor area on the streets of southern Tehran. Like WILLOW AND WIND, BAG OF RICE is an epic journey focussing on a small but indomitable child hero. DOP Farhad Saba offers a rose-tinted and immersive introduction to the architecture and community atmosphere of Tehran, as young Jeyran leads her partially-sighted companion Masoumeh across the urban cityscape; where they encounter a pair of young journeymen with their own cargo. Like the pane of glass in WILLOW AND WIND, the symbolism is immediate and unpretentious, characteristic to Talebi's spirited aesthetic. Young or old, we all have our cross to bear – and some of us must grow old sooner than we might.
In "Seinfeld", George Costanza pitched his "Jerry" pilot to NBC with the declaration, "Nothing happens on the show. You see, it's just like life. You know, you eat, you go shopping, you read… You eat, you read, You go shopping." And "nothing" is more fascinating than "nothing" portrayed from a child's point of view. And nobody could do it better than an Iranian filmmaker. Warm, unpredictable and authentic, this is a story that can absorb anyone who is, or used to be a small, wondering child.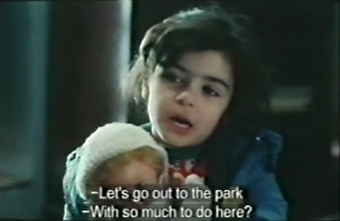 Director Mohammad Ali Talebi began his career in television documentary, and the discipline instilled by his experience in this field colours and lifts his storytelling style. His techniques are illustrated and explained perfectly by the extract of THE BOOT which features in A STORY OF CHILDREN AND FILM, where Cousins commentates on the unique overlap of naturalism and theatre which Talebi uses to depict a little girl "having a strop" about a welly. More broadly, Talebi has made an indelible contribution to the landscape of Iranian cinema post-revolution. The popular allegorical puppet show CITY OF MICE predates Art Spiegelman's Maus; and THE WALL is his way of catching up with the characters of THE BOOT and TICK TACK. "The way I see it, it is the little girl in THE BOOT who is now all grown up and riding a motorbike," he says. "I always work in progressive steps. In each of my films, I consider my potentials and the potentials of cinema in Iran, and I try to take one step further, overcome my weak points, pick up and settle on a certain line and follow it ahead, step by step."
Please take this rare opportunity to come and meet Talebi at the Arts Picturehouse soon – we will publish further details asap but you will be able to book tickets here.
httpvh://vimeo.com/89895019