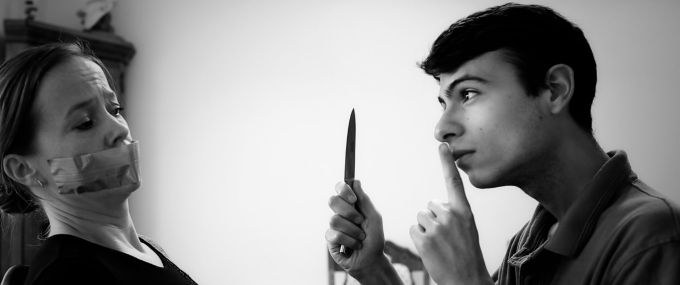 Film Hub Central East presents SHORTS, is a collection of nine superb short films curated by the talented Sarah McIntosh.
THE SWALLOW
Harry Baker's THE SWALLOW is the shining jewel in this treasure chest of delights. It's the sixties and Claudia (Jasmine Blackborow) is an escort at a Soho nightclub. She meets a regular customer, cultural attaché Tomas (Liviu Romanescu), and takes him home; but Claudia is no ordinary escort, she's an informant, a weapon used by the British Intelligence Service to gain information. Hating her work she wants out, but her boss Mallory (Albert Welling) has something over her and won't let her go. Will she toe the line for her country? Or are her affections for Tomas growing too strong to continue? Cinematography by A. R. J. Heron is of the highest quality, THE SWALLOW stands alongside any BBC period drama. Wardrobe from Frances Lê pulls together a well written and directed gem.
TRANSHUMANCE
TRANSHUMANCE is the movement of people and their livestock between the seasons. Alejandro Ahedo-Perez's earthy documentary about the sixty-seven year career of a Spanish shepherd feels poignant, yet shows moments of satisfying contentment. Ahedo-Perez displays the shepherd as a man who answers to no one. He pays the bills to feed his family and works on breath-taking landscape. When asked about his occupation the shepherd says, "There is no better" and he is "happy to do it". TRANSHUMANCE would be a nice companion piece to another Cambridge Film Festival film: Tom Waller's THE LAST EXECUTIONER. TRANSHUMANCE is a fantastic documentary about a more than interesting man.
I AM GUATEMALAN
Guatemala City, January 2015. We meet a taxi driver who is the focus of Sam Holmár's stunning documentary I AM GUATEMALAN. Travis Bickle he ain't. He's the sociable everyman with an opinion on everything. Much like TRANSHUMANCE our protagonist enjoys his job. He grafts long hours as he wants to move his family forward. He's a conflicted soul; unhappy with the city's crime, but loves his country. Holmár captures real people in one shot and offers beautiful mountains and lush fields in another. An excellent documentary confirming that no matter where you are in the world, you'll always find a chatty cabbie.
FULFILAMENT
FULFILAMENT is a marvellous stop motion animation film from Rhiannon Evans. It's about an idea represented as a lightbulb in the brain that's trying to find its purpose. Our lightbulb does everything it can to fit in, but like the ugly duckling, it doesn't seem to belong anywhere. Every shot is well crafted, and we presume agonised over. No detail is too small. Evans and her skilful animation team make a lightbulb speak without words; we know what the lightbulb is thinking and feeling just by its eyes. A wonderful film created by an exceptional filmmaker.
 Steve Kirby's animation snaps around the screen…
STOCKHOLM
Burglar (Michael Gavas) attacks and enters the property of a woman (Kiera Long), looking to clean her out of possessions. But when the women's friend, played as camp as can be by Basil Marples, arrives, the power shifts and our burglar is in a situation he no longer controls. Expressive piano music from Kevin McLeod is the film's pinnacle, it adds to the authenticity of the crackling and flickering black and white film. STOCKHOLM, written and directed by Aaron Weight, is an ingenious film made with a love of the silent film era.
THE WOODEN HOUSE
THE WOODEN HOUSE is a documentary from multi-talented director/writer/cinematographer/editor Hannah Gautrey about lovable Wesley West, a Cambridgeshire artist who sculpts everything from scrap, using old Hoovers, toy dolls, farm machinery and even a caravan. With a distinct style West is as charming as he is gifted. Gautrey films West at home in his workshop and the garden where he tells humorous stories and exhibits his innovative work in a humble way.
CRACKS IN THE PAVEMENT
A visual treat from Kayleigh Barnes with her animated film CRACKS IN THE PAVEMENT. Barnes uses the technique called rotoscoping, think A-ha's music video 'Take On Me'. Gentle sound design of a park in bloom joins merrily with the calm colouring and line drawing.
SEXLIFE
Stefan Georgiou's SEXLIFE is an outstanding short film about true love starring the brilliant Jemima Rooper and hilarious Dylan Edwards.
IF THE CUCKOO DON'T CROW
A whirlwind explanation by Brian from Melton about his mum who predicted the 1987 hurricane and was told by weatherman Michael Fish, "Don't be so daft". IF THE CUCKOO DON'T CROW is funny, vibrant and super British. Steve Kirby's animation snaps around the screen with the energy of Kayvan Novak's and Ed Tracy's FONEJACKER series. Plenty of laughs for under 2 minutes.